Disclosure of Material Connection: Some of the links in this post may be "affiliate links." This means if you click on the link and purchase an item, I will receive an affiliate commission. Disclosure in accordance with the Federal Trade Commission's 16 CFR, Part 255. This site is a participant in the Amazon Services LLC Associates Program, an affiliate advertising program designed to provide a means for sites to earn advertising fees by advertising and linking to Amazon.
There is something about bobble heads in my life. Whenever I think of them, I associate them specifically with friends or experiences in my life. Do you have the same sort of reaction?
There's the story about the mad rush to get Montreal Expo bobble heads, because they were so sought after by the crowds.
There's the Dwight bobble head that my roommate in grad school had. Of note, I've still never watched The Office, either version.
There's also the Obama hula doll that I saw everywhere in Hawaii. It's not quite a bobble head, but I associate them in my mind.
Do you know anyone with a bobble head hanging out in their office, or room? They make pretty fantastic gifts. A friend was going to get his groomsmen custom bobble heads for thank you gifts, but didn't get himself organized far enough in advance to do so.
Here's a selection of 20 of our favourite custom bobble heads:
The Childhood Hero
This custom bobble head will be the top of a lot of people's Christmas lists in 2015. Customize it how you want, and make your friend's dreams come true.
The Superhero
Sitting around the office all day long can be pretty boring sometimes. Imaging oneself as a super hero, though, that is inspiring!
The Crossfitter
What to get the crossfit obsessed person in your life? A reminder of crossfit, for those rare times when they aren't doing crossfit.
The Golden Hamburger Family
What is not to love here? There is a giant golden hamburger. And your entire family. Wonderful. Hilarious. Awesome.
The Canoer
Celebrate their love of the cottage when it is the dead of winter by giving them a custom bobble head of them in a canoe, or pick a kayak instead if you'd like!
The Destination Wedding
If you are looking for a small, portable, destination wedding gift, that will definitely be memorable, pick up a custom bobble head set of the couple on a beach in their wedding clothes.
The Princess (and her Prince)
Frozen may be the latest Disney trend, but for a slightly older crowd, there are many famous characters nestled in our hearts.
The New Doctor
Are you looking for a graduate gift idea? For a new doctor, or really any profession, get a custom bobble head in the uniform of their profession.
The DJ Bobblehead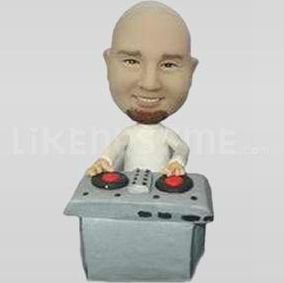 Do you have a friend with a passion for beats? Immortalize their hobby with a DJ bobblehead, where they can spin tunes and bob their head (though it may not be in time with the beats).
The Historic Gentleman
This custom bobble head is a full 12″ high, allowing for more intricate detail, and, well, a more giant head. Clearly that's a win right there.
The Two for One: iPhone Holder and Bobblehead
A bobble head that's actually useful? Excellent! This is perfect for the office desk, a dapper suited gentleman who displays a phone perfectly.
The Fully Custom Bobble Head
If none of the hundreds of custom bobble heads available are a perfect match, go with a head to toe custom job. Maybe you need a boxer in a canoe holding a bicycle? Get one!