Disclosure of Material Connection: Some of the links in this post may be "affiliate links." This means if you click on the link and purchase an item, I will receive an affiliate commission. Disclosure in accordance with the Federal Trade Commission's 16 CFR, Part 255. This site is a participant in the Amazon Services LLC Associates Program, an affiliate advertising program designed to provide a means for sites to earn advertising fees by advertising and linking to Amazon.
When Christmas time rolls around, just like Halloween, everybody starts decorating their house and yard with all kinds of snow-time wonders. Why not get a little creative, or really go the extra mile, with these decorations?
1. Snowman Santa Toilet Seat
Go ahead and decorate even your bathroom in the Christmas spirit with this adorable seat cover.

2. Santa Restroom Door Cover
Now you know where Santa gets the time to check his list twice.


3. Snowflake String Decorations
Even if it isn't snowing outside, that doesn't mean you can't make it snow inside!


4. LED Solar Pathway Lights
A Christmas-y way to light up the walkway.


5. Star Shower Laser Lights
Nobody enjoys the work and hassle of putting up those Christmas lights, and even more so the work of taking them down. This solves that problem.


6.Cookies & Candy Wreath
You can't go wrong with a cute and classic decoration.


7. Vehicle Reindeer Antlers

8. Assorted Clear Glass Icicle Ornaments
Not chilly enough for the real thing? Problem solved.

9. Tin Soldier Wall Decoration
Just in case you need someone to guard the house.


10. Metal Star String Decorations
Some LED lights that can brighten both the room and the mood!


11. Golden Christmas Nail Art
Don't forget to get your nails into the Christmas spirit as well!


12.Classic Train Set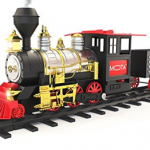 A simple but enjoyable decoration that kids will love! Of course, it doesn't have to stop at being a decoration, either.
13. Santa's Message Plate Set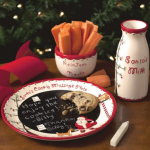 The time honored tradition of leaving food out for Santa.
14. Nativity Set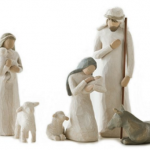 For those who prefer the spiritual side of Christmas.
15. Bumper Magnet
Merry Christmas!

16.Inflatable Disney Snowman
Can't go wrong with Disney decorations.


17.Christmas Tree Night Light Lamp
For the Christmas season! Or, stay in the spirit all year long!


18. String Light Curtains
Seriously, just decorate everything.


19. Santa Hat Chair Covers
I said everything, and I meant it.
Christmas House 20″ Santa Hat Chair Covers (Set of 4)
20. Santa Fence Toppers
Don't forget to invite Santa to the party! He just might get stuck on the fence, though.