Disclosure of Material Connection: Some of the links in this post may be "affiliate links." This means if you click on the link and purchase an item, I will receive an affiliate commission. Disclosure in accordance with the Federal Trade Commission's 16 CFR, Part 255. This site is a participant in the Amazon Services LLC Associates Program, an affiliate advertising program designed to provide a means for sites to earn advertising fees by advertising and linking to Amazon.
With Christmas right around the corner, I'm sure there are lots of people on your gift list. If there is special female on your list that you're having a difficult time shopping for then here is a list of clothing gifts for her, whether her is your wife, mom, sister, sitter, barista, secretary, ect.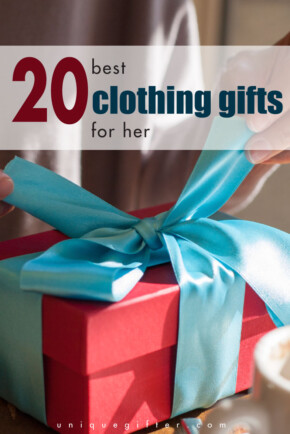 Scarfand's Leopard Infinity Scarf
Leopard is still very trendy. A leapord scarf can be very versatile and could be added to any outfit whether for everyday, work, or evening!

Spikerking Women's Fashion Large Lattice Long Shawl Big Grid Winter Warm Scarf
Shawls, much like scarves, can be versatile. As a matter of fact, this shawl doubles as a scarf! Shawls are perfect for the weather that is cool but not cold enough for all the weight of a coat.

Maidenform Women's One Fabulous Fit T-Shirt Bra
Bras are an essential item for women and fortunately, you can NEVER have too many. I'm sure that the perfect t-shirt bra would be a perfect gift, and appreciated as well.

Bali Women's Comfort Revolution Seamless High-Cut Brief Panty
Much like bras, women can ever have too many panties. This seamless panty is great for the special female that works in an office setting and has to wear professional attire. Panty lines are very tacky.

SPANX Trust Your Thinstincts Adjustable Strap Mid Thigh-Body
Most women desire a thin physique and this Spanx will make it happen instantly. It provides that slimming effect under clothes without being noticed. Make sure that your relationship with her is safe before giving her these. Aka: boyfriends, husbands and men – don't buy her spanx unless she's specifically asked for them!

BIADANI Women Classic Soft Long Sleeve Open Front Cardigan Sweater
Cardigans are an awesome gift. They too, can be versatile. Additionally, they can be given to all the hers in your life, so click the link and grab as many as needed in everyone's favorite color!
Women's Long Sleeve Denim Blouse Office Lady Lapel Slim Tops
Denim has been the trend for a while, and can be paired with anything and look great! I have about 5 denim shirts and could continue to add this one to my wardrobe as well.

Women's Best Mom Ever T Shirt Funny Mother's Day Tee for Moms
T-shirts are so comfortable and easy to throw on which is what makes them a great gift for the busy female in your life. It's obvious whom this t-shirt should be given to, however this t-shirt also comes in "Best ever (fill in the blank with whatever you)! Perfect!

Polo Ralph Lauren Women's Sport V-Neck Sweater
Sweaters are another staple item essential to a woman's wardrobe. The Polo Ralph Lauren sweater offers quality at an affordable price with the convenience of being ordered and sent to you!

The North Face Pr Resolve Jacket Womens
North Face jackets can be for any special female in your life. My daughter and I have the same jacket in different colors. North Face makes a variety of different jackets to choose from depending on your climate.
The North Face Aconcagua Vest – Women's
If a North Face Jacket is not necessary in your climate, then the vest may be a better option. The North Face vest is the perfect gift for the special woman that is active or older and requires less layers in cooler weather.

Totally Pink Women's Warm and Cozy Neon Onesie Pajama
Onsies have become more popular in the past couple of years. At Christmas, being cozy by the fire place in this onsie makes for a great cuddling on a cold winter day!

Levi's Women's 512 Perfectly Slimming Jean
Who can deny a pair of jeans that makes you appear to be slimmer? I know I can't and if I received these as a gift I would be very happy! If getting these for a significant other, I would encourage you to be sure to order/purchase the correct size. Nothing makes me more upset that my husband thinking I'm bigger than I really am!

Women Men Unisex Merry Christmas Ya Filthy Animal Knitted Jumper Novelty Sweater
Christmas sweaters make a great gift for women of all ages. This Christmas sweater comes in more than one color and should definitely win for best Christmas Sweater at the office party!

Womens Oversized Reindeer Cardigan
If that you are not into spending money for a sweater than only be worn a couple times, then this Reindeer cardigan would be more ideal. It's perfect for the winter season. It also can be worn around the house or out into public! Check out these even more riduclous ugly Christmas sweaters for everyone on your list.

Women's Chic Summer Solid Black Bodycon Office Work Party Dress
Most women have a "Little Black Dress." This one, as said above, is great for the office, the office party, or any other special event. It also makes a great "date night" dress!

LE3NO Womens Vintage Long Sleeve Denim Jacket with Pockets
The versatility of a jean jacket makes it a great gift for women of all ages. Jean jackets are great in all seasons as well and can be added to any outfit to dress up or down. Giving this perfect jean jacket should make that special woman in your life very happy!

Women's Long Sleeve Pajama Set (Serenity) Eco-Friendly Gifts by Texere
By now you can tell I'm a lazy kind of person who enjoys lounging around, watching netflixs, sipping tea, and cuddling. This pajama set is great lounging attire. Loungewear makes a great gift for the person, like me, that has unexpected guest but wants to remain comfortable in her own home or dorm! Also a great gift for those special females that work at home and do not require "work attire."

N Natori Women's Nirvana Robe
Robes can make a great gift for any woman as well, although I highly recommend this robe for the college student residing in a dorm or quad with several roommates. Also a great gift for those STAHMs!

UGG Australia Women's Ansley Suede Slipper
Nothing can be more comfortable than a great cozy pair of slippers. These have an extra layer of insulation and a rubber bottom that makes them ideal for all! Grab these and those comfy loungewear pajamas for a perfect gift combination.

I hope these gift ideas provide some motivation and happy shopping towards a wonderful gift exchange for you and your special lady.