Disclosure of Material Connection: Some of the links in this post may be "affiliate links." This means if you click on the link and purchase an item, I will receive an affiliate commission. Disclosure in accordance with the Federal Trade Commission's 16 CFR, Part 255. This site is a participant in the Amazon Services LLC Associates Program, an affiliate advertising program designed to provide a means for sites to earn advertising fees by advertising and linking to Amazon.
February is creeping up on us so there is not a better time than now to start shopping for sexy valentine's day gift ideas for women. Whether you are buying for your wife, girlfriend or mistress you should get her something she will remember for a long time. You want to get her something that makes her feel beautiful, loved and sexy. If you play your cards right you might even get to enjoy some romantic time with her. Take shopping to a whole new level by looking at this list of naughty, flirty and romantic gift ideas that are sure to please her.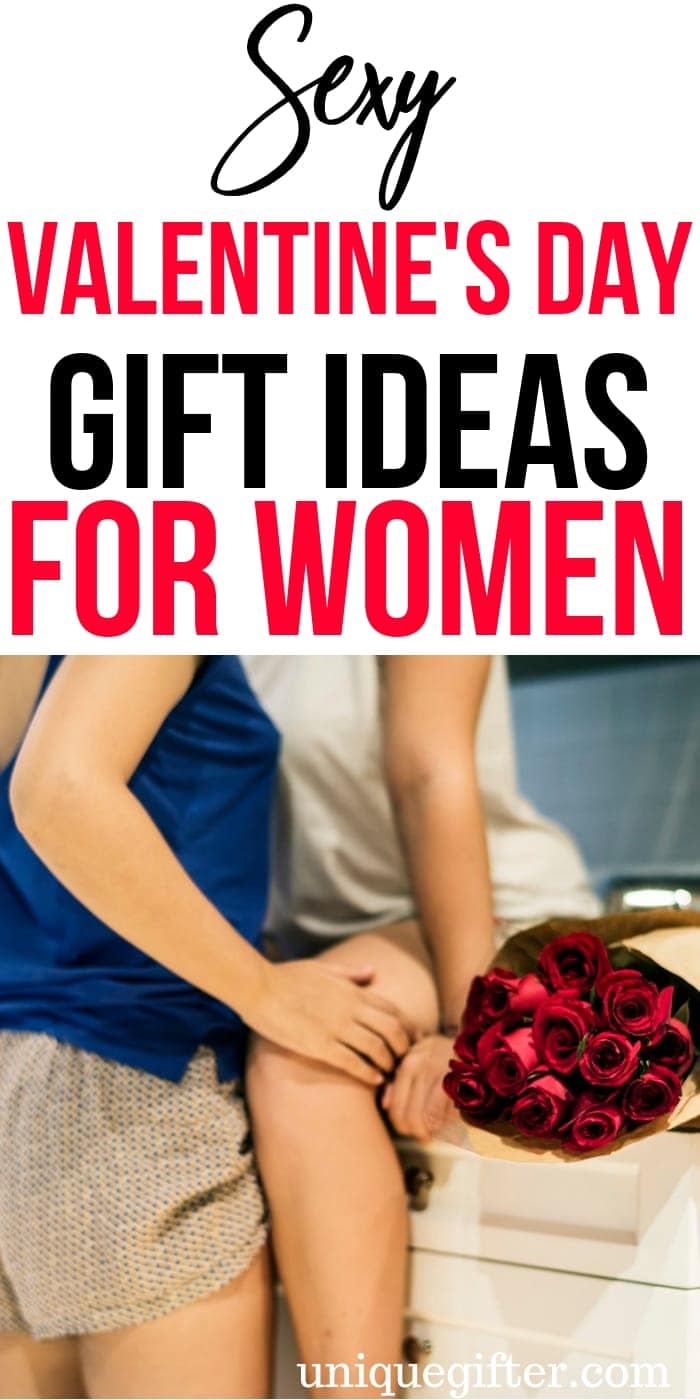 Must Have Sexy Valentine's Day Gift Ideas For Women
We also have fun gift ideas for him too! 
Unwrap Me, Babydoll Dress
She will know that you are down for business when she unwraps this lovely dress. Then you may even get to unwrap her so it will be a win-win.
The Little Black Book of Sex Positions
You never have to be bored with this little black book because it is filled with naughty new positions that you can try.
Edible Massage Oil
Give her a relaxing and playful massage with this edible oil. Not only will the massage feel amazing her skin will be silky smooth from the oil too.
Sexy Thong
A flirty and romantic thong that is perfect for a romantic night in. Get your hands warmed up for a little naughty spanking!
Eye Mask
Get creative and playful with this naughty eye mask and cat ears. Things are going to get extra hot!
Sexy Leggings
These legging are not only really sexy, romantic and fun they are also really comfortable. She is going to love them.
Retro Flirty Apron
Don't worry, she won't feel like cooking when you get her this flirty and fun apron! She will have other things on her mind.
Personal Massager
This massager has a memory recall and is waterproof so it can be used in many different settings.
Spa Gift Set
Get her feeling extra special and relaxed and she will for sure be in the mood to get the romance going.
Luxury Personal Massager
She deserves to be pampered on Valentine's Day, right? Don't cheap out on her pleasure and pick up a luxury personal massager so the after dinner activities become the perfect dessert. 
Victoria's Secret Fragrance Set
This mist and lotion set smells amazing and is a sultry, sexy scent that she is sure to love.
Soft Fur Leather Handcuff Set
Turn up the heat with these handcuffs and whip. I promise it will be fun for both of you!
Lace Robe
She will feel like a sex kitten in this beautiful, long and lacy robe. Plus, you will get to enjoy looking at her wearing it.
Kama Sutra Gift Set
Perfect gift set if you are also planning a romantic getaway or an evening staying home. Loads of fun and romance will be had.
Massage Candle
This massage candle smells amazing, has a pour spout and is all natural. Don't be afraid to go wild with this candle.
Bedroom Battle Game
You are never too old to play games, especially with your partner. This is a two player game that is the right amount of naughty and fun.
High Heels
These romantic, sexy and flirty heels will blow her mind! They look fantastic and feel comfortable too.
Body Shimmer
This body shimmer will make her skin glisten and is a strawberry flavor that is kissable. You won't be able to keep your mouth away from her.
Thigh Chain
She will feel elegant, classy and romantic when you give her this thigh chain. It goes fabulously with that little black dress.
Chocolate Bonbon Collection
There is nothing that turns a woman on more than some creamy and mouthwatering chocolate. You can't lose with this gift!
Vibrator
You can't really beat around the bush with this one. (Take that as a euphemism if you must.) A good quality vibrator can really spice up your sex life and make things more enjoyable for your female partner. 
Bath Bomb Set
She will feel so pampered, sexy and loved when you give her these fantastic bath bombs.
What is your favorite gift you have ever gotten for Valentine's Day?