Disclosure of Material Connection: Some of the links in this post may be "affiliate links." This means if you click on the link and purchase an item, I will receive an affiliate commission. Disclosure in accordance with the Federal Trade Commission's 16 CFR, Part 255. This site is a participant in the Amazon Services LLC Associates Program, an affiliate advertising program designed to provide a means for sites to earn advertising fees by advertising and linking to Amazon.
Ugly sweaters are somewhat of a tradition that has been around for decades. Recently, ugly sweaters have been embraced as an important part of celebrating the holidays and it is easier than ever to show your holiday cheer. You can chose from traditional ugly sweaters with giant holiday figures on the front or some kind of pattern involving trees and reindeer or even something a little more inappropriate.
Just make sure everyone has an ugly sweater, so everyone can have some awkward holiday fun- naughty or nice.
The Nice List
These sweaters are only for friends and family on the nice list.
1. The Traditional Lightup Tree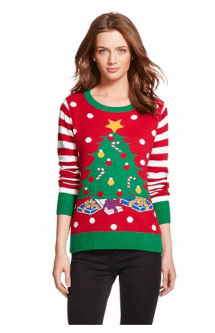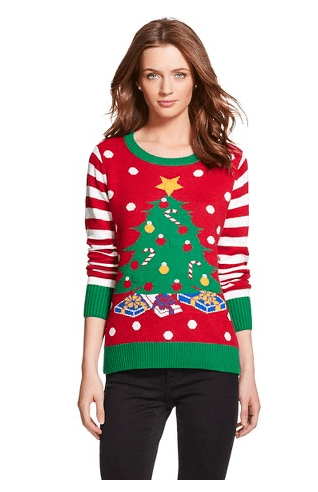 This is the epitome of ugly holiday sweaters. Perfect to wear to that awkward holiday dinner. Turn on the lights to draw more attention to your awkward festiveness. Do you even have an ugly Christmas sweater if you don't have a light up tree sweater?
2. Oversized Cardigan

This looks extremely comfortable. Get snuggly this winter.
3. Cardigan for your Man

This cardigan really isn't that ugly and comes in a number of classic patterns and colors.
4. "This is my Ugly Sweater"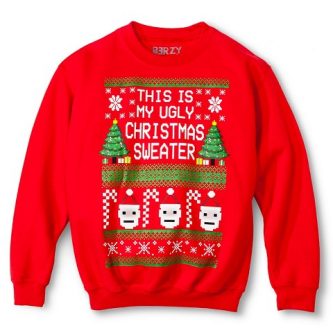 At least you're admitting that it's ugly.
5. Killer Patterned Pullover Sweater

All of these patterns are so bad and I want all of them. Roll up to your holiday party with an elf sweater, or a sweater with presents, trees, and gingerbread men, or reindeer. At least one of these patterns has to be the perfect ugly either for you or someone else as a gift.
6. Cool Reindeer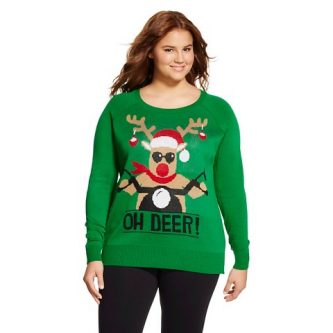 Santa has upgraded operations this year. Sunglasses are perfect to keep Rudolph's strong rays from blinding the others. The snowmobile has the possibility to speed things up, but I'm not sure the reindeer should be driving.
7. Moose Sweater

Oversized moose sweater in bland colors? I think yes. Perfect the inner Alaskan.
8. Hanukah Sweater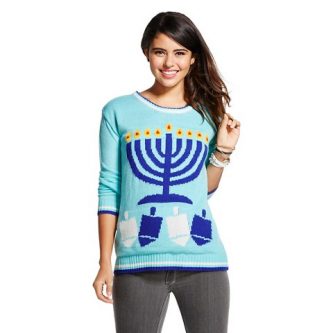 Even Jewish people need ugly holiday sweaters. Ugly sweaters for everyone!
9. Holiday Pajama Collection for the Whole Family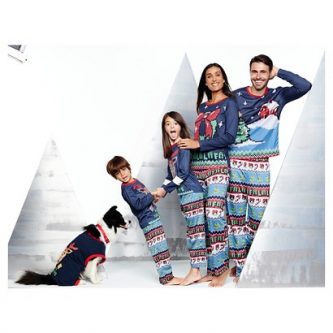 Who doesn't love tacky pajamas? Especially when forced to match everyone else.
10. Happy Hanukah

Not a sweater, but still ugly.
11. Ugly Dog Sweater

Even dogs should have an ugly sweater.
12. Elf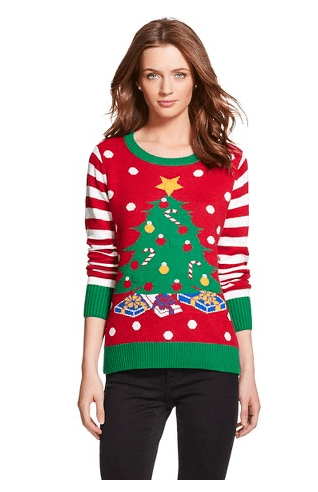 This feels wonderfully awkward.
13. Jumpsuit

Ugly Christmas Sweater Party – Fair Isle Blue Adult Jumpsuit
Wonderfully ugly and wonderfully comfortable with a hood and pockets.
14. Darth Vader Christmas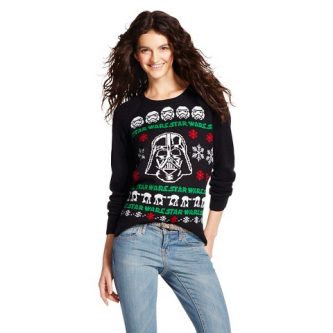 Get ready for the new Star Wars movie that comes out this season!
The Naughty List
Don't even try to pretend you don't want these.
15. Birthday Party

Knowing what the reason for the season is and admitting you're going to party anyway.
16. Coconut Bras

I guess this is how Hawaiians celebrate the holidays?
17. Chestnuts Roasting over an open fire

These aren't the chestnuts we had in mind…
18. A Cute Reindeer couple

Love is important to remember during the holidays. Even better, it comes in three different colors! Perfect for the squad.
19. Mistletoe

Seriously, all we need is a little love.
20. Sweater Dress

What is better than a sweater dress WITH three inappropriate reindeer?
Are you naughty or nice and what are you wearing this holiday season?