Disclosure of Material Connection: Some of the links in this post may be "affiliate links." This means if you click on the link and purchase an item, I will receive an affiliate commission. Disclosure in accordance with the Federal Trade Commission's 16 CFR, Part 255. This site is a participant in the Amazon Services LLC Associates Program, an affiliate advertising program designed to provide a means for sites to earn advertising fees by advertising and linking to Amazon.
Your new puppy is the center of your world. And while they can be a lot of work and take time to train they are also worth every second. We all love to spoil our puppies rotten with toys and affection. But are there toys that they should be avoiding when they are this little? We'll go over the 5 toys you shouldn't give puppies to chew. In order to help you look out for potentially harmful materials around the house. If you've ever wondered what things around the house you should keep away from your puppy. These are some of the top objects to look out for.
These are 5 Toys you Shouldn't Give Puppies to Chew on
Yes, there are certain things that they should not be allowed to chew when they are this young. Whether it's because it is bad for their health or forms bad habits in the future, here is a concise list of things to avoid for your pup and why.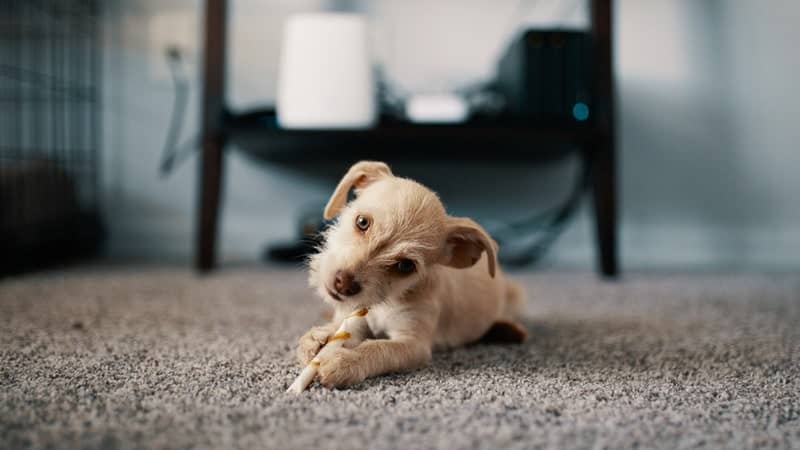 1 Rawhide
These are the worst chew in creation. Not only are they made using an array of toxic chemicals that you do not want your pup ingesting, but they are also a choking hazard. If you leave your pup alone and they choke on a chunk of this, it would be an awful experience for you too.
The best dog toys are ones that stimulate them mentally, like treat bones, treat dispensing toys and balls that they have to work in order to get their reward. This is especially good if you have a breed that finds it difficult to be alone as it distracts them from destructive behavior and gets their mind working.
2 Small Balls
If you give a dog a ball that is smaller than its mouth, it poses a choking hazard. It's common for puppies to play with things that are way too small for their mouths because they grow so quickly. Make sure you replace the balls quickly when you notice them become too small to reduce the risk of them choking.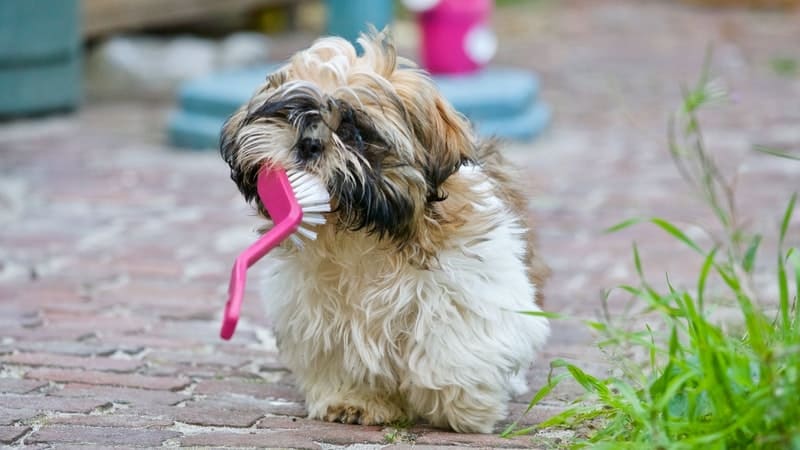 3 Stuffed Animals for Humans
For some dogs, this works out well, but there is a reason you should avoid it with your puppy. The eyes and nose on human toys are great fun for them to chew and don't just risk cracked teeth but also choking. Toys made for puppies and dogs have sewn features to avoid this.
When they are older you might consider giving them human toys, but it all depends on what their chewing is like. Plus, there are some great puppy toy selections out there – whether your pup is a family pet, working dog, or service dog. All of which are made for their little razor teeth.
4 Only Soft Toys
Puppies love soft toys and it is great for them to have some, but they are also teething and so should not solely be given them. It means they have nothing to sink their teeth into while the baby ones are falling out, and they will turn to your shoes and furniture. Get them a rope toy that is hard and difficult to chew through so that they can really work through the teething process.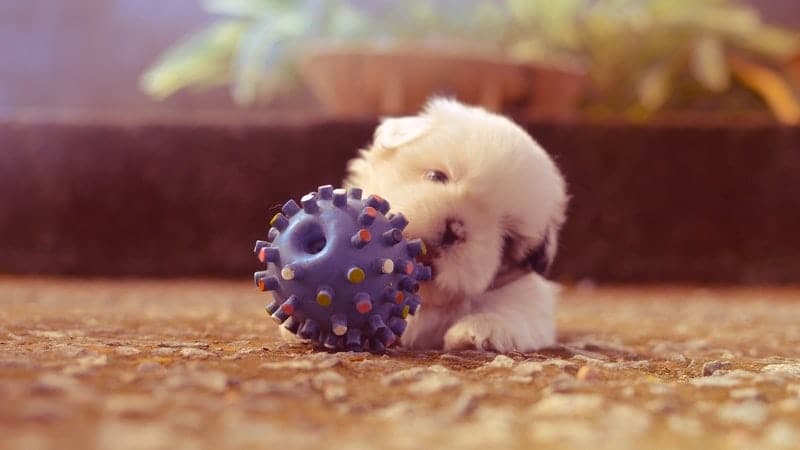 5 Sticks
It's a common trope, the puppy playing with sticks. However, sticks can splinter in the throat and stomach – causing them serious pain and you an expensive vet visit. There is also the risk of them getting lodged in the mouth. A Nyalbone, or similar, is a much better option and one that doesn't risk an emergency vet visit halfway through your walk.
More Dog Inspired Articles
Look out for 5 Toys you Shouldn't Give Puppies to Chew on
It's hard to find the right toys, and there is so much conflicting information out there. However, these five toys that should be avoided by pups are widely agreed on because of the risk to their health and wellbeing. With so many safer options out there, it's time to invest in something that's not only safe, but offers them the right stimulation.