Disclosure of Material Connection: Some of the links in this post may be "affiliate links." This means if you click on the link and purchase an item, I will receive an affiliate commission. Disclosure in accordance with the Federal Trade Commission's 16 CFR, Part 255. This site is a participant in the Amazon Services LLC Associates Program, an affiliate advertising program designed to provide a means for sites to earn advertising fees by advertising and linking to Amazon.
It's the list that you've all been waiting for! I am happy to unveil 100, that's one hundred, additions to last year's list of 400 stocking stuffers for adults, teens and seniors. Yes, yes, I know, it's only November. Based on how many searches have been finding the list of 400 stocking stuffer ideas already, especially in October, some of the organized folks out there would like to get started on stockpiling stocking stuffer gifts.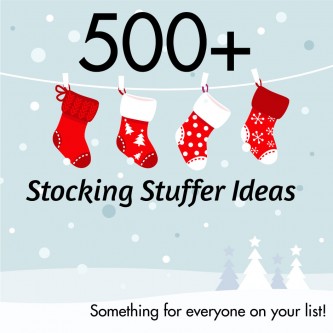 A friend of mine already has her tree up and house decorated. Yes, it's a bit nuts. She's American and says that it's okay because Canadian Thanksgiving and Halloween are both over now, so she doesn't need to wait until American Thanksgiving. She is quite a fan of Christmas.
Just like last year, the ideas have been set up to help you find places to purchase them. Most of the links go to Amazon*, but not all.
Jewelry Cleaning Solution
Comedic Soap Like: Potty Mouth Soap
Slingshot – ..maybe not if you have kids or adult-size kids?
Spaghetti – bonus points for gluten free or organic whole wheat.
Specialty Cleaners – for enameled cast iron, pots, stovetop
Condoms – Ya… I said it.
Mints – Like Altoids
Coal – You can get all sorts of coal candy, or search pinterest for recipes!
Shoelaces – They aren't just for the '90s
Kitchen Tools – wooden spoons, silicone spatulas, whisks and the like
Cloths – nice dishcloths
Patches – Think Canada flag for backpacks (or other countries!)
Coupons – You can make frugal people happy this way
Maps – State/Province, Park, Bike Trails
Rubber Duckie – – or an evil one!
Metal Skewers
Balloons – Bonus points for silly sayings!
Party decorations – Especially for New Year's
Fancy Beverages – Frappucinos, Gourmet Root Beer, Coconut WaterEtc.
Bookplates – The fancy name for "this belongs to _____" labels
Seal – Not the ocean type, the monogram for letters type.
Glasses Case or Sunglasses Case
Chalk – chalkboard paint is all the rage these days!
Nail Gun Nails – Brads and finishing nails, not roofing ones!
Fun Erasers or other Office Supplies
Night Light – we still have halls to stumble in the dark, even if we're not afraid of it!
Hacky Sack – encourage exercise and throwbacks :-)
sugru – This stuff is fantastic!! It's sort of like silly putty, that hardens for fixing stuff. Super amazing.
Stethoscope Light – for anyone who works in a lab!
Tools – Wrench, Multi-Bit Screwdriver, Stud Finder, etc.
Personal Business Cards – especially good for a soon-to-be graduate who is job hunting and networking
Grocery Cart Coin Keychain – You know, the ones that will act as your coin, so you're not hunting through your car. (Several stores donate the proceeds of to charity)
Guerilla Tags – wearable ID tags for adventurers with name, two emergency contacts, and drug allergies. Great idea for your adventurous friend or family member.
Microfiber Towel – for campers or travelers
Bicycle Bar Ends
Carbon Bike Water Bottle Holder – Can you tell I like biking?
Hiking or Keychain First Aid Kit
Bear Spray – This stuff is pricey and expires, make sure yours is up to date!
Ribbon – Nice ribbon for those who like wrapping.
Small Side Plates or bowls aka Tasting Party supplies
Collectibles/Action Figures
Click here to read Stocking Stuffers for Adults Ideas 1-426!
Do you have more ideas to add to the list? I don't think I'll be able to come up with another one hundred for next year without a lot of help!
There are so many amazing gifts to choose from. You should see some of these other stocking stuffer ideas: