Disclosure of Material Connection: Some of the links in this post may be "affiliate links." This means if you click on the link and purchase an item, I will receive an affiliate commission. Disclosure in accordance with the Federal Trade Commission's 16 CFR, Part 255. This site is a participant in the Amazon Services LLC Associates Program, an affiliate advertising program designed to provide a means for sites to earn advertising fees by advertising and linking to Amazon.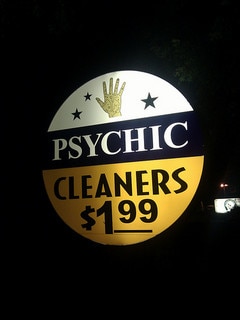 [Photo – CC Attribution – codepo8]
Looking for a unique gift for a friend or loved one on their special birthday or just because? Why not consider something that no one is likely to have thought of before: the gift of fortune telling! Of course, we don't mean gifting someone the ability to see into the future (now that would be impressive); we mean giving the gift of a trip to see a psychic or clairvoyant.
Loads of people love having their fortunes told or their tarot cards read, and it's a really unique gift that you can be sure they'll remember. Most of the most successful and prominent psychics and clairvoyants perform up and down the country, so have a look at when they're next touring and you can make a real night of it along with whoever you buy the gift for.
Even if you think clairvoyance and fortune telling is a load of old hooey, going to visit a psychic can be a great giggle and a really fun and memorable night out. It could be a fun girls night out.  Perhaps having someone guess that a person in the audience once had a granny called Jean who's now passed away might lead you to ask 'what is psychic about that?'. But whether you take it all with a big dose of salt and tongue firmly in cheek, or whether you truly believe psychic abilities exist and can hold the answer to important questions, it's a fun gift for someone and certain to be one that they haven't had before.
If you think your friend or loved one would prefer a more intimate experience with the murky and mysterious world of the occult, you can consider options other than seeing a psychic on tour. Why not arrange for a clairvoyant, tarot card reader or medium to come and visit your friend at home to give a personalised reading? Obviously it's best to discuss this with your friend or loved one first to make sure they're comfortable with the idea.
This was a sponsored post and a very timely one at that.  A few weeks ago, my friend had this as her Facebook status! "My managers were contacted by "celebrity psychics" who told them they had a premonition about me and my career! Now they want me to go on their radio show. Hahaha! Stay tuned!"
How about you – have you ever had a psychic experience? Or do you think it's a load of old flannel? We'd love to know!