Disclosure of Material Connection: Some of the links in this post may be "affiliate links." This means if you click on the link and purchase an item, I will receive an affiliate commission. Disclosure in accordance with the Federal Trade Commission's 16 CFR, Part 255. This site is a participant in the Amazon Services LLC Associates Program, an affiliate advertising program designed to provide a means for sites to earn advertising fees by advertising and linking to Amazon.
Whether we're heading into the full blast of winter wrapped in warm coats in search of the perfect slopes, or the sun smiles down as we dart off to summer vacation freedom, we need reliable bags when embarking on a long vacation.
They have to protect our garments and electronics from all the elements, be easy to heft, and easy to navigate through crowds. Some of us pack everything and the kitchen sink, some of us pack for a month like we're kiting off for the weekend. No matter your travel style, we have a bag (or case, or backpack) for you!
The Best Bags For Long Vacations
Titanium Delsey Luggage
An already large bag measuring 29×19.5×12.5 inches, this Delsey double spinner case made of 100% lightweight polycarbonate also expands an extra two inches for your return journey.
Samsonite Hardside
This Samsonite spinner comes in 3 sizes for all kinds of travelers, has a scratch resistant twill texture, and holds up under tough wear and tear of travel, including cobblestones!
Travelpro Maxlite3
This medium sized spinner comes with 4 wheel spinners and an airline grade handle that locks at 2 different positions to suit different heights.
Copilot 2014 Luggage Roller
Made of nylon and fabric reinforced tarpaulin, this suitcase uses skateboard wheels and fits in overhead bins. Rated the best overall suitcase by OutdoorGearLab.
Maxlite 4
When you're traveling economy and bunking in hostels all the way, this lightweight spinner case will take care of your belongings without putting a massive dent in your budget.
Platinum Magna 2
When you've spent more time in the friendly skies than with your feet on the ground, you're going to be hauling just the basics in a bag that keeps your business clothes wrinkle-free.
Duffel XL
For duffel devotees, this heavy duty 27 x 16 x 12 duffel comes with extra thick memory foam shoulder pads and folds down into a small pouch when you're done with it.
Split Roller
This split-level design duffel is sturdy, easy to maneuver on wheels with a retractable handle, and folds flat for storage.
Farpoint 55 Travel Backpack
Road warrior friends swear by the backpack route complete with harness and hipbelt for adequate support.
Aviator Travel
I always underestimate how much can be packed in the Timbuk2 backpacks. Superlight and flexible, these packs have what seems like innumerable inside hidden pockets!
Ozone Convertible
If you need to compromise between a high quality backpack and wheely suitcase, this convertible with a light aluminum frame and large wheels is a great answer.
Werks Traveler 5.0
I know from over a decade of experience that Victorinox stands behind their products. If you're brand loyal and hard on your travel gear, this may be the right fit for you.
TravelPro Bold
Made of 100% polyester, this 30 inch bag is coated to be water repellent and abrasion resistant, and is warrantied against damage caused in transit by airlines or other carriers.
Leather Multi-Pocket Wheeler
This 19 inch cowhide leather case is the perfect size for carry-on only frequent fliers. It comes with a piggyback strap to secure it to a larger piece of luggage when carry-on isn't enough.
Leather Buckle Flap-Over Satchel
This gorgeous satchel has four large compartments and pockets, with a side accordian expansion option, and double padded handles. Made of full grain cowhide, this bag will age well.
Kids Hard Shell Luggage Set
Made of polycarbonate and nylon, this luggage set isn't just for travel, it can also double as school gear.
Kids Scooter Luggage
Suitcase and scooter all in one, this piece is on the spendy side but it's sure to help the short-legged little one keep up when you're sprinting for the gate.
Soft Side Rainbow
This fantastically colorful case is lighter than hard side luggage and has wheels that light up without batteries.
Bellagio 2.0 Ultra Light
This aptly named Bellagio from high-end Bric's is made of Makrolon polycarbonate, has beautiful Italian leather trim, and water-resistant zipper.
Custom Luggage Cover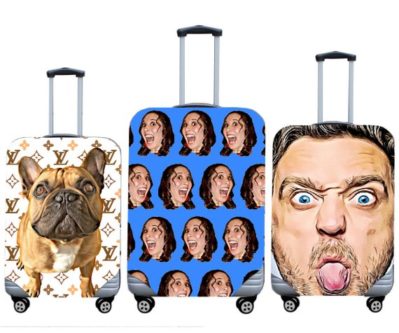 This goes off track a little but for good reason. The last thing you need when going off on that long-awaited 3-week vacation is for your bag to be grabbed by someone with a nearly identical bag. Customize your case with this polyester-spandex fabric cover and never lose it to a careless fellow traveler again!
What's your favorite travel bag?