Disclosure of Material Connection: Some of the links in this post may be "affiliate links." This means if you click on the link and purchase an item, I will receive an affiliate commission. Disclosure in accordance with the Federal Trade Commission's 16 CFR, Part 255. This site is a participant in the Amazon Services LLC Associates Program, an affiliate advertising program designed to provide a means for sites to earn advertising fees by advertising and linking to Amazon.
If you have ever tried to purchase a gift for that super healthy friend or family member, you know it can be difficult. There is always the option to get a cute teacup with assorted organic hot tea bags just to be safe. But if you are an intentional gift giver, you strive to find the perfect gift. So, here is the best gift idea for healthy people… HAMAMA Microgreen Home Growing Kit!
What Are Microgreens
Microgreens are the first 1-3 inches of vegetables as they are growing. Depending on the seed, they could be kale, arugula, broccoli, wheatgrass, peas and a list of others. The reason they are loved by so many people is because they are concentrated with nutrients. They are nine times more nutritious than their fully grown version. Depending on the mature green, they can be high in antioxidants, iron, vitamins, C, K, E, potassium, copper, and magnesium. These are such a great way to get in the essential vitamins and minerals our bodies can only get from the foods we eat.
With all of the nutrients come health benefits. Because they are so rich in nutrients, they can help with preventing certain diseases, help you manage weight, and add a list of mental and physical health benefits as well.
Since they are high in antioxidants, they can help your body eliminate free radicals. Free radicals can lead to cell damage and even cancer.
Microgreens are also sustainable, affordable and a good way to grow your own produce if you live in the city or don't have space for a garden.
HAMAMA Microgreens Home Growing Kit
I was recently introduced to this product after I received it for my birthday. I was so excited to try it but I wasn't quite sure what to expect. I love microgreens but I have never grown them on my own in the past.
When I took all of the pieces out of the box, I was surprised how easy it was. In fact, I read the instructions a few times just to make sure I wasn't missing any steps.
What is included in HAMAMA Microgreens Home Growing Kit?
The starter kit includes a reusable grow tray and three of their seed quilts. You also get instruction cards with a description of the seeds and sprouts that will grow.
Setting Up Your Microgreens To Grow
Step one: Fill water to fill line in black grow tray.
Step two: Put the seed quilt in the tray and hold underwater for about 10 seconds.
Step three: Wait for sprouts to form within the next week or so and you have a beautiful tray full of delicious and nutritious microgreens!
THAT'S IT! It is that simple!
When I was getting mine prepared I was expecting to add soil and make a big mess but NOPE!
How Do You Enjoy The Microgreens You Grow?
I don't know about you but there is a very intentional feeling I get when I share something so beneficial and homegrown with my family.
Microgreens are amazing on just about anything. You can add it to salads, sandwiches, pizza, smoothies, soup or pasta. You can honestly add it to whatever you want.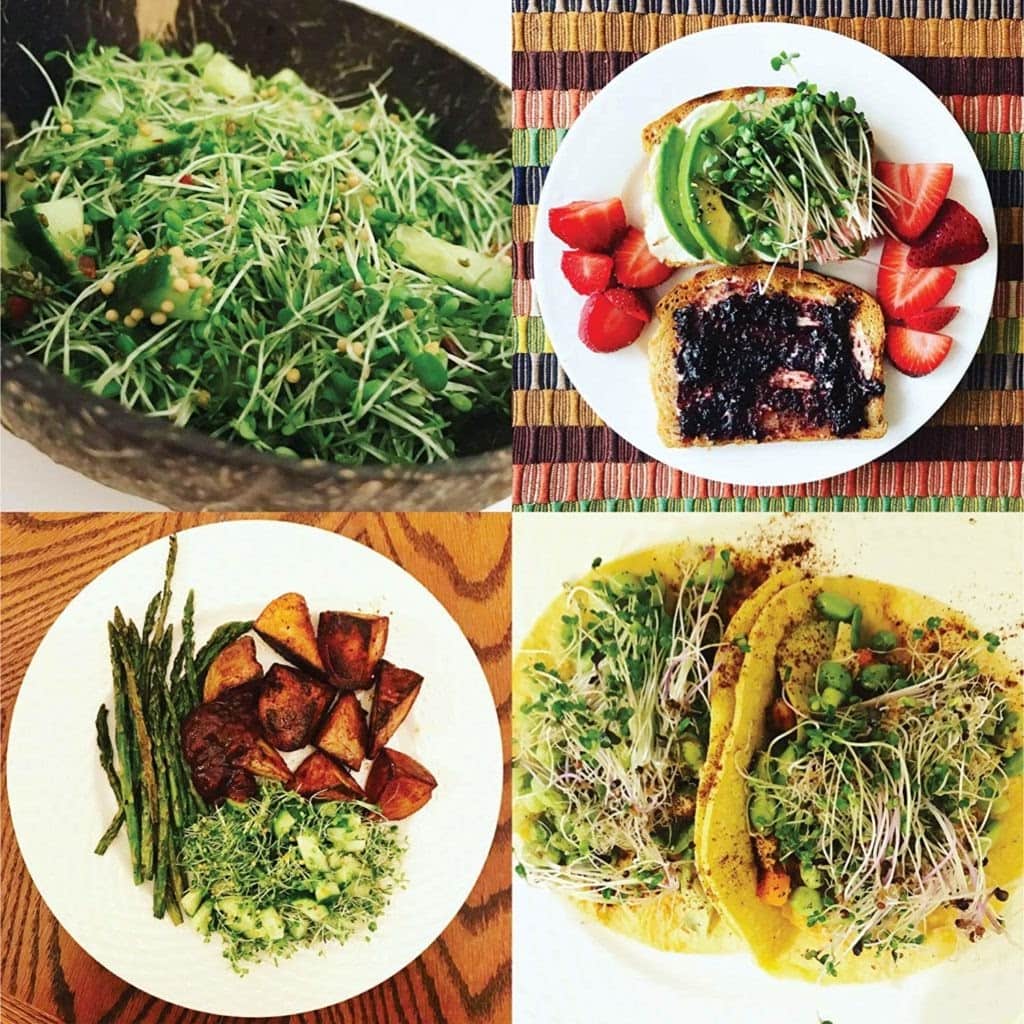 The reason microgreens are so popular is because they are the sprouts of vegetables as they are growing. When you eat them when they are around 2-3 inches, they are concentrated with vitamins and minerals. In fact, they are 9 times higher in essentials like antioxidants, iron, potassium, copper, and magnesium. Since they are so high in nutrients we need, eating them on a regular basis can prevent certain health conditions and add many benefits to our body.
You can get them in a variety of vegetables such as kale, broccoli, pea, sunflower, chard, and many others.
How Can I Purchase A HAMAMA Microgreen Growing Kit?
I wanted to order some additional quilts and I was able to find them as well as the kit on Amazon. I want to share the link with you just in case you were interested in purchasing it for yourself or someone you know. Here at Optimized Life, we like to recommend products we enjoy. This is a very practical and intentional gift idea for that healthy friend or family member.
This particular kit comes with everything you (or they) need to grow their very own microgreens.
I would love to hear from you! Do you enjoy microgreens as much as I do? Leave your comments below.
Bio: My name is Sandra Tanner and I am a blogger at Optimized Life! Here at Optimized Life, we want to create healthy families and encourage wellness communities. We are simply people who want to live our healthiest and best life possible. Check us out! https://www.optimizedlife.com/ We would love for you to be part of our free community.