Disclosure of Material Connection: Some of the links in this post may be "affiliate links." This means if you click on the link and purchase an item, I will receive an affiliate commission. Disclosure in accordance with the Federal Trade Commission's 16 CFR, Part 255. This site is a participant in the Amazon Services LLC Associates Program, an affiliate advertising program designed to provide a means for sites to earn advertising fees by advertising and linking to Amazon.
Today's post is another guest post, brought to us by Vijay.  I originally found him via a guest post on Sarita's blog I Love Gifting, where he had the sweetest idea for a "welcome home" for his bride.   It is the first link below and I definitely recommend checking it out!
Of vrooming clips and delicious cars
Choosing a gift for a child is tough. Their impressionable minds are poisoned by advertisements of the big brands. If you get them anything else or less, it would break their heart. On the other hand, it breaks my heart to see most of them lose interest in it within days and abandon the to-die-for-till-yesterday gift in a corner. Well, they are children after all, aren't they? But, why not gauge their interest and try something different?
Recently, my son happened to read my post about inexpensive, original and very personal gifts. When it comes to gifts, I tend to do or give what feels right, especially if it does not strain the wallet or entail a visit to the gift shop.
I suspect my son does not approve of my penny-pinching ways when it comes to gifting. Nevertheless, he did remind me about two gifts we gave him on different birthdays.
Clip off the line
My son would keep putting everyday things together and imagine them to be things that vroomed or soared. So, what would be the right gift that would break neither heart? The answer came the next morning when I was shopping with my wife.
Before I tell you what it was, take a look at his expression when he opened the gift on b'day morning.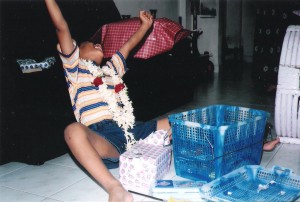 The gift is that blue basket and what is in it. It has clothesline clips of all sizes, shapes and colors.
Soon, he was making clip-rockets and clip-cars and all sorts of clip-things. The basket provided a nice place to store space ships in the making and clips waiting to discover their destiny.
Some months later, when he discovered more interesting things to do, the surviving clips (most of them did) were put to doing what they were meant to do—keep clothes on line! The basket still holds sundry memorabilia. How is that for great birthday excitement and zero wastage?
Park and eat
On another birthday, I was to get a special cake from a shop we had discovered the previous year. I went there and discovered that the shop had closed down. My son would have been thoroughly disappointed with any other cake.
My wife and I visited a neighbor who had recently started making chocolates for sale. Could she make something for us at short notice? "Sure! What size? Do you want some Mickey Mouse on it? Or a football?" I told her what I wanted. She was new, she had her limitations and we did not give her much time. But she delivered.
See how he took it.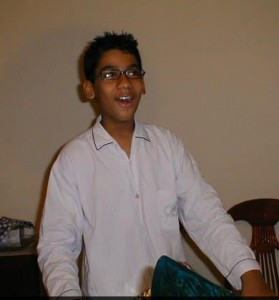 This is what the "cake" looked like.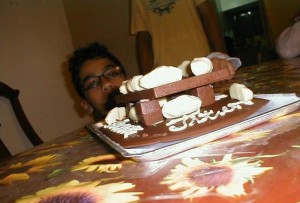 It was a two-tier parking lot, complete with cars. Everything was made of chocolate and deliciously edible. All the cars were made from the same uninteresting mold, but in his mind he could spot different makes!
I am sure you too have done some DIY gifting. It helps if you share my two pet dislikes—spending and wasting.
Vijayakumar Kotteri writes for business and pleasure.
A pure chocolate, chocolate cake?  Well played Vijay!  I know many people would swoon over receiving that much chocolate at once!