Disclosure of Material Connection: Some of the links in this post may be "affiliate links." This means if you click on the link and purchase an item, I will receive an affiliate commission. Disclosure in accordance with the Federal Trade Commission's 16 CFR, Part 255. This site is a participant in the Amazon Services LLC Associates Program, an affiliate advertising program designed to provide a means for sites to earn advertising fees by advertising and linking to Amazon.
The Casserole Dish
Ah, the lowly casserole dish… registry staple and kitchen staple. They're often plain and white. Boring. (Unless they're Le Creuset *drool*.) However, most folks who spend time in the kitchen will know that they are oh-so-useful!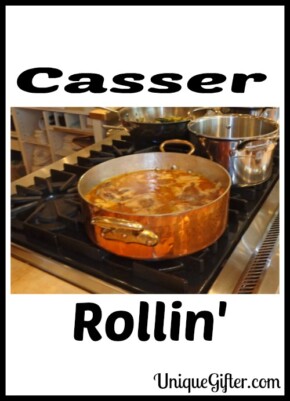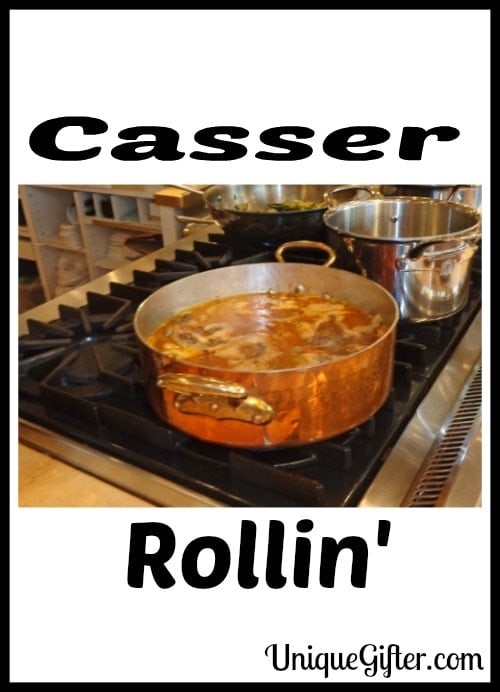 If you have a moment, I recommend reading this touching post by Renee Schuls-Jacobson – The Blessing of the Ugly Casserole Dish.
Here are a few items that you could consider adding on to a casserole dish, to make a more unique wedding gift. The first few are free or darn close:
Recipes
You could write or print some recipe cards, with your very own tried and true casserole recipes. It's practically free and full of thoughtfulness.
Spices
There are a million gourmet spice blend packets out there – this would be a perfect addition.
Etched Lid
I will be posting in the future about this, but for now you could Google "etched pyrex tutorial." Basically, you are engraving a glass casserole lid with names, monograms, or an image.
A Trivet
Casserole dishes are usually put in the oven, then served straight away. They need to sit on something that can handle the heat. 'Nuff said.

Serving Spoon
Is there a serving spoon on the registry? That would go along fantastically with this gift.
Meal Ingredients
Do you know a great quinoa and bean casserole recipe? Why not collect the spices, tins and dry ingredients together, print off the recipe, and maybe add a bottle of wine? Viola, dinner gift basket!
Meat Thermometer
Has anyone seen the Entourage episode where Johnny Drama says,
Notice the accents in the marble and the full line – of Miele ovens and ranges. – Mieles are awesome, Vince. They go from 0-400° in four seconds.
And they have a roast probe, which is nice to have.
How have we lived this long without a roast probe?
Translation – meat thermometers are good to have. You can get super fancy electronic ones, too, plus remote electronic ones for the BBQ. Who knew?

A Casserole Cookbook
There are a bajillion of these available, do you have a favourite? You could also use the Joy of Cooking. I have expressed my love for this book before.
The Greatest Oven Mitts
I *love* these puppies. I go out of my way to buy them as gifts and to profess my love to others. These silicone oven mitts are nice and insulated, full of grip, don't scorch and best of all WASHABLE. You can reach in there, grab that lasagne without dropping it, get your thumb stuck in the corner covered in sauce, pop them under the tap and life is all good J My spouse likes to use them for draining pasta, it doesn't matter if you dump boiling water over your hand, plus you can just reach in and knock those pesky stuck to the bottom pieces off with the oven mitt. Get the ones without the fabric on top, one less thing to get dirty!

And always, ALWAYS, always give a card. With a written message in it, not just your name.
What else would you add to a casserole dish as a wedding or shower gift?