Disclosure of Material Connection: Some of the links in this post may be "affiliate links." This means if you click on the link and purchase an item, I will receive an affiliate commission. Disclosure in accordance with the Federal Trade Commission's 16 CFR, Part 255. This site is a participant in the Amazon Services LLC Associates Program, an affiliate advertising program designed to provide a means for sites to earn advertising fees by advertising and linking to Amazon.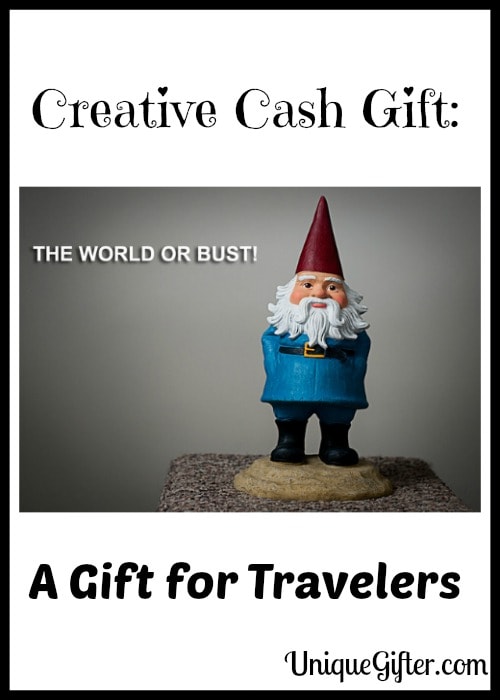 [Photo – CC Attribution michaelcrane123]
Do you have some friends that absolutely love to travel?  Do you have some friends that absolutely love to travel AND have a good sense of humour?  Do they not live in a high rise in New York City?
Three checks?
Good.
Then this might be the perfect gift for them, for their wedding, anniversary, or maybe just a birthday present for that particular someone out there.  It's really quite simple and should at the very least have all of the guests at the wedding laughing!
All you have to do is buy a Travelocity Gnome
, get a small envelope, stuff it with cash, a cheque, or an eTransfer password and then tape it to the bottom.  For added fun, make the eTransfer password into a word search puzzle, using words related to the couple's past and future trips!

The gnome even comes in several sizes, for various prices.  PLUS, you can buy a talking one
… but that might be a lot of coin for the amount of fun you're looking to provide.  The silent 8″ one is around $15 from Amazon.
If your friends are going to have a photobooth, this will be even more fun, because half the point of this friendly advertising character is taking lots of pictures.  You could also consider throwing in a nice collection of post cards, as suggested previously.
Would you be a lover, or a hater, of this fun and out-there cash gift idea?