Disclosure of Material Connection: Some of the links in this post may be "affiliate links." This means if you click on the link and purchase an item, I will receive an affiliate commission. Disclosure in accordance with the Federal Trade Commission's 16 CFR, Part 255. This site is a participant in the Amazon Services LLC Associates Program, an affiliate advertising program designed to provide a means for sites to earn advertising fees by advertising and linking to Amazon.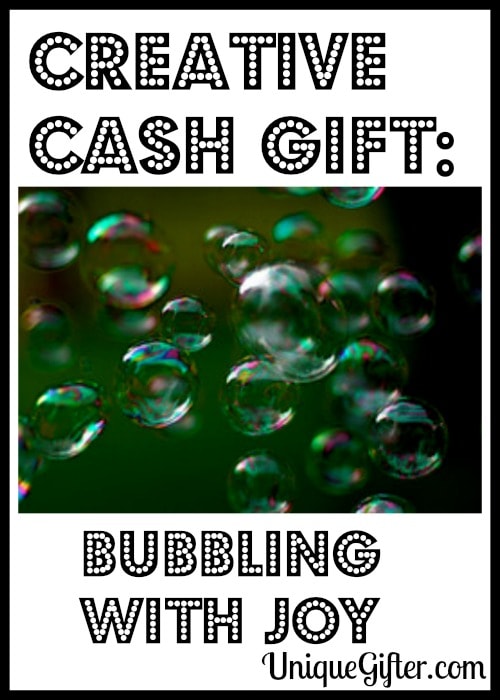 [Photo – CC Attribution Share Alike – Jeff Kubina]
This is either a cash gift idea or a wedding gift basket idea… maybe both, depending on your budget!
I've mentioned it several times before, but poems are one of the easiest, most affordable and touching ways to personalize a wedding gift and make it awesome and memorable.
Here are some that I have rounded up, on the subject of Joy and Bubbles!
Joy bubbles up
From deep inside,
More than a feeling,
It's an overall high.

Where does it come from?
We wonder why, cause
When it goes we want to cry.

Oh Joy will you not stay with me, and
Be my strength, my friend my glee?

Joy, you are my very soul,
The one the very stars foretold.

– Laura Folk

(truncated to remain happy! – Source)
Two bubbles found they had rainbows on their curves.
They flickered out saying:
"It was worth being a bubble just to have held that rainbow thirty seconds."

– Charles Sandburg (Source)
A Feast of Joy

Another day of cheer opens door wide
Bequeathing all with plenty of fun to play
Catering to the needs of all at anytime!

Delight after delight increases interest
Enchanting brim full of bubbles of joy
Floating everywhere in the feast full!

Gathering friends meet companions
Hugging with humorous thoughts ever
In the dreams of the past glory immortal!

Joint partners in play revel in merry making,
Keep all with glasses never minimizing at all
Losing or winning without minding time…!

Moments of joy never to be forgotten in life
Neither the winner nor the loser ever bothers
Openly losing one's Self as rivers in the ocean!

Pure heart of gold caring all with comforts only
Queen of heart can do so in revelry of ace class
Rejoicing in the occasion quite grande in scale!

Surfing on the waves of fantasy all forget world
That has progressed accumulating problems As
Universe only can accommodate their proportion!

Vertically and horizontally all things explored
World of woes is kept at the back burner ever;
Xerox of it only kept for ready reference however!

Year long striving is made to disappear by feast
Zigzagging over woes with new found solutions!
Cash Gift Idea
As with most of my cash gift ideas, this is pretty straightforward, but adds a lovely touch of whimsy and makes it memorable!  Simply print out one of the poems above, or the quotes below and attach it to something bubbly!  First up: bubbles.  You can usually pick them up at a dollar store or grocery store, for $1-2.  Write an awesome card to go with your poem and call it a day.  Alternatively, you can select something else from the list below.
Bubbles of Joy Gift
Perhaps you are starting with a wedding registry item, or you want to make up a nice wedding gift basket for a bridal shower, engagement gift or the wedding itself.  I always recommend that you start with the registry and build from there.  To make a fun-themed gift, print one of the poems from above and put it together with some of the following fun things:
Bubbles

Bubbly – pick a sparkling wine of some description.
Champagne glasses – preferably from the gift registry, but especially if you picked the item above!
Beer or Pop (that's soda for Americans)
Sparkling Apple Cider
Bubble Bath
Soap collection – dish soap, hand soap, shower gel, car wash soap, laundry soap, dish detergent.  This collection would make a great shower gift, as they add up in cost!
Kettle – again, try to stick to registry items
Bubble Tea gift certificate
Sodastream –  these are more and more frequently on registries.
Aero Bar
Bubble Gum
A Level
Real Estate Book – if your recipient(s) will get it!
Bubble Wrap
Bubble Vase
Bubble Maker or Gun
Another cute project is this heart shaped bubble wand, from I Can't Stop Making Things.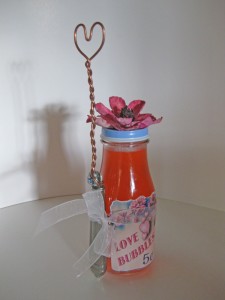 Bubble Quotes
"Come oh come ye tea-thirsty restless ones – the kettle boils, 

bubbles

 and sings, musically" – 

Rabindranath Tagore

"A smile starts on the lips, A grin spreads to the eyes, A chuckle comes from the belly; But a good laugh bursts forth from the soul, Overflows, and bubbles all around" –

Carolyn Birmingham

"Eating, loving, singing and digesting are, in truth, the four acts of the comic opera known as life, and they pass like bubbles of a bottle of champagne. Whoever lets them break without having enjoyed them is a complete fool." – 

Gioacchino Rossini
For good measure, check out Shakespeare's witches, who Double, double, toil and trouble, fire burn and cauldron bubble!
Can you think of any more bubble-themed things to add to the list?