Disclosure of Material Connection: Some of the links in this post may be "affiliate links." This means if you click on the link and purchase an item, I will receive an affiliate commission. Disclosure in accordance with the Federal Trade Commission's 16 CFR, Part 255. This site is a participant in the Amazon Services LLC Associates Program, an affiliate advertising program designed to provide a means for sites to earn advertising fees by advertising and linking to Amazon.
[Photo]
The Gravy Train will be pulling into [Insert Last Name(s) here] Station on [insert wedding date here].
This is a fun and creative way to give a cash gift at a wedding, but would also be great for a birthday or Christmas gift. Simply find yourself a toy train at the dollar store, thrift store, Ikea, or big box store. This one is $5.99 (at the time of writing) at Ikea:
It is virtually the same as the Gravy Boat, posted a few weeks back.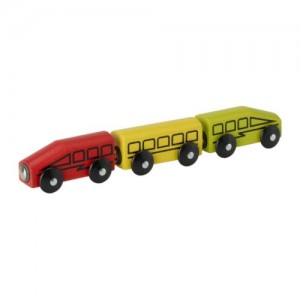 It is optional, but you can take a sharpie to the side of the train and label it "Gravy," or use a label maker. Depending on what the train looks like, you could consider taping cash to the outside. That said, cash has its downsides in that it's not the safest. Using an eTransfer can be more secure, as discussed on the cash gifts page.
If it's not too big, you could consider taking this as a destination wedding gift, as well. Also remember that couples may not be comfortable traveling home with a giant wad of cash!
Here is a little horizontal 1/4 fold card you could use, including a Pink Floyd quote:
"Come in here, dear boy, have a cigar. You're gonna go far, fly high, You're never gonna die, You're gonna make it if you try; They're gonna love you…And did we tell you the name of the game, boy, We call it Riding the Gravy Train."