Disclosure of Material Connection: Some of the links in this post may be "affiliate links." This means if you click on the link and purchase an item, I will receive an affiliate commission. Disclosure in accordance with the Federal Trade Commission's 16 CFR, Part 255. This site is a participant in the Amazon Services LLC Associates Program, an affiliate advertising program designed to provide a means for sites to earn advertising fees by advertising and linking to Amazon.
Disclosure: Three USB thumb drives were provided for review purposes but our opinions are our own.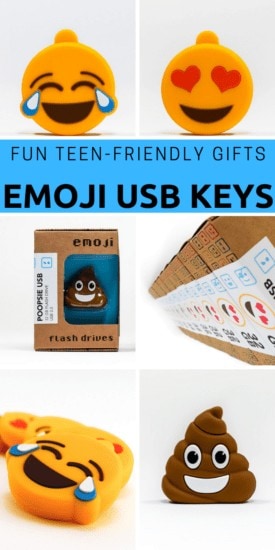 USB memory sticks are one of my favourite go-to products for gift guides. They're something that everyone needs and are often available in so many trendy (and fun) designs. So doing a USB Memory Direct Emoji Flash Drive review just made sense.
Keep reading for my full USB Memory Direct Emoji Flash Drive review.
I was sent three of these adorable flash drives: Heartsie, Laughsie, and Poopsie. They all have a 32 GB capacity. For purchase, they are available in 16 GB, 32 GB or 64 GB.
The box design is one of the things that make these emoji USB drives super giftable. First of all, they're rectangular boxes and not odd-shaped plastic that's tough to wrap. The small boxes will fit perfectly as stocking stuffers, in gift baskets, or as a unique gift idea.
They're also wrapped in cardboard and look boutique rather than cheap (despite their inexpensive price tag). Each emoji USB flash drive also has a cute, unique description on the back for some extra fun.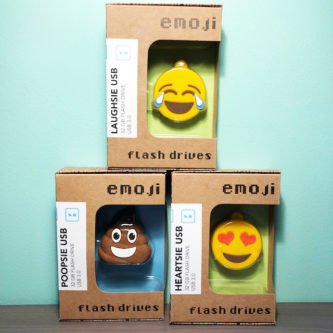 But are they good flash drives?
They're really soft, something you don't see in flash drives a lot. They seem to be pretty good quality, perfect for lots of regular use. The USB drive is actually only a small portion of the emoji and slides out.
With the Heartsie and Laughsie USB flash drives you slide the flash drive out of the top of the emoji faces, but the Poopsie emoji incorporates part of the top of the poop emoji in the actual USB drive.
Once you pop the device in though they all do the same thing – an easy to use plug and play USB flash drive that will hold 32 GB of anything you want.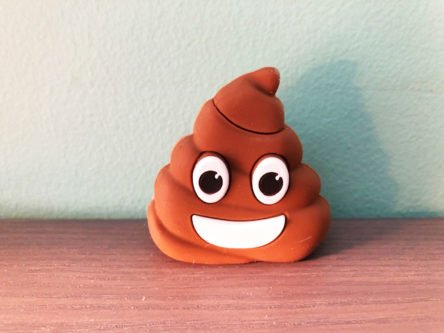 If you're giving one as a gift…
Choose whichever emoji you think the recipient will like best! They're all the same in terms of quality. I like the Laughsie personally, but that might be because I use that emoji so much.
If you're on the fence, though, you probably should go with the Poopsie emoji. Not only is it hilarious, it also is the only one that sits up nicely. That means it can make a cute emoji desk accessory when not in use.
Although anyone will appreciate them I think these emoji USB memory sticks from USB Memory Direct will make great gifts for kids and tweens or the perfect accessory for back to school.