Disclosure of Material Connection: Some of the links in this post may be "affiliate links." This means if you click on the link and purchase an item, I will receive an affiliate commission. Disclosure in accordance with the Federal Trade Commission's 16 CFR, Part 255. This site is a participant in the Amazon Services LLC Associates Program, an affiliate advertising program designed to provide a means for sites to earn advertising fees by advertising and linking to Amazon.
Dinosaurs are not just for kids – all ages can appreciate the magnificent, extinct beats. Dinosaur enthusiasts have a lot of gift ideas to choose from: here are 20 that we think are just dino-mite.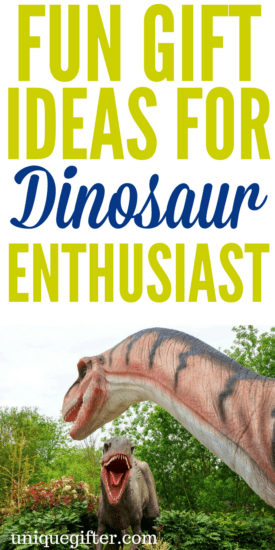 Looking for even more dino goodness? We've got a whole list of Dino Themed Gifts that are (mostly) for Adults.
Dinosaur Soup Ladle
Dinosaur lover can serve up their favourite soup or sauce with this long-necked ladle. It also has feet so it can stand up on its own!
Hatching Egg Candle
Burning this egg candle will slowly make a dinosaur hatch out of its shell. Cool!
Rawr Means I Love You In Dinosaur Pillow
This cute dinosaur pillow is perfect for a kid, someone you love, or anybody who likes cute sayings.
Dinosaur Encyclopedia
This is the most complete and up to date encyclopedia – plus it's written for dinosaur enthusiasts of all ages.
Dino Hat
Make sure whoever you're buying a gift for stays warm with this dinosaur themed hat. Keeping warm is vital to ward off extinction.
Motivational Temporary Tattoos
Not only do these tattoos have dinosaurs on them, they're also speaking adorable inspirational phrases. If a t-rex says you can do it anything is possible.
Folding Comb/Brush
Hair care is not optional but what you comb your hair is. This 2 in 1 folding brush and comb set lets your dinosaur lover (of any age) use t-rex teeth to get the tangles out.
Dinosaur Planter
Made from a repurposed toy, this dinosaur planter is made to hold a succulent.
Dino Memo Holder
T-rex has a message for you and he'll proudly display it with his teeth. His back also holds some pens to keep you organized.
Dinosaur Rolling Pin
This rolling pin will emboss dinosaurs on whatever you roll it over. Great for play doh and baking.
Dinosaur Ice Cube Tray
Chill your drink with a complete dinosaur skeleton. They break into pieces to fit in your glass.
Dinosaur Evolution Poster
Learn about how dinosaurs evolved with this educational poster. Perfect for a kid's room or dinosaur lover's office.
Dinosaur Toothbrush Holder
Let your toothbrush become the head of this adorable dinosaur toothbrush holder.
Dinosaur Magnets
A set of dinosaur magnets is a perfect way to decorate a fridge or office bulletin board. This one is a set of 10 colourful dinos.
Dinosaur Headband
Now your favourite dinosaur enthusiast can accessorize with this dinosaur headband. Perfect for long or short hair and available in so many colours.
Dinosaur Necktie
If dino lover is more of a necktie kind of person this one is definitely going to make them happy. Now they can be the envy for the office.
Cellphone Stand
This cute little dino holds your cell phone so you can easily see the screen. There's even 6 adorable colours to choose from.
Tea Rex Infuser
This TEA Rex mesh tea infuser is definitely going to help perk them up. The little t-rex charm dangles down while the tea brews for maximum dinosaur love.
Dinosaur Teeth Set
These replica dinosaur teeth will give the, a taste of what their favourite dinosaur could have killed them with.
Remote Controlled Dinosaur
Who doesn't want their very own remote controlled dinosaur? This one even attacks things. So. Cool.
Dinosaurs may have gone extinct over 65 million years ago but the dinosaur love lives on forever in our hearts. Who doesn't love dinosaurs?