Disclosure of Material Connection: Some of the links in this post may be "affiliate links." This means if you click on the link and purchase an item, I will receive an affiliate commission. Disclosure in accordance with the Federal Trade Commission's 16 CFR, Part 255. This site is a participant in the Amazon Services LLC Associates Program, an affiliate advertising program designed to provide a means for sites to earn advertising fees by advertising and linking to Amazon.
You can't blame some people from sighing in disappointment at the mention of 'practical gifts'. For a lot of us, this still harkens back to our childhood; being given books or stacks of clothes and socks instead of our favourite records or the latest video game system. But as you get older, you realise that practical gifts are often going to be enjoyed for much longer than the latest throwaway fads, particularly if they're fun as well.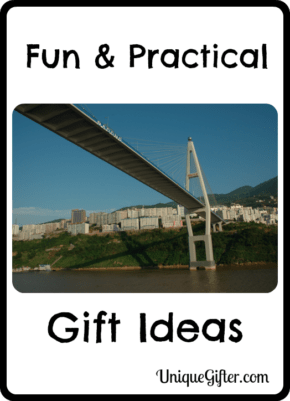 A Travel Card
Really? A travel card? Why would I want that as a gift? Think about it; a travel card is effectively a free ticket to wherever you want to go (within reason of course). So many of us don't make time within our busy schedules to escape somewhere for a day or two. But presented with a free ride, naturally we don't like to look a gift horse in the mouth.
A Documentary DVD Series
At its best television can be informative, insightful and entertaining. More often than not though, it's comprised of endless commercials and mindless programming that, quite simply, fails to hit the mark. One genre that is consistently powerful though is documentary. Just to clear, we're not talking about the latest bout of 'reality' TV programming here; those shows depict anything but reality. True documentary work – such as the films of Nick Broomfield or the nature programs of David Attenborough – are not only enjoyable and truly entertaining, they are informative and mentally stimulating as well. Practical gifts should engage the mind as well as the body. And a great Documentary Series will do exactly that.
Food For Thought
Anyone who enjoys cooking will generally get very excited about new gear for the kitchen. A brand new bit of kitchen equipment is almost like a new toy to most cooks, except that it's a toy that's infinitely practical as well. So for any culinarily-minded friends, a new knife, chopping board or piece of quality bakeware is probably the best gift you can get. No doubt, you'll probably enjoy some of the spoils as well.
The Best of Both Worlds
Most of us hated the mention of practical gifts as children. But growing older, you start to appreciate the kind of gifts that you wouldn't necessarily buy yourself – longevity and practicality become equally important as novelty and fun. The list of gift suggestions here represents the best of both worlds.