Disclosure of Material Connection: Some of the links in this post may be "affiliate links." This means if you click on the link and purchase an item, I will receive an affiliate commission. Disclosure in accordance with the Federal Trade Commission's 16 CFR, Part 255. This site is a participant in the Amazon Services LLC Associates Program, an affiliate advertising program designed to provide a means for sites to earn advertising fees by advertising and linking to Amazon.
I live in a small town. I have no idea if this is the case elsewhere, but when it is back to school time, the school supply lists are posted in the school supply aisles at the grocery stores and other shops that sell that sort of thing. There's only 2.5 elementary schools (the point five is what I'm giving to a special program that has something like 18 students in the entire "school"), so it's not that big of a deal.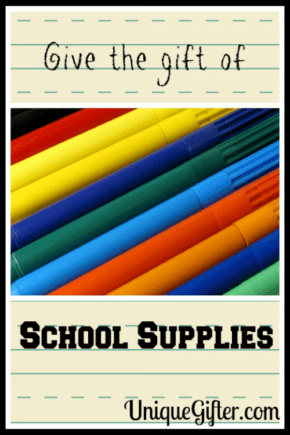 Back to school time, which is September in Canada and I know it is August in other places, can be very expensive for parents. I remember going on back to school shopping trips and picking out new indoor shoes, choosing a whole new wardrobe, fancy coloured gel pens and half the time, a new backpack. I was pretty lucky that my parents could afford to do that, year in and year out.
Not everyone can afford that luxury.  For some, the $30-50 worth of school supplies is more than their budget can handle, especially when they have a child or two. September is also the time of registration for fall sports, new cleats for baseball, and on and on. Depending on where you live, there are fees for taking certain classes at school, too.
Do you know someone who will struggle to cover the cost of school supplies? If not, do you know a way to find someone who might? Could you ask a pastor at a church, a food bank manager, a boys and girls club worker, or a school teacher? You could also try calling a local school directly.  Use that information and give the gift of school supplies.
In my case, it is easy to know exactly what to buy, but you may need to get a gift certificate to an office supply store, or to coordinate getting the supply list from your go-between person. If you can, do this anonymously. Go purchase the things on the list, looking out for sales, as everything goes on sale at this time! Add in a few extras, if possible, like stickers, a fancy pen, or an extra set of pencil crayons (that's coloured pencils for you non-Canadians). Wrap the supplies up in a good quality backpack, if you can, in a regular shopping bag, or in a nice bundle.
Use your go-between person to deliver them, or secretly drop them off. You will have made some parents breathe a big sigh of relief and made a little kiddo happy.
If sponsoring a child locally won't work for you, please consider helping Pauline from Reach Financial Independence with her commitment to send girls from her small Guatemalan town to boarding school. She has since gone on to buy school supplies for many kids in the village, sent not one but two girls to boarding school, given them extra funds to participate in field trips, and started a computer program in her village. It is making a huge difference in the lives of the children and it is astounding how little it costs.  She commits 10% of her blog income to this project, but often adds in much more. If you can spare even $5 or $10, it will go a very, very long way. You can email Pauline for details, she will be very happy to hear from you.
Have you ever given the gift of school supplies before?
What was your favourite school supply as a kid?