Disclosure of Material Connection: Some of the links in this post may be "affiliate links." This means if you click on the link and purchase an item, I will receive an affiliate commission. Disclosure in accordance with the Federal Trade Commission's 16 CFR, Part 255. This site is a participant in the Amazon Services LLC Associates Program, an affiliate advertising program designed to provide a means for sites to earn advertising fees by advertising and linking to Amazon.
In this age of endless 'stuff', a fruit tree is so much more than a keepsake to unwrap and leave at the back of a dusty cupboard. It will bring your friend's/Aunty's/Godson's garden to life: provide a strong visual focus, attract buzzing and colourful pollinators and birds, and create a mini woodland environment in its shade for spring flowers such as bluebells and cyclamen. And provide a glorious supply of fruit!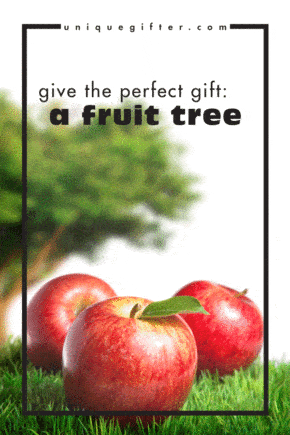 There are so many occasions to give a tree: a wedding, birthday or anniversary for starters. Increasingly, trees are given to celebrate the arrival of a baby, or for Christenings/naming ceremonies. And what better gift than one that grows alongside its tiny recipient? There's a lovely poetry to watching the tree and child grow together, and interact through insect-spotting, blossom-admiring, and fruit-picking adventures.
But with so many varieties available, how to choose the right one to give? You don't have to be an experienced gardener to look after a fruit tree, but to ensure that your gift is received with genuine pleasure rather than worry about where to put it, here are some quick pointers for choosing with your intended recipient in mind.
Who are you buying for?
Given the right space, a great many fruits can be grown in a UK garden, so it makes sense to think about what will bring the most pleasure.
What's their favourite fruit? An obvious starting point, but it makes sense to get something they're going to love to eat. Such a wide variety of fruits can grow in sunny, south-facing conditions: have you considered apricots or nectarines, for example?
A family fruit tree is a great option if you know they love apples or pears but don't have much space – combining two or more varieties, these trees will often have a longer cropping season and give double the taste pleasure! Or you might want to prioritise taste over heavy cropping if you know they've got a particular favourite that's hard to get in the shops.
What else makes them smile? If you know they love colour in their life, then don't forget about blossom. More unusual fruits can come into their own here: the pink show of quince trees is truly spectacular. And cherry blossoms are always an uplifting spring-time view.
Timing
You need to plant bare-rooted trees during their dormant season, before leaves appear. This may not time well with when you want to give your gift, so a voucher with a promise of what's to come is a safer way to ensure a long-lasting tree if you're giving over summer.
Container-grown trees, such as these figs, are often available during the summer months but if they are to be grown on in containers they will need close attention during the warmer months to ensure they're watered enough and flourish.
It's also worth thinking about fruiting or flowering times. Apple-picking season, for example, can stretch from mid-summer to late Autumn. If you're celebrating a particular date, why not choose a variety that tends to either blossom spectacularly or crop reliably at that time each year?
Space
Anyone can enjoy a fruit tree, whether they've got a patio or room for an orchard. If your gift recipient is short on space, consider these options:
Many varieties of fruits of all kinds will take happily to a container. The Royal Horticultural Society has some tips for choosing and planting successfully and we can advise too.
If you're buying just one tree and aren't sure there's a compatible pollinator close by, choose a self-fertile variety.
Cordon fruit trees are a great choice for smaller spaces. Trained to grow vertically they look striking and can be grown close together or in pots.
Looking after their tree
All trees will need care to ensure they reach their full fruiting potential. Take the hassle out of planting by providing a kit: include fruit stakes and ties, Rootgrow© and fertilizer in your gift along with the tree.
If you're not sure that the pruning will get done then why not offer your services as part of your gift? A great way to maintain a connection with your loved ones. We also provide aftercare, and will happily advise the lucky recipient of your chosen tree.
And if you've taken a look at the options and still can't decide, give a gift voucher and we can provide personalised advice. Either way, a fruit tree will brighten up someone's life for years – there's no better gift to give!