Disclosure of Material Connection: Some of the links in this post may be "affiliate links." This means if you click on the link and purchase an item, I will receive an affiliate commission. Disclosure in accordance with the Federal Trade Commission's 16 CFR, Part 255. This site is a participant in the Amazon Services LLC Associates Program, an affiliate advertising program designed to provide a means for sites to earn advertising fees by advertising and linking to Amazon.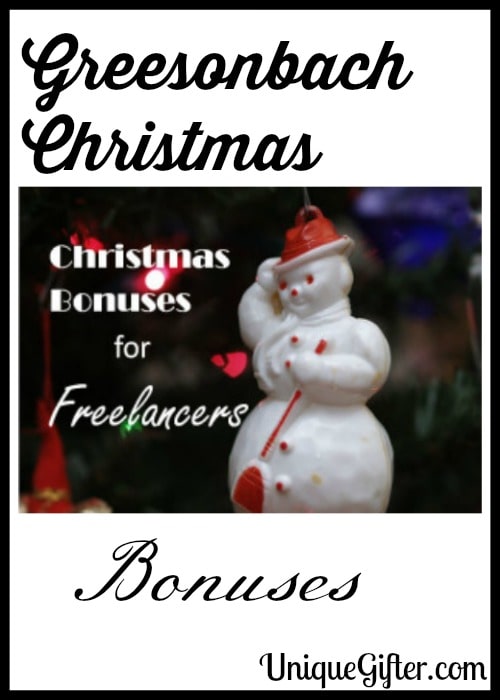 I saw Sarah post about her "Christmas Bonuses" on twitter the other day and begged her to write us a post about them, because I think the concept is so ridiculously awesome! Most of the time, she writes at Life Comma Etc and you can check out her company, that will be giving out these awesome bonsues, at Greesonbach Creative.
When I was laid off a few weeks ago, I knew this was my chance to start my own business and see if I could make it successful.
Was I confident, sure, and 100% always positive? Nope. And that's where my "supportive staff" came in, in the form of family, friends, and role models who cheered me on.
So, while self-employment doesn't have the perks of health insurance, retirement accounts, or birthday parties, I decided the one thing I'll bring with me from the corporate world are the Christmas Bonuses.
My new goal is to generate enough of a profit to provide Christmas Bonuses to the friends and family who have whole-heartedly supported me during a stressful and challenging time.
Because when you aren't sure if you can do it, it's the friends who speak up with pride and confidence in your ability — who won't shut up, really, until you give it a try — that deserve a kick back. Because without a fan club everything is a lot harder.
For A. G., an avid hiker and nature enthusiast who constantly expresses her excitement for my projects, this gorgeous National Parks map from Etsy was a no-brainer.
For J.K., an HR professional who lets me vent about my career fears and validates my crazies, it's 20 years of Dilbert.
For J. L., an old friend I don't keep up with enough, but who took the time to let me know she's proud of what I'm trying to do, it's gift cards to local businesses so that she'll visit more often and we can get closer.
And finally, for my parents, who are no doubt beyond worried, but remained optimistic and supportive… the corny thing is that my success really is the best gift. So I'll be brainstorming something even more special for them!
Exhibiting gratitude is one of the easiest ways to make yourself happy. Looking for a special gift to thank the cheerleaders in your life? Here are some amazing puns that will show them how much you appreciate their support:
Send a thank-you card with a meaningful note about how this person inspired you (that's my fall back if profits aren't where they need to be!).

Pick up low-cost pom-poms and include a decorated card about what a cheerleader this person has been for you.

Get dramatic with an Atlas figurine, a small greek god carrying the world as a token to represent how supportive they've been for you.

Frame a photo of you together with a fun caption, like "Company Team 2013" to let them know they're a part of your business.
How do you thank the supportive people in your life?