Disclosure of Material Connection: Some of the links in this post may be "affiliate links." This means if you click on the link and purchase an item, I will receive an affiliate commission. Disclosure in accordance with the Federal Trade Commission's 16 CFR, Part 255. This site is a participant in the Amazon Services LLC Associates Program, an affiliate advertising program designed to provide a means for sites to earn advertising fees by advertising and linking to Amazon.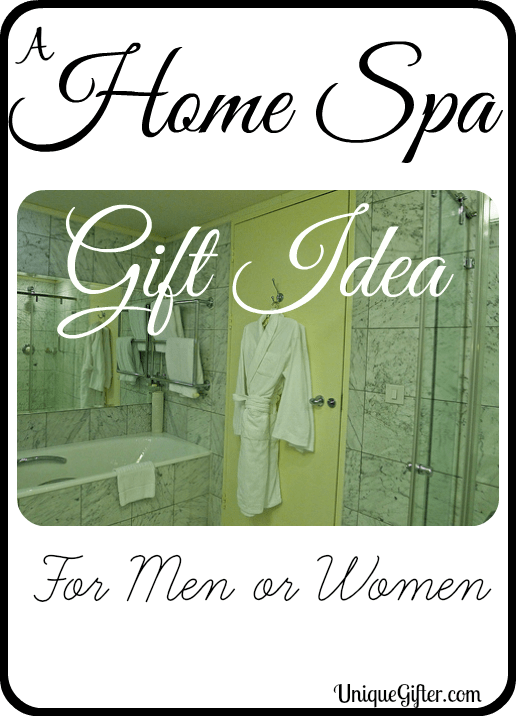 A moderately common wedding gift registry item is monogrammed couples bathrobes.  They can be so comfy and perfect for newlyweds lounging around on the weekend!  This idea can also help you creative an anniversary gift for men or women, a birthday gift, a Christmas gift… really an any occasion gift!
From the bathrobe, you can easily get to making a great "Home Spa Gift Basket."  Pop in a few of the following to pull it off:
OR – Opt for this Super Awesome Gift Idea
A fancy shower head.
This is one of those little luxury items that most people do not spring for themselves, but can make people very happy.  Do you need a gift idea for a man?  This may just do the trick!  They can vary a lot in price, anywhere from $30 or so for a decent one, up through the hundreds of dollars.  One of the great things about most shower heads is that they take about 3 minutes to install and are easy to take with you when you move.  (Sandra shows you how, but she says it takes 5 minutes.)  This is great for renters, too.
For Christmas, I bought my spouse a Delta In2ition, like this one from Amazon
:
It's pretty sweet, though I do wish it had a bit higher water pressure.  I'm starting to think that it might be my building though, as the previous one wasn't very high pressure either.  (Un-green confession: I've already taken out the plug.)
So, when you're struggling for a great gift idea for someone who's hard to buy for… consider a fancy new shower head!  It ought to at least be unique.
Do you have a nice shower head?  Does it make the start of your day better?
[Photo – CC Attribution – UggBoy UggGirl]