Disclosure of Material Connection: Some of the links in this post may be "affiliate links." This means if you click on the link and purchase an item, I will receive an affiliate commission. Disclosure in accordance with the Federal Trade Commission's 16 CFR, Part 255. This site is a participant in the Amazon Services LLC Associates Program, an affiliate advertising program designed to provide a means for sites to earn advertising fees by advertising and linking to Amazon.
The good people at Staples Canada emailed me the other day with an opportunity that sounded pretty darn swell for me and more importantly, for you!'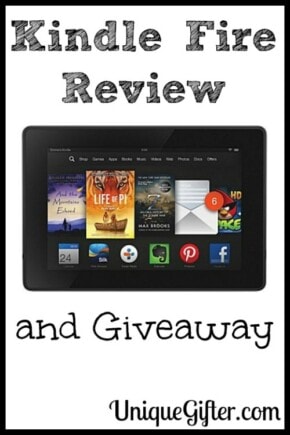 They, like you, are gearing up for Back to School time, and think that the Kindle Fire is a great gift for teachers, students and parents. They have even been generous enough to provide one for a giveaway!
Kindle Fire Review
The Kindle Fire HD showed up via courier, in a slick little box.  It is nice that packaging seems to be more appropriately sized to the contents, lately. I hate excessively large boxes, with tonnes of packing peanuts and extra plastic covers.
The power charger fits a "regular" size USB cord, so can be plugged into a computer or using the adapter, into a wall.  This might sound like a weird thing to like, but I was so relieved to see that the prongs collapse into the charger. For traveling and packing, it makes chargers so, so much nicer. I wish the cord for my digital camera did that. It also doesn't stick out three inches, like my phone charger, so it's easy to plug in behind furniture.
Turning on and setting up the device was pretty simple, but I did already have an Amazon account. There is language set up, wifi setup and registration.  The Fire comes with a one month free trial of Audible, Amazon's audiobook site.
I had a few kindle books already, associated with my account, because I used the Free Kindle Reading app
that works on most things, like my computer. They synced immediately, and it was fun to page through them, as I had forgotten about some of them!
How hard is it to type on a Kindle Fire?
Not too difficult, actually.  I find it easier than typing on a phone, because the keys are larger and therefore I am less prone to hit the wrong keys. There are a few nice touches, including a key with ".com" on it. As with most touchscreen keyboards, alphanumeric passwords are a pain to enter, because you have to switch back and forth between capitals, numbers, letters and symbols.
When you are typing, if you turn the kindle sideways, there are many more suggested words, so you can speed up your typing a fair bit by turning the screen to be horizontal.  It displays around 8 words, instead of three or four, this way.
Reading Books on the Kindle Fire
The screen of the Fire is bright, like a regular screen, even when it is in book reading mode.  That makes it harder on the eyes, than an eInk screen, in my opinion.
The flip side is that it is easy to browse the internet, use your email account, manage contacts and play games.
My Favourite Way to Use My Kindle Fire
So far, I have found it very handy to use the Fire to display recipes for me in the kitchen.  I have set the "sleep" time to be quite long, and because the kindle is nice and small, it doesn't take up too much space in my rather small kitchen.
My spouse likes to use tablets for reading the newspaper and the internet, while lying on the couch or in bed.  The larger screen size than a phone makes it perfect for this.  As an adult, it is very easy to hold the Fire in one hand.  If you were a child, it would definitely take two hands.
The Fire operates on an Android system, customized for Amazon, so it is set up in much the same way as an Android phone, which makes it easy to use for those familiar with the phones.
Your Turn
Now, wouldn't you like to own a new toy like this? Here is your chance!
(Of note, this giveaway is open to Canadians only.)