Disclosure of Material Connection: Some of the links in this post may be "affiliate links." This means if you click on the link and purchase an item, I will receive an affiliate commission. Disclosure in accordance with the Federal Trade Commission's 16 CFR, Part 255. This site is a participant in the Amazon Services LLC Associates Program, an affiliate advertising program designed to provide a means for sites to earn advertising fees by advertising and linking to Amazon.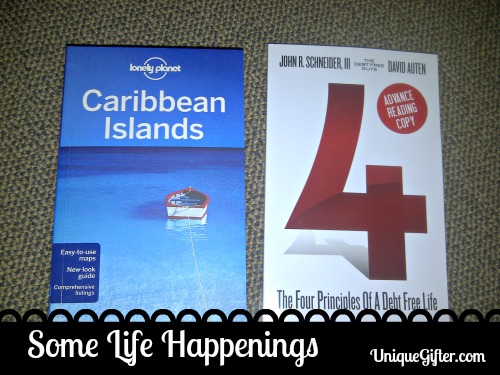 If you follow me on twitter (you absolutely should), you probably know that we have been battling a lot of sickness at home this past week, so there have been some life happenings, like days dying on the couch.  Wednesday night was a celebration of a return to real food for both of us! Far from ideal, but the lack of ability to consume food has led to some weight loss for both of us.  It has been freeeeezing cold here for the last several days, which has made vacation planning all that more enticing!  After some initial plans to go to Central America, we're now looking at the Caribbean, as my spouse is worried about situations that are higher risk for illness.  I'm looking into the Caribbean now, if you have any suggestions?  Vanessa had a great suggestion, unfortunately it's the only place I've been in the Caribbean since high school, Varadero, Cuba.  I also need to find some more funds to pay for this adventure, so if anyone wants to get me some revenue on here, or just gift me some funds, I'm keen!
Holly, at Club Thrifty, is planning a vacation to Jamaica, and wrote about buying her taxi driver's kids some gifts.  I absolutely, 110% love this.  When we went to Cuba, it was very strange giving things instead of cash as tips.  You feel like such a tool handing over hair clips to the bartender in exchange for a drink!  However, everyone absolutely loves to receive things, because many things are expensive or difficult to come by in Cuba.
Kathleen O'Malley of Frugal Portland fame has kicked my butt in gear, to at least start writing a book that I have been thinking about for awhile.  I definitely need this kick, because the project seems to just keep getting bigger, the more I work on it!  That whole "write 52 posts by the end of February" thing really hasn't been panning out lately, between having a single laptop at home, the internet being patchy for some reason and me just not being motivated.  It is BC Family Day long weekend, and the temperature looks like it plans to stay fairly cold (it's -28C as I write this), so maybe I will be able to get some writing done this weekend.  I'm also reading The Four Principles of a Debt Free Life in order to do a review for the Debt Free Guys.  I got both of the books in the picture on the same day, guess which one I was more keen to start?  (Side note: I love my local bookstore, they are the best.)
At work, my friend Howard just got a new coffee maker.  When I walked by his office, he had a coffee maker and a roll of masking tape on his desk.  I decided to decorate one with the other, because I am awesome like that.  A few days later I found a carefully placed tiny piece of cake on the letter A on my keyboard.  Keeping your work environment fun is important!  Let me know if you have any ideas or safe pranks.
I'll leave you with a quote from Athena, "I want to make out with Friday."  Also, a sweet giveaway from Sarah, go check it out, it's possibly the best-ever year calendar.