Disclosure of Material Connection: Some of the links in this post may be "affiliate links." This means if you click on the link and purchase an item, I will receive an affiliate commission. Disclosure in accordance with the Federal Trade Commission's 16 CFR, Part 255. This site is a participant in the Amazon Services LLC Associates Program, an affiliate advertising program designed to provide a means for sites to earn advertising fees by advertising and linking to Amazon.
Do you have a rock and roll fan that you need to shop for? Check out twenty rock and roll gift sets that they are sure to enjoy.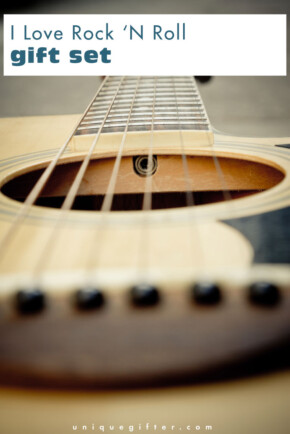 1. Guitar Ornaments
Rock and roll fans will love the idea of a rock and roll Christmas tree. This set of twelve ornaments will be the inspiration that they need to change up their Christmas décor.
Buy Now
2. Black & White Guitar Bed in Bag Set
Any true guitar lover will love to be surprised with this amazing bed set. They can go to sleep every night like a rock star. The best part is the comforter is reversible so they can switch up their bedding look if they please to do so.
3. Barbeque Gift Set
Does your rock and roll lover love cooking out on the grill? This barbeque gift set is a must if so. The guitar shaped utensils will brighten up their day for sure. They won't be able to wait to show them off.
4. My First KISS Blanket
Do you know two rock stars who are expecting? This will make their day when they unwrap this blanket during their baby shower. You can even pair it with some other items to make the perfect gift basket.
5. Set of 50 Temporary Tattoos
The perfect item to give to a family that is planning to attend a concert for their favorite star soon. It also makes a good birthday present for youngsters who are a fan of rock and roll.
6. Rock N Roll Monkey Sheet Set
The perfect gift for a toddler who has a thing for rock music.
7. Rock & Roll Poker Chip Set
Do you know someone who hosts poker games at their home? This would be perfect for them especially if they are a huge rock music lover.
8. Elvis Wig
It's the perfect accessory to add to any gift basket that you are creating with the rock n roll theme.
9. 100 Rock N Roll Hits CD
Add this into your custom gift basket and you are sure to get extra brownie points.
Buy Now
10. Rock n Roll Pug Duvet and Pillowcase Set
This is the perfect housewarming gift for someone who is seriously obsessed with rock music.
11. Rock n Roll Wall Decals
Bring the life to any female's home who loves rock music. After opening your present, she may enlist your help to assist her in getting the new decals up immediately.
12. Rock Band Nursery Bedding Set
This is another great gift to give to expectant parents who are big fans of rock n roll.
Buy Now
13. Elvis Presley Glasses
Do you know someone who is obsessed with Elvis Presley? This would be the perfect gift for them, which also happens to be perfect for any occasion.
Buy Now
14. Elvis Presley Lunch Box
Your recipient will be pleased to receive this gift set. They'll get to see Elvis when they decide to take their lunch to work.
15. Rock n Roll Tea Bags Gift Set
Is your rock lover also a tea lover? If so, they must have this tea set. Don't get mad if they just save it for a while and don't try it out immediately though.
Buy Now
16. Rock N Roll Hot Sauce Collection
This is the perfect gift for those who love collectible items. It also makes a great gift for rock n roll fans who love hot sauce too.
Buy Now
17. Guitar Handle Ceramic Mug & Record Saucer
The ideal gift for those who love drinking coffee just as much as they love rock n roll.
Buy Now
18. KISS Pillowcase Set
Don't let them go to bed without having sweet dreams about "KISS".
19. Sun Records Beach Towel and Bandana Set
The ideal gift for those who love spending time at the beach.
Buy Now
20. The History of Rock n Roll DVD Set
Any fan of rock n roll will be pleased to receive this DVD set.
Buy Now