Disclosure of Material Connection: Some of the links in this post may be "affiliate links." This means if you click on the link and purchase an item, I will receive an affiliate commission. Disclosure in accordance with the Federal Trade Commission's 16 CFR, Part 255. This site is a participant in the Amazon Services LLC Associates Program, an affiliate advertising program designed to provide a means for sites to earn advertising fees by advertising and linking to Amazon.
Do you have friends or family members who adhere to a Paleo lifestyle? Are you, yourself, an adherent who would love to give others some gift suggestions? Today we present just the thing for you, How to Assemble the Perfect Paleo Gift Basket!
I've joined forces with Sarah, from Eat Your Values, a website full of Paleo-friendly recipes and food info. She knows her stuff, and follows the Paleo AIP protocol.  (Let's not talk about how the P stands for protocol and then I wrote it out, okay?  Okay.)
All of the items are given a robust explanation in Sarah's post, which you can head over here and read.
The idea behind this giveaway was to give you, the gift-giver, an easy-peasy list of things to buy, which would assemble nicely into a Paleo Gift Basket.  Click-click to order them from Amazon, and when they arrive, you know that they will all fit together nicely.  Pretty awesome, eh?
[FreshBundle bundle_id="paleo_gift_basket_001″ layout="grid" columns="2″ custom_title="Paleo Gift Basket Bundle" custom_buy_button="Buy The Basket Now!" custom_cta="" target="blank" ]
There you have it, everything you need to make a fantastic Paleo Gift Basket.  Are you ready for Christmas?  Perhaps you participate in fundraising activities and are always looking to hit the crowd just right. Coming in at just shy of $100, this makes for a fantastic main gift for someone.
Here's what it looks like, all put together.  If you wanted to splash out, you could get the hardcover version of the book, too, instead of the Kindle version.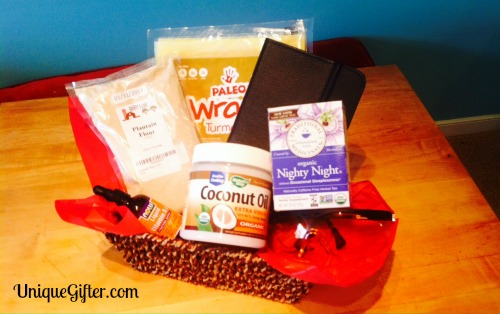 Now, the part that you REALLY are interested in:
Paleo AIP Gift Basket Giveaway
Doesn't that sound awesome? Eat Your Values, Life Comma Etc, and Unique Gifter are going to give away one of these baskets, to a lucky winner.  If you live in the United States, we'll order the gift basket items to your house.  If you live elsewhere, we will give you an equivalent amount in a local Amazon gift card, or cash via PayPal.  Best of luck and tell all of your friends!