Disclosure of Material Connection: Some of the links in this post may be "affiliate links." This means if you click on the link and purchase an item, I will receive an affiliate commission. Disclosure in accordance with the Federal Trade Commission's 16 CFR, Part 255. This site is a participant in the Amazon Services LLC Associates Program, an affiliate advertising program designed to provide a means for sites to earn advertising fees by advertising and linking to Amazon.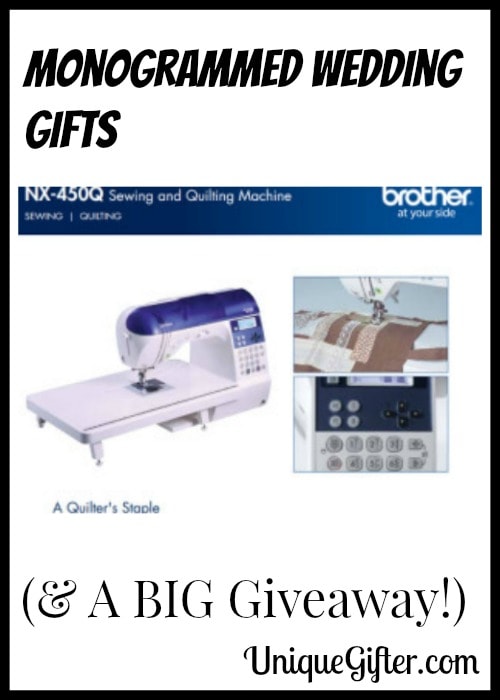 Monograms are not usually front and center in our modern lives, until an occasion like a wedding or sometimes a birth.  Seeing as I write about wedding gift ideas, I thought I should get around to the topic!  Monogram etiquette is a complicated matter with a lot of fuzziness on current accepted practice.  For a very interesting article and survey results on the topic, click here.
First, let's cover a few basics.  Absolutely the most important first step?  Know what the couple will be using for names after the wedding!  It would be terrible to invest the time and money to monogram a bunch of things (thereby rendering them non-returnable!!), just to find out that they were adopting a completely new name together that didn't start with any of their previous letters!
Next, ensure that your budget will permit you to do all of the monograms you would like to.  A single towel, handtowel and facecloth probably doesn't make much sense if you are giving the gift for a wedding.  You may be better off to stick to tea towels in that case.  Sometimes people have selected multiple sets of towels, intending to use some as guest towels.  It is also a good idea to check with them or someone close to them what their plans are, to ensure you monogram their personal set instead of the guest set!  You could also purchase some of the towels and offer to monogram the rest.  This is especially true if you are the winner of this amazing giveaway!
Without further ado, here are some giveaway details.  This is all thanks to the marvelous work of Cindy at Creating at Home, who has been lucky enough to demo an amazing Brother sewing machine lately.  She has even managed to get this ~$1400 machine as a giveaway!  I think the only thing this machine doesn't do is the laundry.  You can click over to the main giveaway page for further details, or enter directly below.
Best of luck to you!!
If I win it, I am totally going to start a side business of monogramming things for gifts.  Done and done!
Note: You must have a Canadian shipping address to enter.