Disclosure of Material Connection: Some of the links in this post may be "affiliate links." This means if you click on the link and purchase an item, I will receive an affiliate commission. Disclosure in accordance with the Federal Trade Commission's 16 CFR, Part 255. This site is a participant in the Amazon Services LLC Associates Program, an affiliate advertising program designed to provide a means for sites to earn advertising fees by advertising and linking to Amazon.
Oprah Winfrey has been picking her favourite things for over 20 years. This time she's picking them online. If you can't get enough of Oprah, why not take some of her advice during your festive shopping spree at this time of year?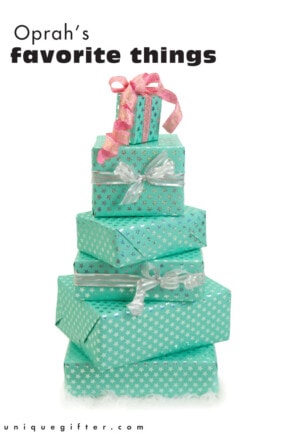 1. Motion Pull-Over Hoodie
Just because you're working out doesn't mean you can't look fabulous. This hoodie adds a jolt of colour to make you the centre of attention at the gym, and not just because of your terrific washboard abs.

2. Oprah & Deepak's 21-Day Meditation Transcendence Trio
Who doesn't need some relaxation time this Christmas? These audio guides will help you forget the turkey is on fire and the stuffing has gone bad.
Buy Now
3. Philips Avance Pasta Maker
Crank out the perfect pasta in any shape you like. Now you'll never have sloppy pasta again. It's Italian cuisine without the need to actually go to Italy.
4. UP3 Activity Tracker
It tracks everything from your steps to your heart rate. Now you'll never have an excuse for not getting up and active again.
Buy Now
5. Nespresso Evoluo Coffee Maker
We all need a shot of energy on those cold winter mornings. The Nespresso Evoluo is the ultimate in caffeine technology, whatever that is. Feel like a barista in the comfort of your own home.
Buy Now
6. D'Evereux Foods Gourmet Jam Set
For those special occasions, there's nothing like gourmet jam. From the heart of Mississippi and wrapped in a colourful ribbon, let your loved ones know you're thinking of them.
Buy Now
7. Corkcicle Canteens
These canteens keep drinks cool for 25 hours and drinks hot for 12 hours. And since they look like regular water bottles, now you can even drink in church.
Buy Now
8. Beats by Dre Powerbeats2 Wireless In-Ear Headphones
Light and flexible, feel like you're in the club all the time, despite the fact you're actually stuck at home with the kids annoying you with that noisy Christmas gift you already regret buying them.
Buy Now
9. Ema Jay Night Shirt
'I Told My Therapist About You', said the shirt. Whether you want to raise a smile or issue a threat, this is the perfect item to keep you snug and cosy.
Buy Now
10. Apple Watch Sport
Yes, wearable technology is here. The Apple Watch Sport is here to herald a new era of being anti-social at family gatherings.
Buy Now
11. Elvis Cake
When all else fails and you can't think about what to buy, Oprah recommends cake. We all recommend cake. Buy cake!
Buy Now
12. Alma Chocolate Favourite Icons
 Alma Chocolates are gilded dark chocolates that wouldn't look out of place in the Pyramids of Giza. But why not unwrap them and get fat instead?
Buy Now
13. Letters to My…Keepsake Books
Make compiling those heartfelt messages easier than ever before. These keepsake books will help you find the right words.
14. IPhone 6S
The iPhone 6S was bound to make this list. It's the latest technological innovation. If you want the best apps and the latest gadgets, the iPhone 6S is a 'must have'.
15. Susan Hanover Drop Earrings
These sliced sapphire earrings could go into a crown on a princess's head. Throw your head back and show the off at the New Year's party.
Buy Now
16. Butter London Manicure Kit
Want sparkling nails without the cost of going to a salon? The Butter London manicure kit can give you the luxury of awesome nails in the comfort of your own home.

Buy Now
17. Vince Melange Sweatpants
We all have those lazy days where we want to sit back and get fat. This pair of sweatpants comes with an extendable waistband for all that turkey you're going to be stuffing down your throat.

18. Mollaspace Animal Shot Glass Set
Who doesn't like getting drunk at Christmas? These funky shot glasses are alcohol friendly and child friendly. Just kidding. Don't give alcohol to your children.
Buy Now
19. Happy Hour Cutting Board
The Happy Hour cutting board lets you know when fun time begins. Soon you'll be chopping up something for your signature dish or chopping up lemons as garnish for your next round of cocktails.
Buy Now
For more of Oprah's favourite things for the end of 2015 and the year to come, visit Amazon.