Disclosure of Material Connection: Some of the links in this post may be "affiliate links." This means if you click on the link and purchase an item, I will receive an affiliate commission. Disclosure in accordance with the Federal Trade Commission's 16 CFR, Part 255. This site is a participant in the Amazon Services LLC Associates Program, an affiliate advertising program designed to provide a means for sites to earn advertising fees by advertising and linking to Amazon.
Wedding gifts for economists you say?
Yes, yes indeed. In shocking news, I get a lot of my ideas from looking at the wedding gift registries of my friends' and seeing if anything pops out at me.
One of my friends from grad school was getting married and I was perusing the list.   I was checking to see what kind of deals I could find online for the things on his registry, using some of my tips for buying wedding gifts on a budget. There I was, mucking around with a few different things, when I had a lightbulb moment – the pie plate!!
Now, you have to understand that there are a lot of references to pie in economics.  On the one hand (ahem, that's also an economics joke), π can mean inflation, or profit, depending on the case.  On the other hand, the "size of the pie" and the "slice of the pie" are very frequent metaphors for the economy.  All in all, there is a lot of pie discussion in the world of economics.
This post contains affiliate links.
There are also a lot of pie-related wedding gifts!  My friend had registered for a gorgeous Le Creuset pie plate:
Le Creuset Stoneware Pie Pans, 9-Inch, Marseille
Unfortunately, I couldn't attend the wedding due to timing, but I still sent along a little something fun.  To explain the gift a little bit more, I need to tell you an entertaining story about my friend.
As it turns out, photo ID is not required to vote in Canada in a federal election.  There are several ID requirements, but many combinations that do not include a photograph are acceptable.  To make a long story short, my friend got a gigantic pumpkin, hollowed it out, and went to vote.  I wish I could have seen that in action, I have only seen pictures of it.
So my friend is a pumpkin-head wearing, pie-loving economist.  I can work with that.  I can definitely work with that.
I ordered up the pie plate, grabbed an awesome little silicone hot pad to go with it, and printed up a customized recipe.  I called it "Election Day Pie" and it includes some irregular steps in the pie making process: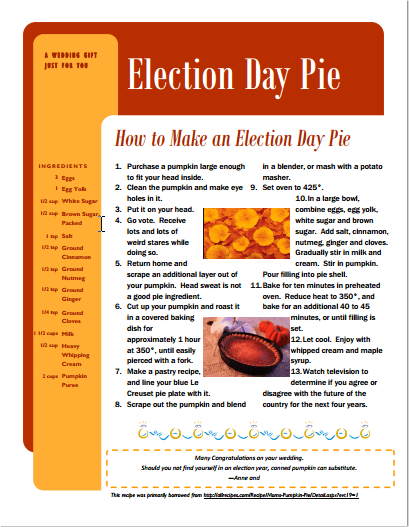 Now, I am going to go ahead and assume that most of you do NOT have friends who go vote for prime ministers with pumpkins on their heads.
That's A-OK, but there are a lot of other awesome ways that you can top up a wedding gift for an economist, or, anyone who wants a pie plate on their registry.  Here is a great selection of items to make a pie plate wedding gift that much more awesome.
Pie Weights

The Four & Twenty Blackbirds Pie Book: Uncommon Recipes from the Celebrated Brooklyn Pie Shop
Rolling Pin
Pastry Mat
 What is your favourite kind of pie?  Mine is rhubarb with meringue!  Yum. 
[
Photo
– Creative Commons Attribution – Dinner Series]