Disclosure of Material Connection: Some of the links in this post may be "affiliate links." This means if you click on the link and purchase an item, I will receive an affiliate commission. Disclosure in accordance with the Federal Trade Commission's 16 CFR, Part 255. This site is a participant in the Amazon Services LLC Associates Program, an affiliate advertising program designed to provide a means for sites to earn advertising fees by advertising and linking to Amazon.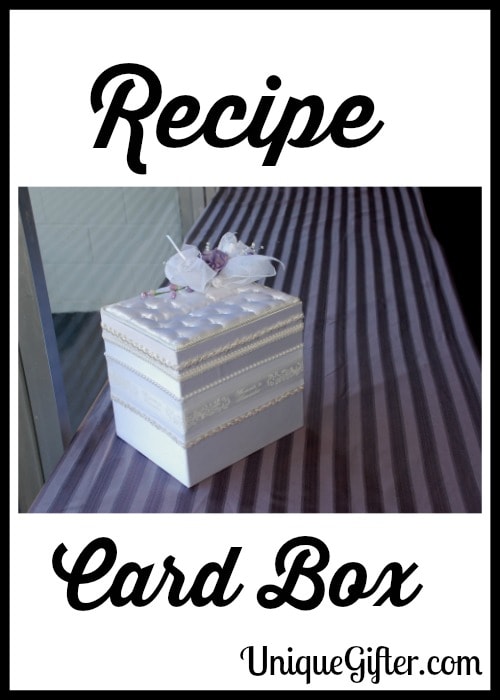 A fairly common wedding shower theme is to have each attendee bring a recipe to contribute to a collection, which is a fun way to pass along memories and family traditions to a new couple.  It is a fairly simple and cost effective wedding gift to arrange and might be a good choice if you're in a less-than-loaded money situation.  It is especially meaningful if it is from a very specific group of people, such as extended family, university housemates, sports team, co-workers, etc.  It's a great idea if you're in a situation like a sports team where you're decent friends, but not super close, and you're always being asked to chip in for something.
First off, I would like to share the story of how my recipe card box made its way to me!  I don't have too many family tradition type things or inherited items, so this is special to me.  My Mom and Dad lived on the same street for awhile growing up.  So the rough version of the history of my recipe card box is that Grandma 1 had it and gave it to Grandma 2, then at some point it went back to Grandma 1 and it now resides with me!
I also love my Mom's recipe card box.  It was my parents' registry when they were married; they wrote the things that they would like to receive on index cards and put them in the box, then it stayed at my Mom's parents' house so people could go and select a card to fulfill.  Neat, no?
Another time I will write a post about a neat family tradition into which I married (okay, a dangling preposition would make that sentence a lot smoother!), which is a family recipe collection.
If you are so motivated, you could solicit recipes from your group of folks, then type them all consistently and print them onto recipe cards (or onto a sheet of cardstock then cut them down to size).  Try to have everyone write a personal note to the recipient when you do so.  Then, find a nice recipe card box, add some blank cards and wrap it up nicely.
You could also get a basic wood box from the dollar store, Michaels, or another art store, and make it yourself!
Here are a few from the world wide web that I like: