Disclosure of Material Connection: Some of the links in this post may be "affiliate links." This means if you click on the link and purchase an item, I will receive an affiliate commission. Disclosure in accordance with the Federal Trade Commission's 16 CFR, Part 255. This site is a participant in the Amazon Services LLC Associates Program, an affiliate advertising program designed to provide a means for sites to earn advertising fees by advertising and linking to Amazon.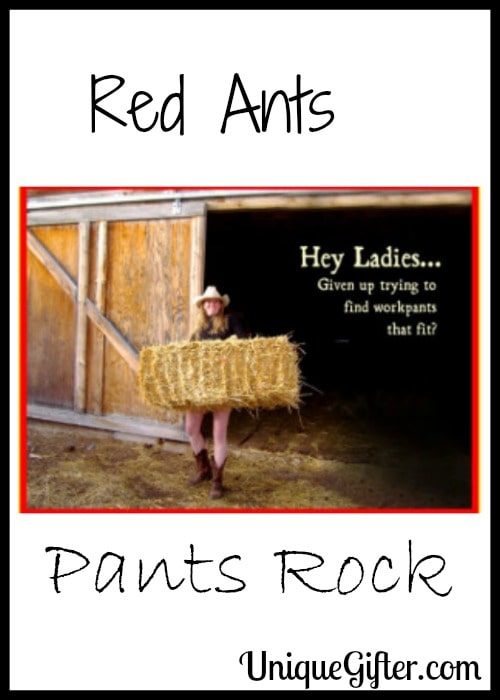 A friend of mine is lucky enough to be going on a work contract that will take her to Chile for a year (I am le jealous).  In her preparations, she stumbled across the company Red Ants Pants and I am now officially in love with them.  I don't even have a pair yet!
If you follow me on twitter, you have probably noticed that I have a penchant for power tools.  Additional recurring themes include equality, international development, empowerment, agriculture and global food security, sustainability and quality, amongst others :-)
Now you might be thinking, "what does all of that have to do with pants?"  Well, Red Ants Pants has managed to wrap a whole bunch of those things up into one, in the best possible way!  They make durable, environmentally friendly, made by women work pants, which FIT WOMEN!  Ahem, some men also really like them.
Do you have a friend who works on a trail crew, in manufacturing, in forestry, in carpentry, in mining, in farming, in the backyard, in trades, or just rocks a particular lesbian-chic style?  Maybe they're like me and are infinitely more comfortable wearing guys pants (my mother has mostly coaxed me out of this habit.)  Consider buying them a pair of these awesome pants as a gift! Do you know a recent graduate who will be heading to school or work in one of those fields?  Perfect gift!
Here's a snippet of the fabric page, explaining some of the awesome:
• 100% wastewater recycling through a dedicated effluent treatment plant.
• Okeo tex standard1000 certified for non-use of harmful substances.
• They are recognized for maintaining global standards for eco-friendly manufacturing
• They use heat recovering steam generators which recover 70% of the heat energy that is released from the fuel.
• The plants are operated on emission free natural gas and have standby auxiliary boilers running on agro waste fuel.
• They use ground water recharging facilities where rainwater is collected during monsoon season and recharged into    the ground water table.
This company is very involved with supporting educational institutions and hospitals, and assisting in the development of textile training centers to enhance the skills of textile workers. They have helped establish rural development funds to assist with nutritional programs, food camps, and harnessing solar energy in low income rural communities. They also strive to improve the quality of life for low-income, urban populations by helping with healthcare, education, job training and job placement.
They also have some super fun aspects, like each pair has a red ant sewn on, somewhere.  Maybe you can even find your red ant twin, somewhere out there.
The owner of this fabulous enterprise gave a TEDex Talk, check it out:
[embedplusvideo height="253″ width="400″ standard="http://www.youtube.com/v/TosdrtRJ34w?fs=1″ vars="ytid=TosdrtRJ34w&width=400&height=253&start=&stop=&rs=w&hd=0&autoplay=0&react=1&chapters=&notes=" id="ep9627″ /]
I realize that this reads like a sponsored post, but it's not, I am just completely enamoured with them!
Do  you have a product that you're so in love with you tell everyone about it?  What is it?
[PS – Image borrowed from the homepage