Disclosure of Material Connection: Some of the links in this post may be "affiliate links." This means if you click on the link and purchase an item, I will receive an affiliate commission. Disclosure in accordance with the Federal Trade Commission's 16 CFR, Part 255. This site is a participant in the Amazon Services LLC Associates Program, an affiliate advertising program designed to provide a means for sites to earn advertising fees by advertising and linking to Amazon.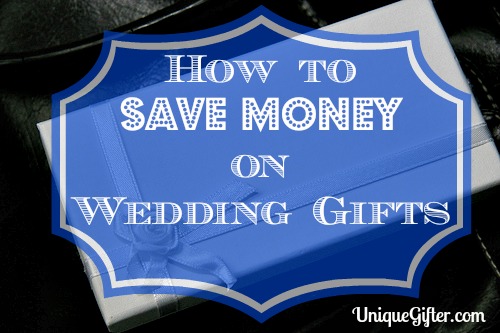 It has been awhile since I wrote a post on how to save money on wedding gifts, so I will do so again, for all of you internet-savvy folks!  For the sake of this article, I am going to stick to major purchases.  Bridal shower and wedding shower gifts often deviate from wedding registries (ahem, though I don't often recommend deviating!).
1 – Start Early
When you want to save money on wedding gifts, one of the best things you can do is to check the wedding registry as soon as you possibly can.  Time is your friend!  When you are one of the first people to look at the registry, you have your choice of nearly anything.  As time wears on, the list gets smaller and smaller, restricting your options.  Additionally, the more time you have, the more likely you are to be able to find something on sale.  Once you have looked at the registry, mentally note the major categories of items.  Is there something that sticks out to you, that evokes a fond memory with the couple, or has a story in your own life you could share, when you're writing your awesome wedding card?
2 – Google and eBay Away
Personally, I find that china and dish sets are one of the easiest things to find for good prices on the internet.  There are usually a large variety of serving dishes or accent plates to choose from, as well.  Try googling a few of your top choices, or the dish pattern itself.  I highly recommend looking at eBay as a starting point, then check out Amazon
, and myTableware.com, then move on to ye olde Google machine and see what you can find.
Once you know what prices look like on the internet, you can comparison shop in real life.  For example, Costco occasionally carries box sets of Denby dishes, at a fraction of the cost.  (We're talking $99 for a 4 place setting set, instead of $35 per plate!!)
3 – Compare Efficiently
If, say, you are looking at dishes from the registry and elsewhere, make yourself a quick little spreadsheet naming the item (ie Sugar Bowl, Place Setting) and pop in the price from the registry.  Then you can add comparative columns.  This way, you can quickly see if the savings really add up or not.  Adding a percentage column also lets you know if you are better off using a 20% off coupon, for example.  Here is an example I did up, with 100% made-up numbers, in order to give you an idea of what it looks like:

Let's say that your budget was $125, you may pick the vegetable bowl, spending your whole budget, but getting an item that is "worth" a lot more.
So if you are looking at this mythical set of dishes, you'll see that place settings are by far the most discounted item.  If you were going to give a $200 gift, you could buy two place settings from eBay (assuming that there are two available at that price, which is not always the case with eBay).  Your bill would be $161.98, saving you nearly $40 versus your original budget, and, to your friends, you have given a $260 gift.  If you look at it that way, you have saved nearly $100!  It's a win-win situation.
If your goal is to save money on wedding gifts, you are probably going to pass on the accent plates, because they wouldn't be a very large savings.  You also would pass on the creamer and the sugar pot, because you can't get them for less either.
4 – Use Coupons or Manufacturer Sales
Bed, Bath and Beyond sends out 20% off coupons like it is their full-time job.  If you're going to purchase a single item, this is a great way to save on it.  You may even want to shop there for things that your friends have listed on a different registry, ie small appliances which are carried by lots of stores.
Another thing you can do is sign up for manufacturer's emails.  Denby is a great example of a company that is constantly doing sales.  You will want to get your name off of their mailing list as soon as you have purchased your item, but one day 50% off sales happen nearly every week with them!
You can also use online discounters in order to save a little bit more on your purchases.  Basically, these sites give you a portion of what they earn via affiliate fees.  They are free for you to use and generally you can save 2-6% on your purchases.  It takes about two seconds to sign up and then all you need to do is log in to the discount site and then click through to the retailer you want to shop with!  You can check out eBates.ca if you are from Canada, or eBates.com if you are shopping in the USA.  If you're lucky, you can get a 5% savings on your $200 wedding gift, putting $10 back in your pocket.  That's a pretty good return for thirty seconds of effort!  (PS: When you sign up, you will receive a $5 credit the first time you spend $25 or more.)
5 – Get a Gift Receipt
Whenever possible, get a gift receipt.  Your friends might end up getting six of their twelve silverware settings and deciding that they will stick with their existing cutlery, exchanging the silverware for the unpurchased dishes they want.  Maybe they got the mattress but need the duvet cover and sheets that fit it, you never know!
6 – Mark It Off The Registry
This step is very important!!  Call the store where the registry is listed, with your friends' registry number, and ask them to mark what you purchased off.
What ideas do you have on how to save money on wedding gifts?
[Photo – Creative Commons Attribution Share Alike – balleyne]
Disclaimer: There are some affiliate links in this post, meaning I will get a small percentage of any sales, which keeps this blog running!