Disclosure of Material Connection: Some of the links in this post may be "affiliate links." This means if you click on the link and purchase an item, I will receive an affiliate commission. Disclosure in accordance with the Federal Trade Commission's 16 CFR, Part 255. This site is a participant in the Amazon Services LLC Associates Program, an affiliate advertising program designed to provide a means for sites to earn advertising fees by advertising and linking to Amazon.
Hi there and welcome to our giant gift guide covering stocking stuffer ideas for teenage girls. Worried you won't be able to find quite the right thing for your daughter, niece or friend? Here's an amazing selection of perfect gifts that are on-trend for the pickiest high school ladies out there.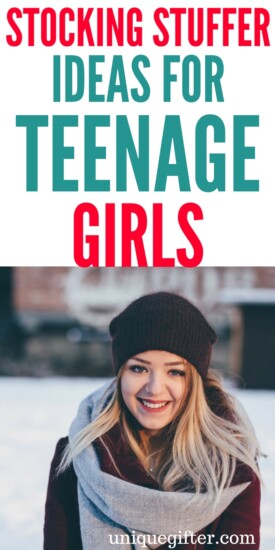 As a parent myself , I know how impossible it can be to come up with unique stocking stuffer ideas for teenage girls. They can be hard to shop for, especially if they're at an age where they don't like to talk to their parents much. 
The Best
Stocking Stuffer Ideas for Teenage Girls 
With a mix of interest specific and more generic options, there's something on this list for every teen girl this Christmas. At the very least, you may get a few ideas to help get you started with your holiday shopping. 
Christmas Pencils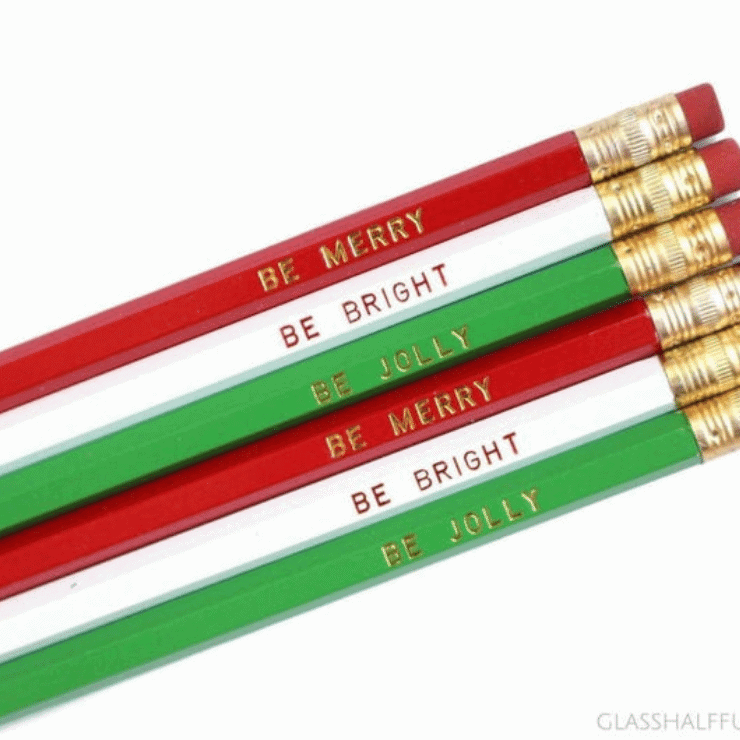 There should at least be some festive items in your teenage girl's stocking! These pencils are super cute and will keep the holiday spirit going when she goes back to school.
These stocking stuffer ideas for teenage girls would also make great 'just because' gifts around the holidays. Or use them to fill an advent calendar and give a small gift each day!
Editor's Choice Stocking Stuffer Ideas for Teenage Girls: Adorable Pusheen Beanie Hat w/ Ears 

Pusheen Beanie Hat With Ears
This might be just about one of the most adorable character beanies out there! This little Pusheen cat beanie hat will have her squealing with joy this holiday season, and it fits perfectly in a stocking!
Macrame Christmas Ornaments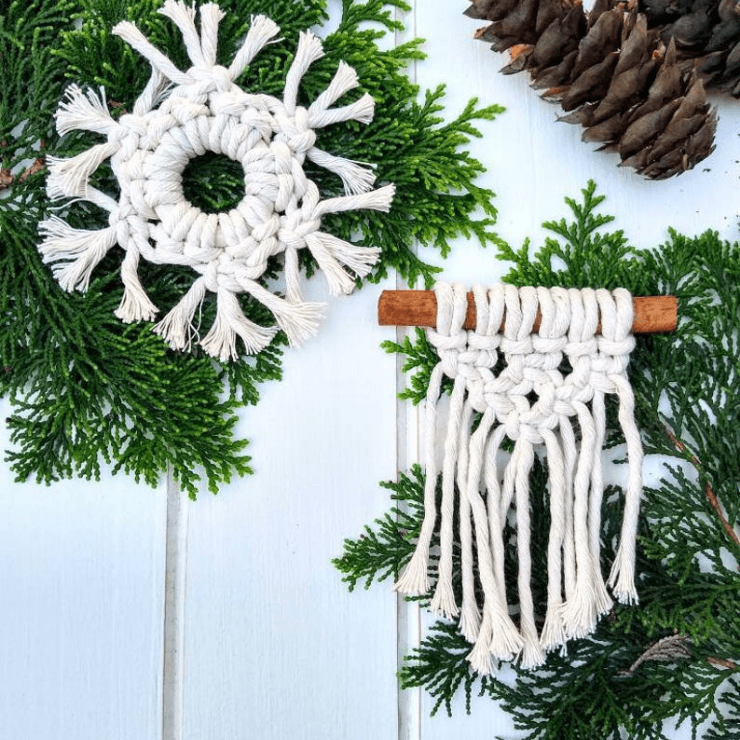 What's old is new again, right? Macrame is a growing trend among Gen Z, and these Christmas ornaments are perfect boho inspired accessories. What's nice about giving tree ornaments now is your teenage girl can take them with her when she moves out in a few years.
Funny Christmas Socks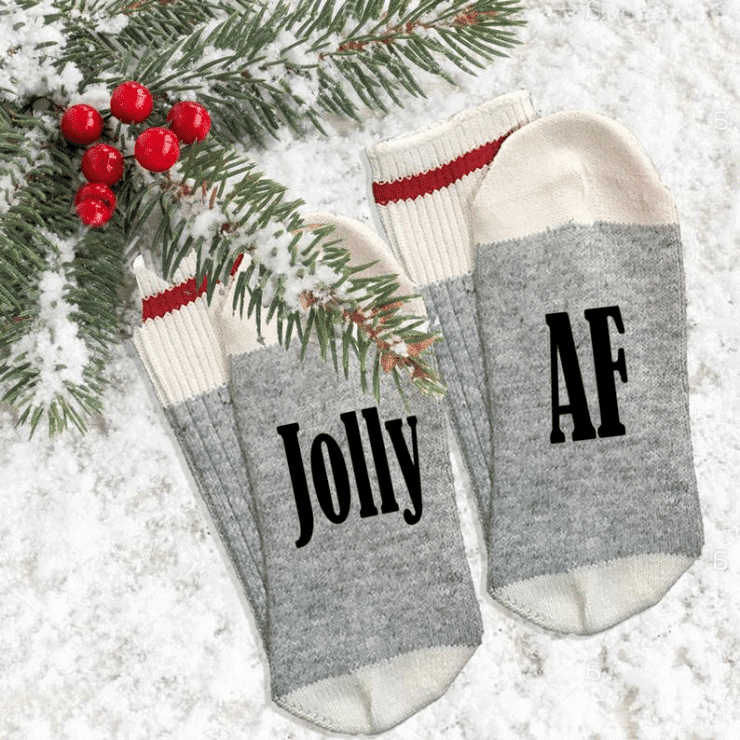 If you can't beat your teen's slang, you might as well join them in the fun. These funny socks are great for Christmas.
Warm Mittens
With the coldest months still ahead your teenager is going to need a warm pair of mittens. Especially if she spends time outside! These ones aren't only warm, they also let you use touch screens while wearing them.
Nintendo Switch Lite
The Nintendo Switch Lites are small enough to fit in a stocking and a perfect way to WOW your teenager come Christmas morning. Another option is to wrap the Switch under the tree and add games or Nintendo gift cards to your teenage girl's stocking instead.
Kindle or eReader
The smaller Kindles are actually small enough to fit in most stockings, depending on their shape. Surprise your teenage girl with her very own eReader for Christmas by tucking it into her stocking.
Bath and Beauty Stocking Stuffers for Teens
Shower Jelly
Instead of getting her one of those generic gift sets, opt for some high quality, specialty bath products. Ideally something that she'll actually use, but is also a bit of a luxury option.
Lip Balm
Always an essential in the winter time! Get your teenage girl ready for cold weather by adding some nice lip balm to her stocking for Christmas.
Chapstick Holder Keychain
Alongside the lip balm, throw in a cute keychain that she can keep it in. No more lost tubes of Chapstick!
Detangling Brush
One of these is essential for thick or curly hair, but even short haired teens will appreciate this brush if their tangles easily. It works on wet or dry hair, and even exfoliates the scalp!
Nail Accessories
If she doesn't already have her own set, nail kits like this one are perfect stocking stuffer ideas for teenage girls. That way she can give herself manicures without having to share supplies with the family.
Charcoal Face Buff
If you can't get her facials at the spa this is a nice DIY alternative. Activated charcoal is great for the skin, especially if your teenage girl is dealing with acne.
Makeup Palette
Makeup palettes aren't cheap, but they make a big difference in the life of a teenage girl. Pick up one from her favourite brand or find out which colours she's missing.
Eyeshadow Kit
Eyeshadow sets, especially in color combinations and brands she collects, are a huge hit with teenage girl who like to wear makeup. You can also grab some individual packs for some smaller stocking stuffer fillers if you've already bought the big gifts.
Razor
A new (or first) razor makes a great stocking stuffer for tweens and teens. You could also give your daughter an upgrade to something electric for a practical gift.
Funny Bandaids
Kids never get too old for band-aids! Make your teen feel special and like a kid again with these cute bandaids to cover up her cuts and scrapes.
Bath Bomb

s
Bath bombs are another one of my go-to stocking stuffer ideas for all ages, but they're especially popular with teens. Grab a big pack for an easy way to fill the stocking or buy individually as an extra gift.
Sleep Mask
Eye masks are a lot of fun and fit easily into most stockings. Pair it with some other pampering accessories and make sure you get something cute like this donut themed pair.
Makeup Brushes
Having a good set of brushes makes applying makeup so much easier. These ones aren't just practical, they're also going to look super cute in her room or bathroom.
Salon Hair Products
They're not cheap, but they do make a big difference in the health of your teenage daughter's hair. Salon products, like this Moroccanoil hair treatment, are a perfect luxury gift idea for teens.
Reusable Tote Bag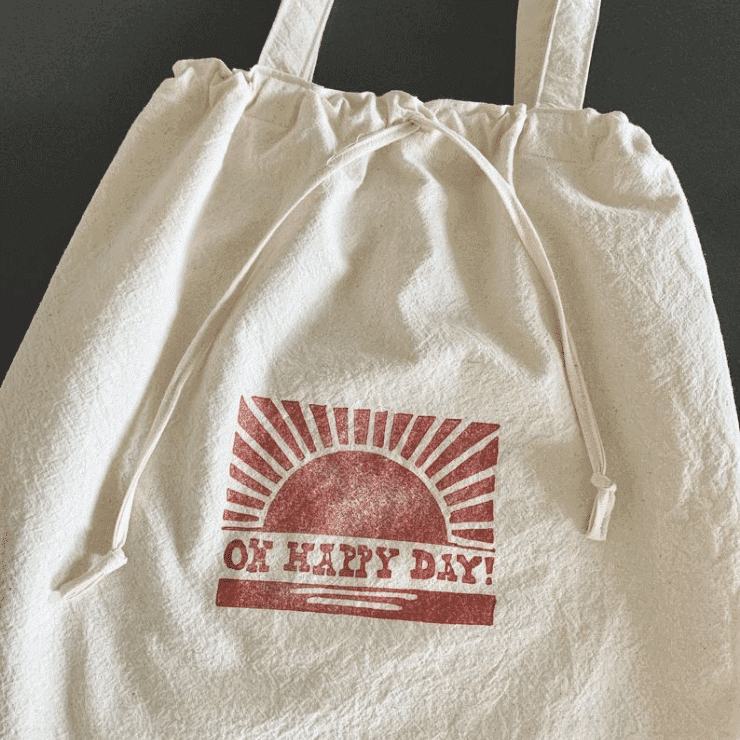 Whether it's for school, shopping, library books, or something else, teenage girls have plenty of things to carry in their lives. Make it not only easier, but more fashionable by squishing a reusable tote bag like this one into her stocking for Christmas.
Hair Brush
If you're shopping for teenage girls with long brushes and combs are great stocking stuffers. Especially if you can give something that's an upgrade from what she's already using!
Clothes and Fashion Accessories
Editor's Choice Stocking Stuffer Ideas for Teenage Girls: Hogwarts House Low-Cut Socks 5-Pack
Womens Hogwarts Houses 5-Pair Lowcut White Socks
Is your teenager really into Harry Potter? These cute and cozy Hogwarts socks come with each of the Wizarding school's houses so you don't have to guess which one is her favorite! Low-cut and comfy, these make a great stocking stuffer for teenage girls who love books!
PJ Set
Pyjamas are another practical gift idea that rolls up well inside most stockings. If you want something that will 'fill' your teenage daughter's stocking up quickly, add some clothes.
Slippers
Who doesn't love a pair of warm slippers on a cold winter day? Find a pair that your teenage girl will love and tuck them into her stocking this year.
Cute Scrunchies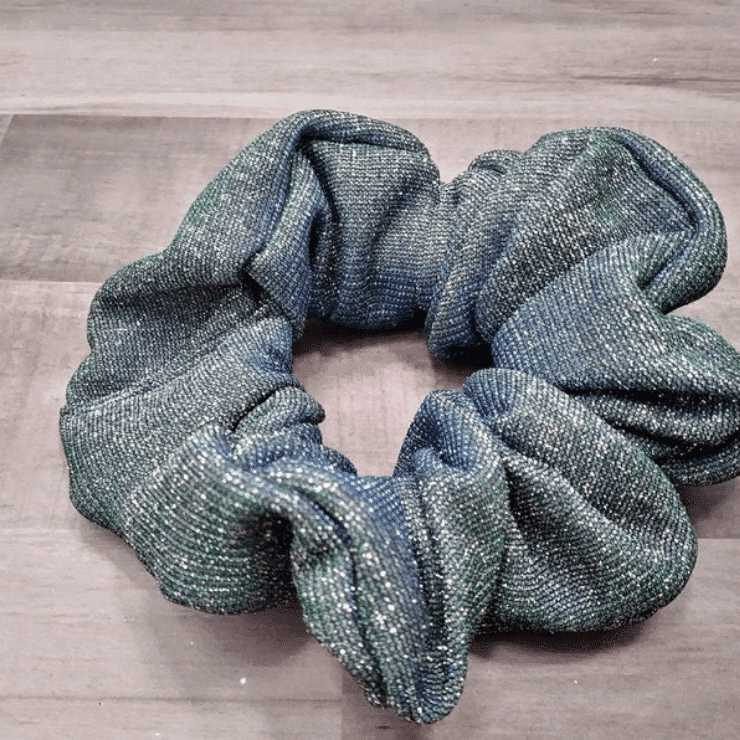 Scrunchies are back in style, especially with teenage girls. Add a few to her stocking as stocking stuffer ideas! They make some pretty unique ones now, too, if you want something a little different.
Cute Socks
You can never have too many adorable socks in your life! I love socks as stocking stuffer ideas for teenage girls because they always need them, and they fit great in almost any sized stocking.
Cat Earrings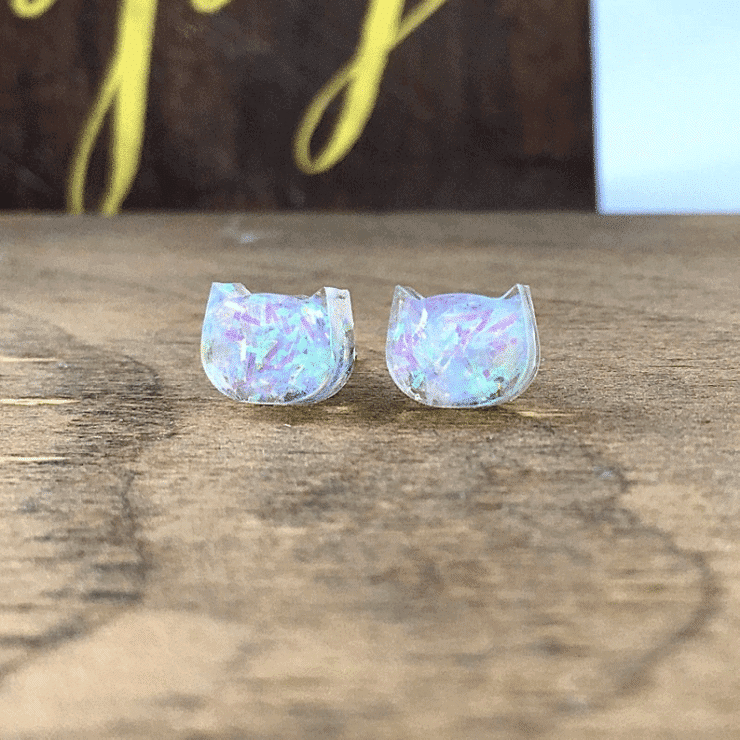 Of course, all earrings make great stocking stuffer ideas for teenage girls, but these ones are too cute not to include.
Ear Warmer
It's winter and no one wants to have cold ears! What nice about an ear warmer is that, unlike a hat, it doesn't mess up your hair and can be worn easily with a pony tail.
Cool Sunglasses
Buy Now
I find sunglasses are always a hit with teens, but you can step it up by including something really fun like this trendy red pair. If your teenage daughter wears glasses, consider splurging on a prescription pair.
Underwear
Another point for the practical! Stockings are a great way to pick up some things your teenage girl needs, like new underwear.
Fashion Sunglasses
Sunglasses are just as important in the winter as they are in the summertime! After all, the sun reflecting off the snow can hurt your eyes even more. Give your teenage girl a trendy pair for a fun stocking stuffer idea.
Tea Shirt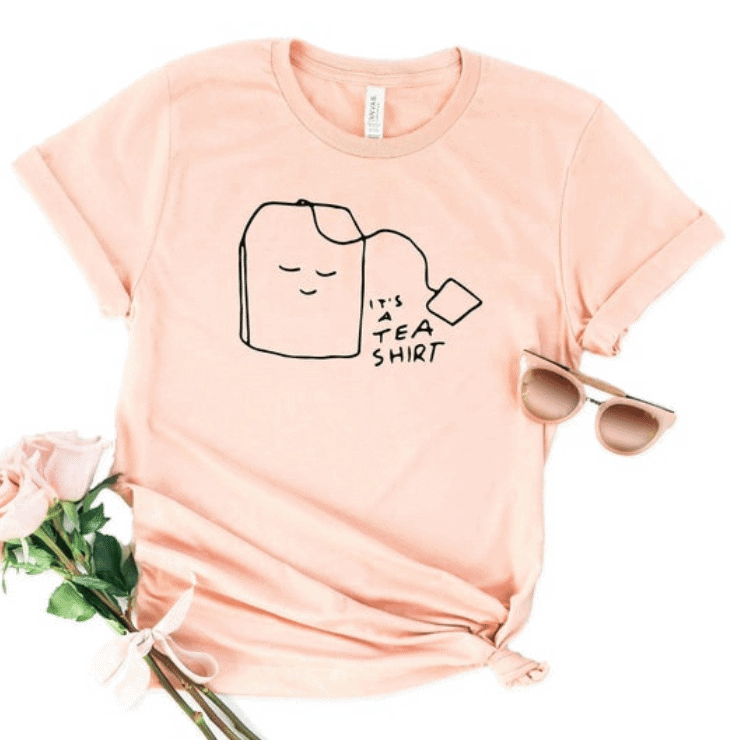 Funny t-shirts like this one are just the best. What's even better is lightweight cotton t-shirts roll up perfectly for unique stocking stuffer ideas for teenage girls.
Scarf
Scarves are the perfect winter accessory and they make a great stocking stuffer idea. Choose a print that your teenage girl will love for a gift that she'll be able to wear all season.
Mittens
Keep those hands toasty warm this winter with a new pair of mittens. Bonus points if they have touch-screen friendly tips!
Change Purse
The perfect place for a teen girl to keep spare change or lunch money. Grab something fun and cute, or go with a designer brand like Kate Spade to really wow her on Christmas morning.
Clutch Wallet
If she doesn't already have one, Christmas is a great time to buy a teenage girl a new more adult wallet. It also makes a great stocking stuffer!
Slippers
Depending on the size of the stocking you're filling and the slippers you pick, you might be able to fit a pair inside for a fun gift idea that's perfect for winter weather.
Snacks and Drinks That Make Great Teen Girl Stocking Stuffers
Hot Drinks
Hot chocolate (or any instant drink your teenage daughter loves) makes a great stocking stuffer idea. It's such a nice way to warm up on a cold winter day! Add a cute mug under the tree to make it a unique gift idea.
Chocolate Bar
Kids of all ages love chocolate in their stockings. Now that your teenager is a bit older, consider swapping the childish brands with some more grown-up flavors.
Gum
Teens love chewing gum and I always include a pack in my teens' stockings each year. Choose her go-to variety for a fun Christmas morning treat.
Trail Mix
These trail mix packs are a perfect stocking stuffer alternative to sweet treats. You can throw a few packs in so your teen will have snacks all Christmas break!
Altoids
What kid doesn't love mins in a tin? Altoids are a perfect treat that should fit in most stocking.
Personalized Travel Mug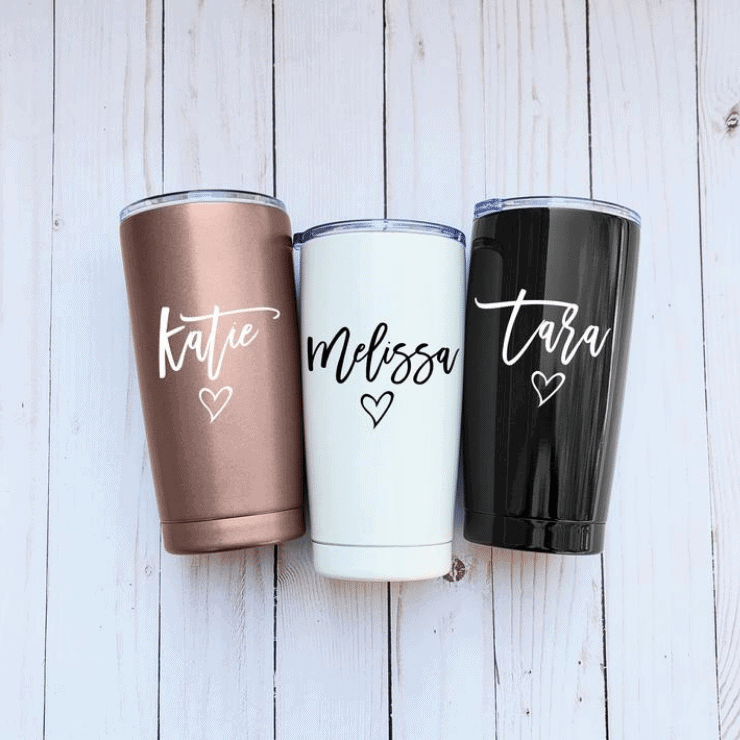 Most teenage girls find themselves wanting to have their hot drinks on the go. Even if she's not a coffee drinker yet, she'll probably enjoy taking hot chocolate or tea out. Especially in the winter.
Small Gifts For Her Bedroom
Cute Posters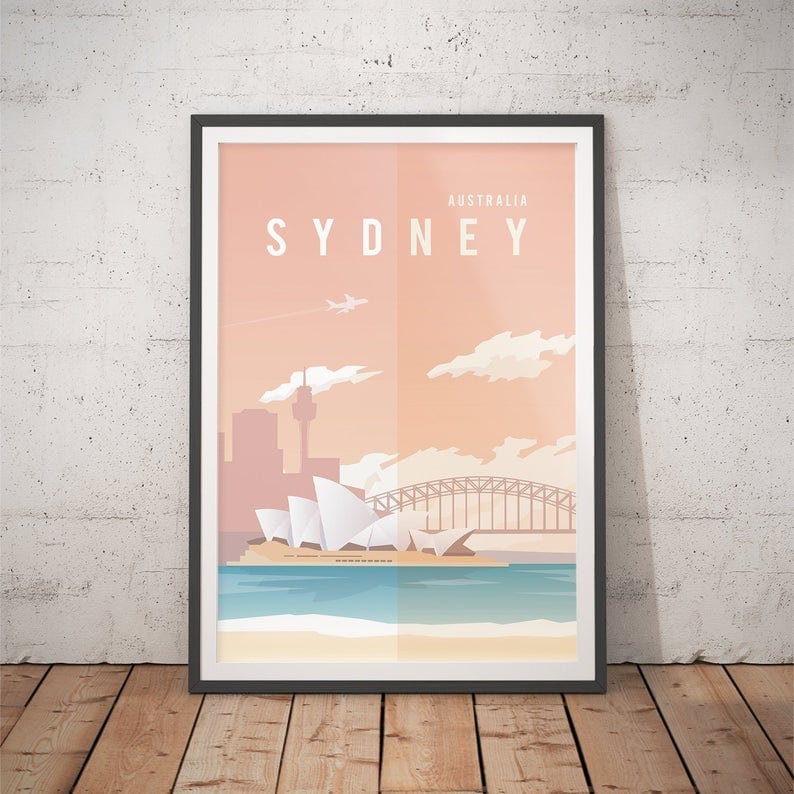 Posters, when rolled up, make excellent and unique stocking stuffers. You can give your teen girl a poster of something she loves like a band or movie, or just grab something that will look nice in her room.
Mini Felt Letter Board
Your teenage girl will be able to display all kinds of fun messages with this stocking stuffer idea. It's teeny tiny, perfect for desks, bedrooms and of course – stockings.
Photo String Lights
These string lights not only light up her room, they also have little clips on them to hold photos or cards. They'd be super cute paired with Polaroid style photos of family and friends!
Cute and Fun Stocking Stuffers for a Teen Daughter
Pins
Pins are another popular item amongst teenage girls. Find ones from a series she likes (like this super cute Sailor Moon pin), or ones that suit her personality.
Squishy
They're basically nice smelling stress balls, but squishies are super fun gift ideas for any age. Teenage girls will love how cute they are!
New Water Bottle
Everyone likes using a new water bottle, even if they already have one at home. Pick one with a cool design or that has great features like this sport bottle with a pop up straw.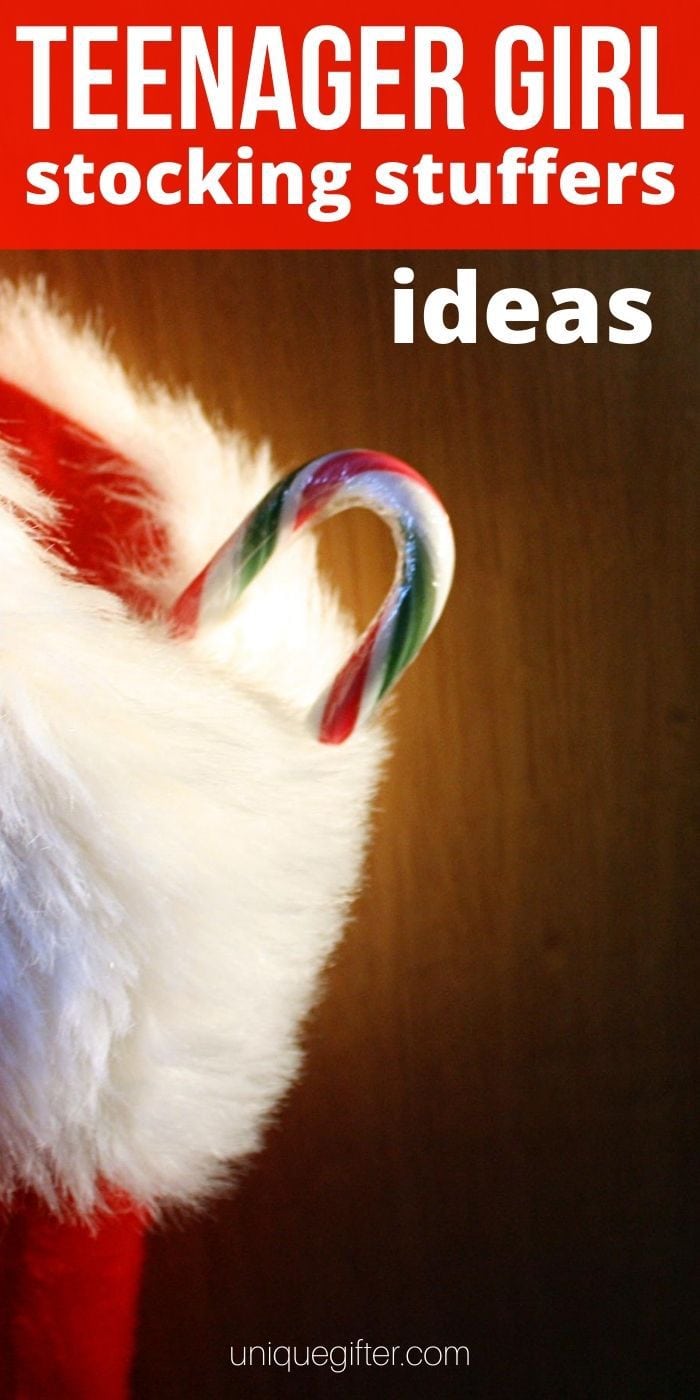 Extendable Back Scratcher
Winter means itchy skin… Your teen's life will be a lot more comfortable if you include one of these in her stocking. They're also pretty inexpensive, so you can give one to everyone in the family too.
Bookmark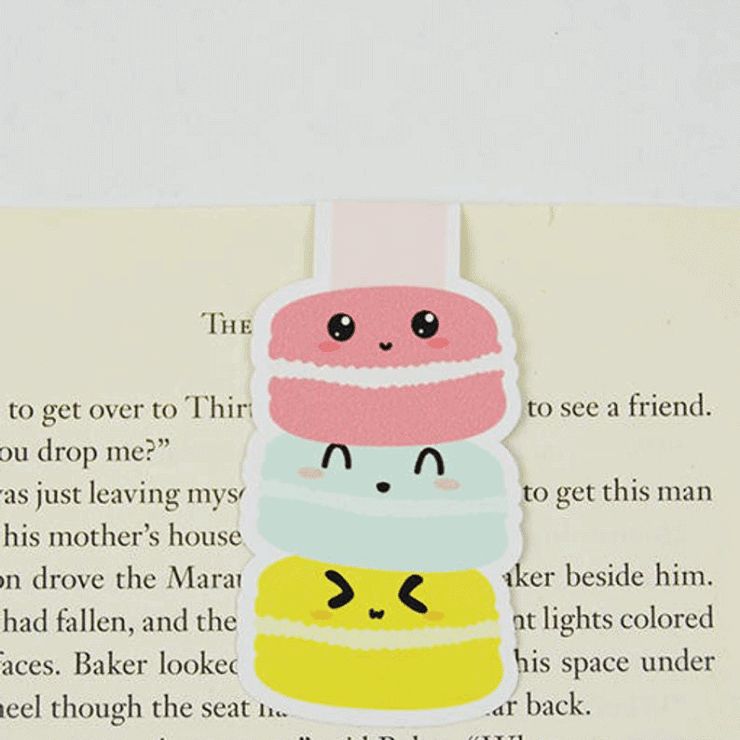 A stocking stuffer idea for teenage bookworms! This one is a great choice… It's cute little French Macarons all stacked up.
Editor's Choice Stocking Stuffer Ideas for Teenage Girls: Disney Lelo & Stitch POP! Figurine Keychain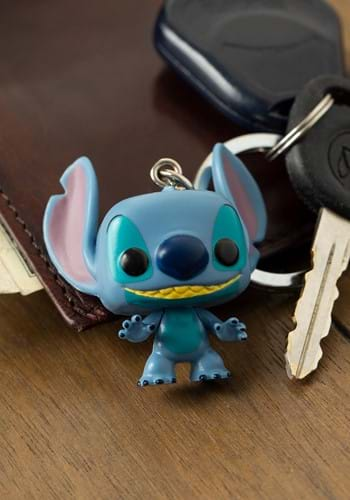 This is just about the cutest keychain out there for teenage girls who love Disney! Grab them one of these collectible keychains so they can show off their love for Disney everywhere they go!
Zip Up Pouch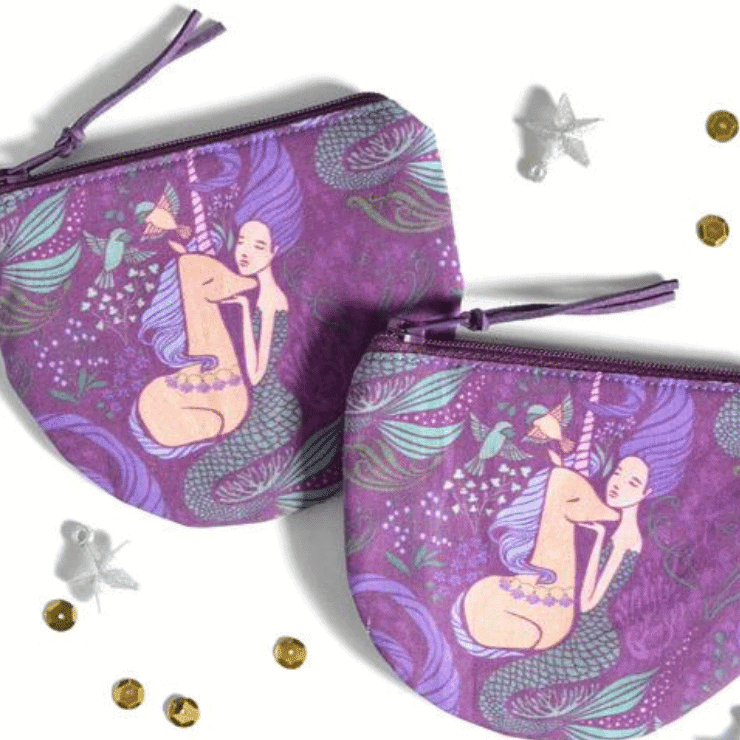 Little pouches like this have so many uses. They can hold gift cards, change, camera cards, Nintendo Switch games, headphones, and other small trinkets. This design is cute for teens too.
3D Post Its
Teenagers love post it notes, but your teen girl will like these ones best of all. They work great for reminders and page markers when studying.
Succulent
These mini succulents are a perfect gift for a teenage girl with a green thumb. Or one that wants to learn. Just be careful putting them in!
Flowering Tea
Put this flowering tea in hot water and it uncurls into a beautiful display as it brews. A fun gift for a tea drinker who likes to try new things!
Glow Sticks
Glow sticks make super fun stocking stuffers for teenagers. She can have fun staying up late over the holidays or save them for a New Year's Eve party.
Origami Puzzle Set
These puzzle sets are super cool! There's 100 different ones inside the box that you can split up between multiple stockings or use to fill one up. Great for keeping teenage girls buys over Christmas break!
Thumb Thing Book Page Holder
These clever bookmakers are perfect for an avid reader or to help your teen study easier. They don't just mark the page, but the place on the page too. Handy!
Swell Bottle
You can't go wrong with a new stainless steel waterbottle, especially when it comes to stocking stuffer ideas for teenage girls. The ones in my life are always losing theirs and leaving them places so you can never have too many.
Removable Locker Stickers
It's always nice to decorate your locker at school. Give this to your teen daughter in her stocking over Christmas and she can bring it after the holidays to start the new year off fresh.
Teen Table Topics
This small box is filled with unique conversation starters that are perfect for teens. Great for friends to get to know each other better or for parents to connect with their kids.
Stocking Fillers for Teen Girls Who Like Tech
Phone Camera Lenses
These actually do a great job at improving your phone camera's picture quality. Get your budding photographer a set and see what she captures!
Headphones
If your teen is anything like mine she's probably always going through headphones. My kids always get a new pair every year for Christmas that's better quality than their usual dollar store headphones.
Waterproof Speaker
Take your teen girl's shower karaoke sessions to the next level wtih this waterproof speaker! It's also great for the bath, hot tub, or summer pool parties.
Cord Clips
No more tangled headphones or charging cords! These aren't very expensive, but definitely practical stocking stuffer ideas for teenage girls.
Phone Case
Christmas is a great excuse to upgrade your teenage daughter's cellphone case. Look for something that suits her personality… Like this retro smartphone case! It kind of looks like cellphones did when I was young…
USB Hub
Trying to find charging blocks or charge all your devices at once sucks. With a USB hub, she'll be able to charge her phone, headphones, tablet, Kindle, or whatever all at the same time. A super practical (and much loved) stocking stuffer idea for any teen girl!
Extra Long USB Charger
If your teen has her own phone or tablet, then this stocking stuffer idea is life changing. Get her another cable that's extra long so it's easy to charge and use her phone anywhere she wants to hang out.
Phone Stand
Phone stands are great for teens to watch their favorite shows and videos hands-free. Something foldable, like this one, is going to be a big hit for your phone-loving teen.
Wireless Phone Charger
There's nothing more frustrating than a dead phone, especially for a teenage girl. This wireless charger doubles as a phone stand, so it's perfect for a desk.
Bluetooth Beanie
These hats are super cool, especially for teeangers. It has bluetooth speakers built in so you can listen and stay warm. Maybe this will finally get your teen to wear a hat when it's cold.
Keyboard Cleaning Putty
If your teenager daughter spends a lot of time on her computer she's going to love having a way to finally get the keyboard clean. Trust me, this stuff actually works.
Rechargeable Batteries
Find yourself going through batteries all the time because of your teen? Help solve that problem by getting her her very own pack of rechargeables along with a charger.
Stocking Stuffers for a Teenage Girl Who Likes Arts & Crafty Things
Chalkboard Paint
Chalkboard paint turns any surface into a working chalkboard! If your teen is crafty she's going to love all the projects she can do with this can.
Neon Chalkboard Markers
Whether you get these to go with the chalk paint or just on their own to use on some chalk labels they're definitely going to be a hit with creative kids.
Drawing Pencils
Creative teens will love seeing an upgrade to their current drawing supplies in their stocking this year. Make sure you get something high end. Who knows, maybe you'll get some amazing drawings in return?
Stickers
Stickers on everything is a mainstay for teenage girls, and yours is probably no exception. Get her a set that you know she'll love. Or if you're stumped, opt for an assortment like this one.
Sharpie Markers
Teenage girls can never have too many markers, especially Sharpies – that's why they're great stocking stuffer ideas. If you want something unique, these metallic ones are fun.
DIY Tattoo Set
Great for younger teens or ones who like to drawn on their skin with pen (we've all been there). These markers are safe for skin and wash off, but they're a fun way to play around with tattoo designs and be creative.
Scratch Art Kit
Just because your daughter's a teenage girl doesn't mean stocking stuffer ideas can't include craft kits. This scratch off kit takes a fun childhood activity and takes it to a teen level. She'll be able to create cool art even if she's not artistic with the help of the stencils.
Highlighter Pens
These are perfect for studying. You can write with one side and highlight with the other! Who says your teenage girl is too old for Crayola products?
Eraser Set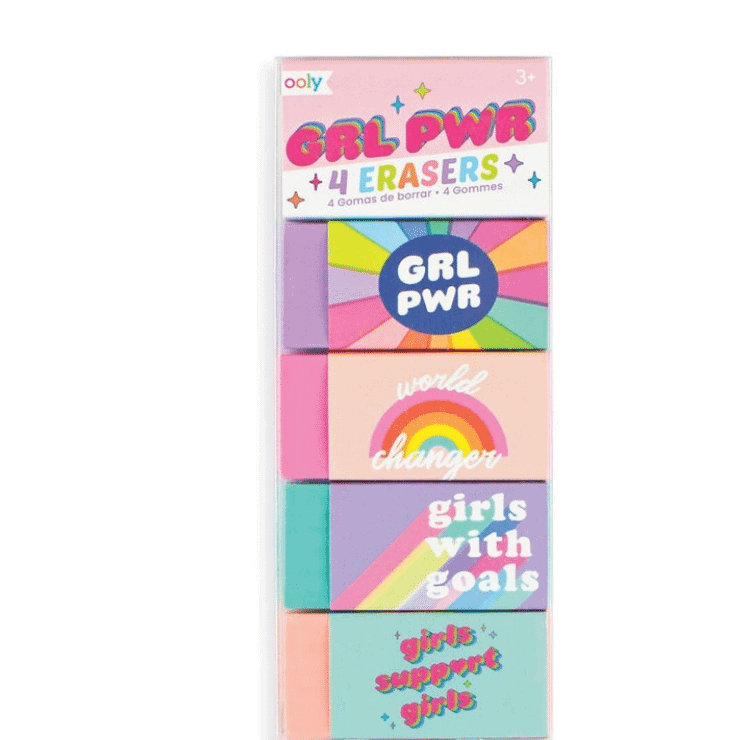 It's a stocking stuffer idea that comes with a little bit of inspiration. These super cute erasers are not only practical, they're also covered with girl power messages to help brighten your teenage girl's day. 
Mini Coloring Book
Mini coloring books are perfect for stocking stuffers, but make sure you get a more teen friendly version for the teenager on your list. Adult coloring books are usually perfect.
Cupcake Decor Kit
Baking acessories are perfect size for stockings. If the teenage girls on your list like to bake, fill their stockings with new accessories they can use in the kitchen.
Sparkly Hot Glue Gun Sticks
Upgrade the boring hot glue gun sticks with these fun, colorful alternatives. It's the hot glue gun answer to glitter glue!
Boho Jewellery Making Kit
Mini jewellery making kits are super fun stocking stuffer ideas for creative teenage girls. If your teen is always asking for more beads and supplies adding some to her stocking is a sure hit.
Colored Gel Pens
Gel pens are a timeless teen gift idea that always goes over well.
Wooden Journal
Mini journals fit great in stockings, especially if you have a teen who loves to write or take notes. Since it's Christmas, give her something that's a little cooler than her regular notebooks like this nice wood covered option.
Nail Art Kit
Nail art is a trendy hobby that a lot of teenage girls are into. If yours likes to do her nails add some accessories and supplies to your teen's stocking so she can keep the hobby going in the new year.
Cute Note Cards
There's so many things you can do with these cute note cards! Perfect for crafts or as little gifts to friends and family.
Patterned Duct Tape
This cool duct tape is perfect for crafts, art projects, or covering accessories. With so many fun designs out there now you're bound to find something your teen will love.
Stocking Stuffers for Teen Girls who Like Sports & The Outdoors
Gym Accessories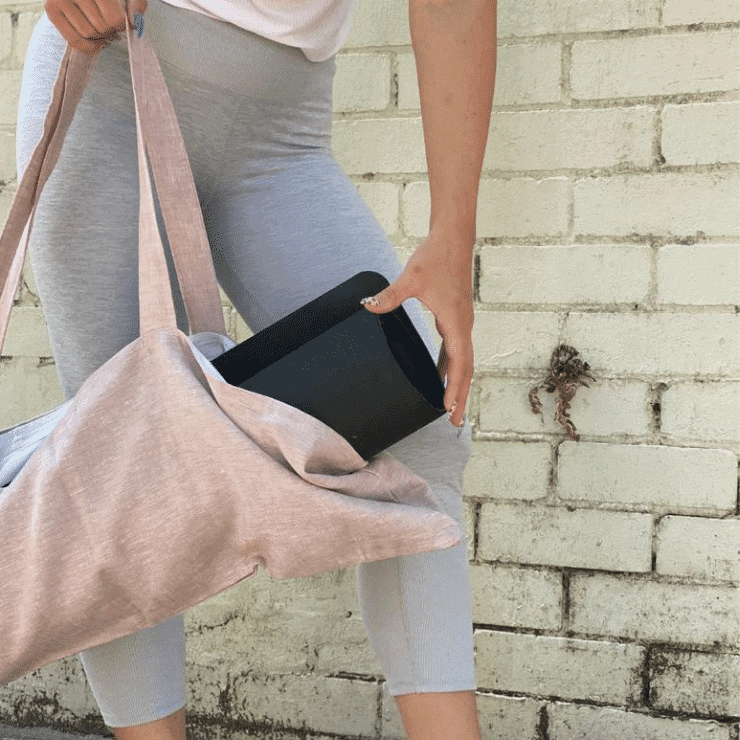 If she's a workout enthusiast then your teenage girl will appreciate gym accessories in her Christmas stocking. This cute headband would fit in nicely for a practical gift idea.
Flashlight
Adventure loving teenage girls will definitely appreciate a few flashlight in their stockings. She can use it camping in the summer or for playing flashlight tag after dark.
Rechargeable Headlamp
These rechargeable headlamps are perfect for after-dark hikes or camping trips. Plus they fit perfectly into stockings for a fun gift idea.
Travel Toothbrush Set
A travel toothbrush is perfect for the girl who is always on the road at tournaments and competitions, or the tripper who loves to be out overnight doing hikes at camp.
Hand Warmer Packs
Just in time for winter, these packs will keep your teenager warm all winter while she does sports and activities outside.
Fitbit
Any wearable tracker is going to be a hit with sporty kids but Fitbits are the top pick for fitness enthusiasts. Help your teen reach her goals by surprising her with a new device in her stocking this Christmas.
Infuser Water Bottle
Water bottles are always popular with sporty kids, but one with an infuser really steps it up. She'll love being able to put some extra flavour in those drinks!
Resistance Band Set
Resistance bands are great for all types of sports. From stretching to strength training, give your sporty teenage girl some workout gear to help her stay active even at home.
While you are on the hunt for the best stocking stuffers, be sure to check out these fantastic ideas too: