Disclosure of Material Connection: Some of the links in this post may be "affiliate links." This means if you click on the link and purchase an item, I will receive an affiliate commission. Disclosure in accordance with the Federal Trade Commission's 16 CFR, Part 255. This site is a participant in the Amazon Services LLC Associates Program, an affiliate advertising program designed to provide a means for sites to earn advertising fees by advertising and linking to Amazon.
The first time I saw Loreen (aka Reenie)'s work, I fell in love with it.  Read below to find out what she does.  (PS: Eventually I will have a guest post on her blog, once I write it.)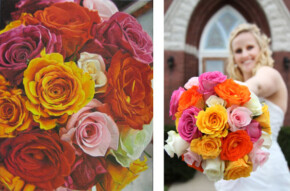 The holidays bring to us an anticipated dose of family traditions and memories that we only get to enjoy for a short period of time.  Before we know it, summer merchandise is on the racks and TBS has stopped running "The Christmas Story" nonstop.  Some traditions have been around for years like Starbucks gingerbread latte and hanging Grandma's heirloom ornaments on the tree, while others find this a time to start new traditions.  I think it's a beautiful thing to start a tradition that has longevity, and better yet, is not seasonal but can be enjoyed all year long.  Weddings and marriage are the very thing that tradition and timelessness represent and the perfect time to celebrate creating something new and meaningful that can be passed down from generation to generation.  By happenstance, I stumbled upon the opportunity to create a piece of memorabilia that would outlast the ugly sweater party trend or any flower…. yet never wilt if I had anything to do with it.
A few years ago, a family friend that admired my artwork approached me about creating a painting for her niece as a wedding gift.  After brainstorming a bit about what to paint, we decided that the bride's bouquet would be most fitting.  Upon completion of the painting, we both stepped back from the piece and thought to ourselves, "Huh, this could be a business idea!"  After researching the outdated methods of bouquet preservation out there and seeing nothing but dead, dried up flowers, I started Reenie Rose, a modern approach to bridal bouquet preservation.
I approach my paintings with the idea of timelessness in mind.  They are not stuffy still-lifes or ultra modern interpretations of florals.  Quite the opposite, they are segments of a bouquet that capture a moment in a wedding day without screaming WEDDING, and something that both grandma and future un-born children will appreciate for years.
In the arena of gift-giving, my paintings have been given for anniversaries, weddings, holidays and birthdays by grooms, parents, friends, family, bridesmaids, etc, all looking to give something sentimental and unique.  I often encourage a painting as a group gift between family or friends to actually bring more meaning into the gift.  Imagine the tradition of presenting a family painting each time a member gets married or celebrates a milestone anniversary!  I love it!
To view my process along with the time and effort that goes into each piece, I encourage you to visit my lovely video: 
www.vimeo.com/reenierose/unveiled
.  Also, with the new year will come a new website for Reenie Rose that will have a registry feature on it.  Now you can tastefully encourage those loved ones to get something off
your
 list (
www.ReenieRose.com
).
Some traditions are worth continuing and hanging on to (the seasonal white chocolate dipped Oreos…yes please) while others should be bypassed or recreated… like fruit cake.  Toss your bouquet and start a Reenie Rose tradition instead.
Any Unique Gifters looking to start their painting in 2013 will receive a complimentary Reenie Rose calendar featuring a different painting each month.  It's the perfect opportunity to have your own piece of art in the 2014 calendar!
  Loreen Hospodar is a practicing artist living and working in Chicago that specializes in preserving bridal bouquets via her luscious oil paintings.  Thank you to her for sharing her gorgeous work with us.  If you are interested in Guest Posting, please contact me!