Disclosure of Material Connection: Some of the links in this post may be "affiliate links." This means if you click on the link and purchase an item, I will receive an affiliate commission. Disclosure in accordance with the Federal Trade Commission's 16 CFR, Part 255. This site is a participant in the Amazon Services LLC Associates Program, an affiliate advertising program designed to provide a means for sites to earn advertising fees by advertising and linking to Amazon.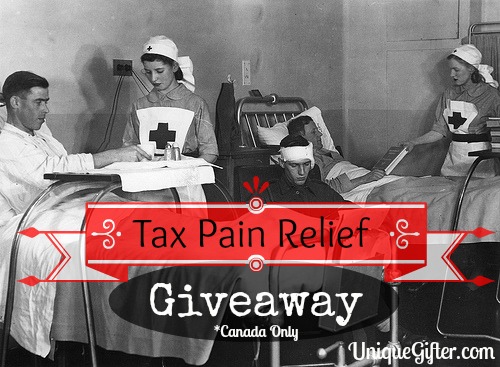 Have you completed your rough income taxes yet? Even better, do you have all of your T4s so that you can complete and file your actual tax filing?  My company always seems to release them on the last possible day, it's very frustrating.  When I worked at a small local company, the bookkeeper had our T4s ready for the first day of work in the new year, it was awesome!  Now, my accountant does an estimated return based on our final pay stubs for the year and then we wait.  This year, I am making a fairly large RRSP investment, which is kind of fun, because I get to pick a new stock!  If you are not quite as lucky as me, marrying into a family with an income tax accountant, then you may be in need of a copy of Turbo Tax.  Guess what?  Staples Canada has generously offered up this Tax Pain Relief Giveaway for you (if you're from Canada).  It is pretty sweet.  The first prize winner gets everything in the photo below AND a second winner gets a copy of Turbo Tax 2013.   March 3, 2014 is the deadline for contributing to an RRSP for the 2013 tax year, so I am going to select February 25 as the cut-off day for entries into this contest, so you can plan accordingly*.  (* I have no idea how long the shipping will take, so I make absolutely no guarantees about the items and/or their eventual arrival time.)
Product links to Staples:
1. Turbo Tax Standard 2013
2. Easy Button
3. Better Binders
4. Kit Kat Bites
5. Wireless Inkjet Printer
6. Tylenol
7. Sheet Protectors
Once upon a time, I was responsible for ordering office supplies at work and someone asked if we could truly order anything from the Staples catalogue.  I said, "we can try putting in the order, the worst thing that would happen is the boss declines that line."  My coworker still has that easy button sitting on his desk! /complete aside that has nothing to do with this giveaway, other than you get one if you are a winner, and the bundle's tax pain relief will let you hit that easy button!
Enter a few, or all, of the following ways (Note: Giveaway is only open to Canadians, sorry!)
a Rafflecopter giveaway

[Photo – Creative Commons Attribution – British Red Cross]
9b8f4b4b6ec8730dc2d2722c86df6801a859f21f6bd2503081