Disclosure of Material Connection: Some of the links in this post may be "affiliate links." This means if you click on the link and purchase an item, I will receive an affiliate commission. Disclosure in accordance with the Federal Trade Commission's 16 CFR, Part 255. This site is a participant in the Amazon Services LLC Associates Program, an affiliate advertising program designed to provide a means for sites to earn advertising fees by advertising and linking to Amazon.
I received a very timely email the other day, about participating in an amazing giveaway of a fancy television! Why was it so timely? I had just read a forum post on weddingbee, where someone was worried that adding a $1600 television set to a wedding registry wouldn't be appropriate. You can read the original thread here.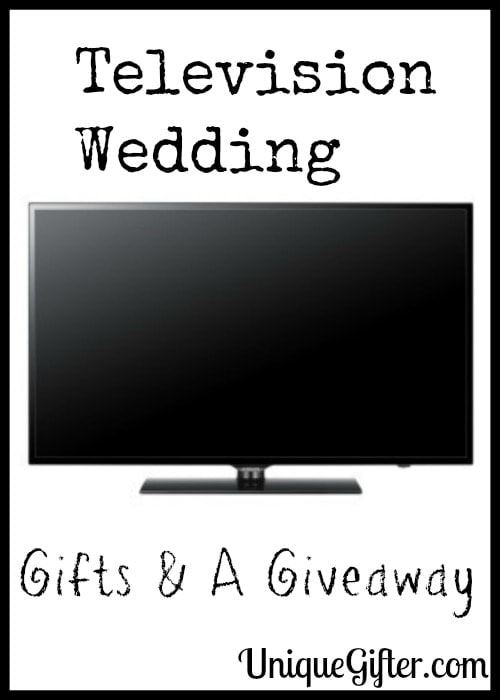 You see, people always have this worry that their wedding registries will come off as gift grabby. That really ought to not be the case, unless your goal with gift giving is to ensure some fine couple will be lucky enough to have a whole family of toasters. I know that kosher kitchens have doubles of many things, but toasters aren't usually on the list. Most people especially don't have three toasters. Or four. Ahem, let's get back on track. Most stores give discounts to couples for registering with them, so do not be alarmed if you see an entire living room furniture set, a new mattress, a dyson vacuum and a garage door opener on the list. Yes, these are things that they want, but they are very likely not expecting their guests to buy them all!
Still, you would be pretty rad if you sprung for one of the big ticket items, or went in with a group to make it possible. When assessing usefulness of items, the television is actually quite high on the list. If we look at hours used per week, I would venture that it would be darn close to the top of the list for registry items! Perhaps a mattress or a couch would win out, but the average American watches a shocking 34 hours of TV a week. [1] So unless your friends will be leaving their plates to mold for several days, the TV is going to get the most use.
If you do give a television as a wedding gift, you can always have some fun with it. Consider making a DVD to go with it, full of memories or cheesy photographs stolen from the couple's Facebook profiles. Alternatively, make a giant poster of a cartoon version of their wedding and (very carefully) tape it over the screen. That ought to surprise them when they open it!
Now, if you would like your very own fancy new television, you can thank the fine folks at Quote Me a Price, who are in the business of selling structured settlements, for providing you with just such an opportunity!
PS – This TV giveaway is open internationally, but shipping is covered to a maximum of $50.