Disclosure of Material Connection: Some of the links in this post may be "affiliate links." This means if you click on the link and purchase an item, I will receive an affiliate commission. Disclosure in accordance with the Federal Trade Commission's 16 CFR, Part 255. This site is a participant in the Amazon Services LLC Associates Program, an affiliate advertising program designed to provide a means for sites to earn advertising fees by advertising and linking to Amazon.
Today I am very excited to bring you The Remarkable Year, and an interview with its creator, Kathleen. Here's how you're going to have a remarkable 2016!
What is the story of The Remarkable Year?
My to-do lists used to be epic.
I'd roll over all the unfinished to-dos from the week before, and I'd add to them:
Run ten miles! I didn't run last week, why do I think I can do ten miles this week?
Write 10,000 words! Last week, I wrote 5,000 words. Maybe I can double it.
Then, inevitably, the week would end, my workout clothes would still be clean from last week's laundry, and my writing would be… undone.
I was frustrated.
How am I getting to the end of the week without actually accomplishing anything?
The next week, I thought I'd look at the problem in a different way. I took a blank piece of paper, and every time I did something, I'd write it down.
I grouped things together, and by the end of the week, I loved what I saw.
I was doing things!
The problem wasn't my ambition, the problem was my to-do list!
I kept it up for a few weeks, and realized… I was onto something.
What if I could create a calendar/planner/goal tracker that kept track of the "to-done list" for the entire year?
That's how The Remarkable Year was born.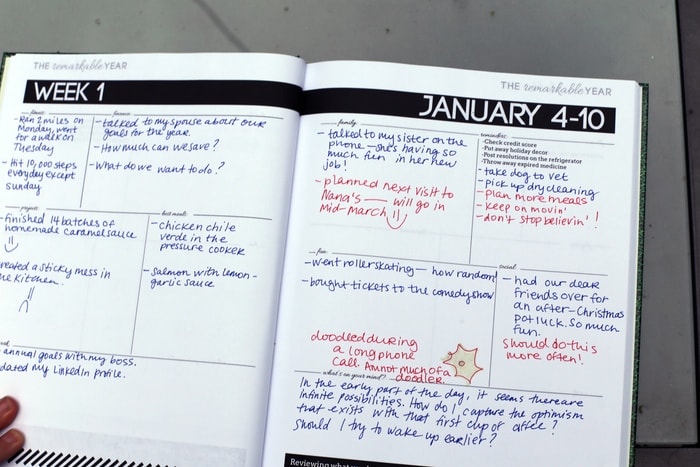 I completely identify with the feeling that I'm spinning my wheels against my to-do list. What is The Remarkable Year and how does it help?
It gets you out of the to-do list mindset, and into the to-done list idea, where you write down everything you've accomplished, so you can see that you're getting a lot done, even when it doesn't feel like it. You set goals at the beginning of the year, just like New Year's Resolutions, and The Remarkable Year checks back in on those goals on a quarterly basis.
I love that. I am going down memory lane thinking about delicious meals. How did the Meals section come to be in The Remarkable Year?
I adore food. I love going out to dinner, I love making a delicious meal, and most of all, I love to eat. So, I thought it would be really cool to make note of the amazing dishes I ate, so I could refer back to it when I draw a blank later in the year.
Who is The Remarkable Year for? Would my artsy sister in law like it? What about my business-oriented Dad?
Great question. The Remarkable Year is for people who don't plan their days hour-by-hour. It's for people who want to set goals and track their progress. Creatives will find value in it, but so will business-minded people who want to record their progress. It's a great way to create a memoir as you go. A time capsule of one remarkable year.
Why does it make the perfect Christmas gift?
Aside from the perfect timing aspect, it makes a great gift because it's an open invitation for the recipient to mindfully make the next year remarkable. It's something they'll keep on their desk for a year, then put on their bookshelf to see it for years to come. It's beautiful (vegan leather and foil stamped), unique, and thoughtful.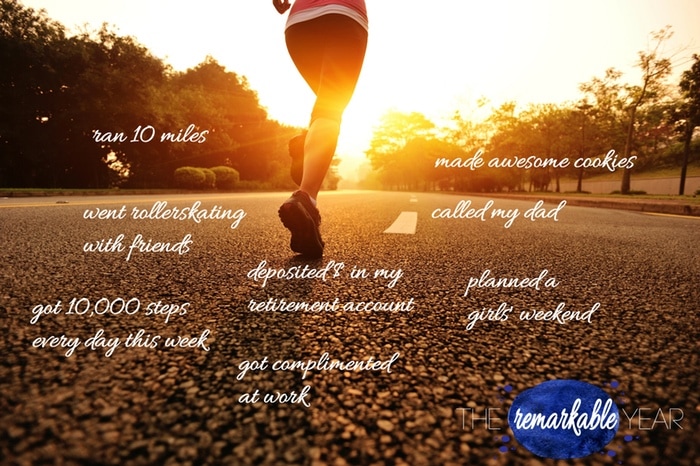 How can I order one for myself or as a gift?
You can go to bitly.com/remarkableyear and become a backer. Look at you, doing your Christmas shopping in advance. You go!
Do you have an inspiring quote that you can share with us?
I think my favorite is from Vonnegut, who said, "I urge you to please notice when you are happy, and exclaim or murmur or think at some point, 'If this isn't nice, I don't know what is.'"
I am in love with The Remarkable Year. It's going to top the charts of Christmas gifts this year and you can get your hands on this amazing, thoughtful gift on Kickstarer.