Disclosure of Material Connection: Some of the links in this post may be "affiliate links." This means if you click on the link and purchase an item, I will receive an affiliate commission. Disclosure in accordance with the Federal Trade Commission's 16 CFR, Part 255. This site is a participant in the Amazon Services LLC Associates Program, an affiliate advertising program designed to provide a means for sites to earn advertising fees by advertising and linking to Amazon.
I don't really talk about the blogging aspects of this blog. For me, this is a hobby, albeit one that I spend way too much time on, regardless of if it is worthwhile or not! I make a few pennies from it, but it is far from a solid side-hustle income, like it is for many other people. One of the reasons that I spend way too much time on blogging is that I am not terribly organized. This year, I have tried to make a plan, so that things are slightly less time consuming. Similar to my plan of writing 50 articles in advance of launching any new sites, which I have discussed a fair bit with DC of Young Adult Money, I tried to brainstorm 52 post topics for 2014, aka one post per week for the whole year. Now that I have the topic ideas (or most of them, anyway, I'm in the high forties), the plan is to write them by the end of February. Then, I know that I will have solid content ready for all of you lovely folks.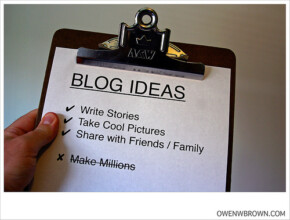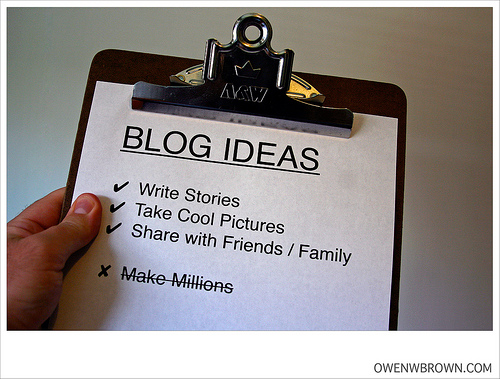 When I am on top of my game, I end up scheduling posts out several weeks in advance. However, I've only ever used the wordpress scheduler, so this is what I do: I click on the time/date in the corner of my computer and start scrolling forward to the week that I think I want, to find out what the right date would be for say a Wednesday post three weeks from now. At some point, I forget which day I'm looking for, so I go back and look at my list of scheduled posts in wordpress, or maybe I get distracted by a shiny object. Then I get the date and schedule the post. Two weeks go by and something happens where I want to move the posts around in order. For example, I may have thought up an awesome idea for a series, like my series on Engagement Gift Ideas, and want to schedule them for a series of Fridays. That means I need to rearrange everything that I've already scheduled. It's a pain. Plus, you can't glance and see what the next little while looks like.
Another problem that I face is when I'm feeling inspired to write something, but it's for a completely different season. For example, right now I have several ideas for graduation gifts. It's January. I'm not going to post them now, but by the time the spring rolls around, I may not want to post them when I have scheduled them. Enter: CoSchedule. I learned about this plugin from Kathleen at Frugal Portland. It's an editorial calendar, that lets you drag and drop your posts around. You can even hover to the right, to see all of your current drafts, then drag them onto the calendar! There are a bunch more features, but to me, that's the most useful one. Most of them time, I will create a blank draft, or a draft with a few notes, when I have an idea. With CoSchedule, I can look at them all and then decide which one to use next.
Here's a little video of the basics:
[embedplusvideo height="333″ width="500″ editlink="http://bit.ly/1ky176L" standard="http://www.youtube.com/v/uK3un3Wt_Qo?fs=1″ vars="ytid=uK3un3Wt_Qo&width=500&height=333&start=&stop=&rs=w&hd=0&autoplay=0&react=1&chapters=&notes=" id="ep4473″ /]
For those of you who already use a calendar, you might be thinking "whoop-de-doo." Don't worry, there's more. Social media integration. I currently have plugins that tweet and post to Facebook when something new goes live, but it's just the title of the post and some basic info. CoSchedule lets you set up customized messages, plus the timing of the posts, and can tie into many social networks, including LinkedIn. This makes it easy for you to get the word out about your post on the day it goes up, the next day, the day after that and the week after that! If you write a post about, say, Valentine's Day, you could even go ahead and schedule some social media posts for around Valentine's Day, NEXT year! Awesome.
Here's where my CoSchedule review turns a little bit negative. I would like some social media "templates" available, so that I don't have to manually add in my series of social media posts every time. ie – Be able to add a default list with the timing for 5 tweets, two Facebook posts, etc., then go in and customize the text around them. I hope that's on the development list! Oh yes, and there is a cost to this one, $10/month/blog. However, it's a lot more seamless than going into HootSuite, or manually doing your post promotion, so as long as you use it, you will be able to get more traffic. Plus, it's a time saver. There are several more features that would be handy if you worked with a team of several writers.
Have you tried CoSchedule yet? You can get a free trial if you head over there now!
[Photo – Creative Commons Attribution – owenwbrown]