Disclosure of Material Connection: Some of the links in this post may be "affiliate links." This means if you click on the link and purchase an item, I will receive an affiliate commission. Disclosure in accordance with the Federal Trade Commission's 16 CFR, Part 255. This site is a participant in the Amazon Services LLC Associates Program, an affiliate advertising program designed to provide a means for sites to earn advertising fees by advertising and linking to Amazon.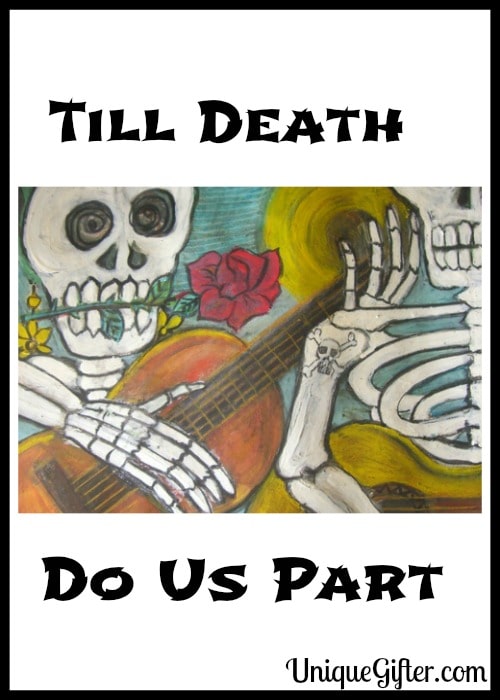 [Photo]
This not on registry gift idea probably wins an award for "creepiest wedding gift ever."  At least, that was the opinion of my brother and his fiancée.  Those that inhabit the world of personal finance blogging probably see this as a more valuable gift, if they don't already have their ducks in a row.
The popularity of Gail Vaz-Oxlade's show Til Debt Do Us Part should be enough to convince you that having your finances sorted out is pretty important.  Many young people are just starting out and do not have their finances fully figured out, will not think of it until it is too late or may have rather limited funds.  That is why I make this gift suggestion:  A Will.  Another tidbit: in many jurisdictions, marriage invalidates any previous wills, so 99% of people won't have one once they're married.
Not the sexiest gift ever, but a very valuable one.  They tend to be a few hundred dollars, unless you use a kit (not really recommended), so this gift may be out of your price range.  I think it would be a great idea for an older generation of family or good family friends to use.  Grandparents could start a tradition of giving wills as a wedding gift to all of their grandchildren.
How to go about it?
Wills aren't really something where you DIY and then say, "Look!  I made you this!"   First off, do some research to find out how much this will cost in your area (where the couple lives).
If you have a good lawyer, or know a good lawyer that is easy to access, you could contact the firm and arrange to cover the costs for the couple.  Give them the contact information in your card, telling them what you have arranged and to get in contact to set it up.  To make sure it happens in a timely fashion, you could also give the couple's contact information to the firm you contacted.
Another choice is to give a cash gift, stating your intention that the couple use it for a will.
The third choice would be to tell the couple you wish to pay for (all or part of) a will and that they should contact you once they have arranged a meeting, so that you can pay the bill.
The fourth choice is to buy them a box kit or an online set… but there are so many intricacies and future plans to include that I would really recommend you speak with a professional instead.
You are a good guest and will already be taking the time to write a thoughtful message in your card, right?  While you are doing that, you can write, "now that you have pledged for as long as you both shall live, we would like to give you the gift of peace of mind, in the form of a will.  Should anything go amiss, we want you to be prepared and wish you a long, happy life together."
Who is a good recipient of this gift?
–          Young people, who have not yet or very recently entered the work force
–          People having a destination wedding (not that travel is unsafe, just that gifts are harder to take home)
–          People planning to have children shortly
–          People who need a little push to be responsible ;-)
–          People who will recognize its value, not just disassociate from you for being weird
–          People who are still alive… wills are much more useful to have in advance
To see our full list of unique and creative ways to give money as a gift, please visit the Cash Gift Ideas page.