Disclosure of Material Connection: Some of the links in this post may be "affiliate links." This means if you click on the link and purchase an item, I will receive an affiliate commission. Disclosure in accordance with the Federal Trade Commission's 16 CFR, Part 255. This site is a participant in the Amazon Services LLC Associates Program, an affiliate advertising program designed to provide a means for sites to earn advertising fees by advertising and linking to Amazon.
I know, I know, it's still so early. I need to share what happens in my house. I am absolutely full of good intentions when it comes to Christmas cards. I usually start out really strong, and then taper. Taper a lot. My gift stash box has addressed envelopes for friends… who moved cities two years ago. My spouse makes a heck of a lot of fun of me when it comes to Christmas cards and actually getting to the step where we put them in the mail. Despite that being the case, it really doesn't ever deter me from starting, because I always assume that this year will be the year I pull it together.
Maybe it will be this year?
This year, I have photo cards, which totally aren't still from my wedding, I swear. Photo cards are awesome because pretty much everyone wants to see pictures, especially if you have munchkins that have continued to grow, and if the card already has the photo in it, you don't have to get them printed separately and add them in. That's where Minted.com steps in with their selection of holiday cards. They have a heap of really cute photo card designs, all ready to go. I mean cute, check some out: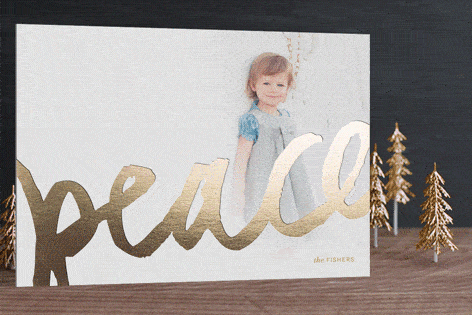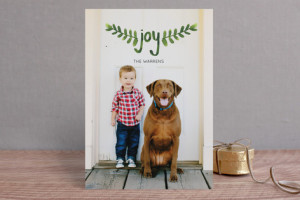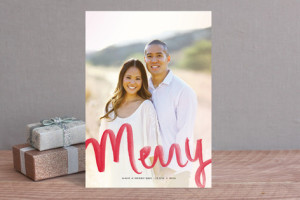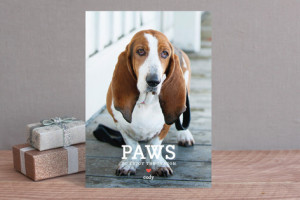 How interesting… almost all of the ones I picked out are vertical designs! I guess I'm drawn to certain layouts!
However, my absolute favourite part is that there is an option to use 100% recycled paper for printing. The cards are extremely customizable, you can pick postcard or folded style, then shapes and interior design or backer colour and design. Next up, you can choose from a few colour schemes, envelope liners and envelope labels. Basically, you have absolutely no worry that someone else will be sending the same cards as you this year, unless your friends have EXACTLY the same taste as you do!
To speed up your Christmas card writing, may I recommend doing a mail merge with your addresses? I did a bit of a tutorial post awhile ago. Additionally, having a return address stamp makes things a lot better. It is a great way to involve your preteens, teens or spouse. You can stamp on return addresses and postage stamps very easily while watching TV. Maybe add some baileys and hot chocolate into the mix, if you are doing it yourself?
Will you be getting Christmas cards out this year?