Disclosure of Material Connection: Some of the links in this post may be "affiliate links." This means if you click on the link and purchase an item, I will receive an affiliate commission. Disclosure in accordance with the Federal Trade Commission's 16 CFR, Part 255. This site is a participant in the Amazon Services LLC Associates Program, an affiliate advertising program designed to provide a means for sites to earn advertising fees by advertising and linking to Amazon.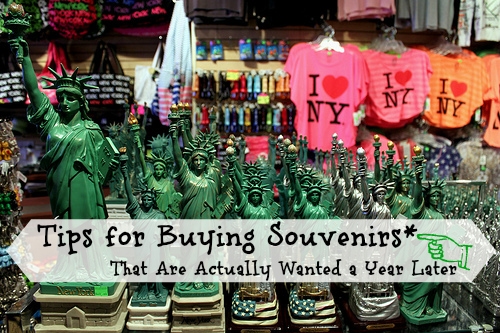 I have done a decent amount of travelling in my day, but like many addictions, it is never enough!  Early on, I figured out that lots of people appreciate souvenirs, however, very frequently, they collect dust until they are discarded via a garage sale or a bag that ends up in a charity donation bin.  However, souvenirs don't need to be plastic copies of the Statue of Liberty, or a gigantic I Heart New York t shirt.  (However, if you are Jessica from Mo'Money Mo'Houses and you want one of those shirt, then by all means!)  Let me share with you some of my tips for buying souvenirs, amassed after sauntering around the globe a bit, and being pretty skint while doing so.
As an aside, the word "souvenir" means "to remember", or "memory" in French.  The slogan on Quebec licence plates is "Je me souviens" (I remember)… which isn't nearly as fun as New Hampshire's "Live Free or Die."
Tips for Buying Souvenirs
Think useful.  Edible is useful, most of the time.  One of my biggest tips for buying souvenirs is to go to the grocery store.  I'm not kidding.  Hawaiian coffee?  Grocery store.  Spanish olives? Buy the ones everyone else does, at the grocery store!  Mexican vanilla?  …You get the picture.  In the case of Mexico, my Mom was able to purchase the EXACT SAME bottles that the tourist shops were selling, but for something like a quarter of the price.  When you are buying food, or anything really, as a souvenir, you need to think,
"Will I be allowed to cross the border with this?"  
Frequently, fresh fruits and vegetables and some meat products aren't allowed to cross borders.  If you're within your own country, you're golden!  Flowers, seeds and plants are another frequent no-no.  The next question is,
"How easy is this to transport?"
Can you envision a leaking explosion of cracked glass and olive juice, because you don't have enough padding or space in your backpack for those amazing Spanish olives?  If so, you're going to want to skip them, that's a pro tip, in this tips for buying souvenirs collection.  If you were SMRT and brought some spare ziplocks with you for just such an occasion, then go for it!  I'm someone who carted a solid wood framed painting from Buenos Aires to Vancouver.  It was quite a hassle.  I love the painting, but definitely debated the inconvenience it would cause, prior to purchasing it.
On that same trip, I was cycle touring.  The name of the game is to carry as little as humanly possible when you're moving all of your stuff by bike over hundreds and hundreds of kilometers.  This is where jewelry comes into play.  It's small, light, comes in a huge variety of price points and styles, and as long as you pick it well, you'll still be wearing it years later.
On the transport front, you should also think about size, especially if your trip involves a lot of moving around, or if you are space-confined.  It would really suck to have to pay for extra luggage because your collection of plastic Eiffel Towers took up so much space they cost you can extra $50!  On to the next question,
"Would they want this anyway?"
Does your friend or family member wear T-shirts with comedic slogans?  If so, those 5 for $20 shirts might work.  For the rest of us, consider an article of clothing or jewelry that you would actually wear, or if it's a gift, that the recipient would actually wear.  Then, when I look at the bracelet from Bermuda in two years, I'll still remember that's where it came from and who gave it to me (it was my Mom!).
In short, my tips for buying souvenirs are to buy things the person would use anyway, can eat without letting it rot on a shelf and are easy to transport.
What are your tips for buying souvenirs, that people actually want a year later?
[Photo – Creative Commons Attribution – Prayitno]