Disclosure of Material Connection: Some of the links in this post may be "affiliate links." This means if you click on the link and purchase an item, I will receive an affiliate commission. Disclosure in accordance with the Federal Trade Commission's 16 CFR, Part 255. This site is a participant in the Amazon Services LLC Associates Program, an affiliate advertising program designed to provide a means for sites to earn advertising fees by advertising and linking to Amazon.
Top 10 Tips on How to Throw a Party without Going Crazy
While most people love going to parties, very few enjoy the process of hosting one. That's because organizing a gathering can be an extremely stressful process. First of all, it takes a lot of responsibility. You have to make sure that the food is done on time so your guests don't starve – nothing ends a party quicker than "hungry" guests. The decorations need to be just right and of course, you and your house need to look good!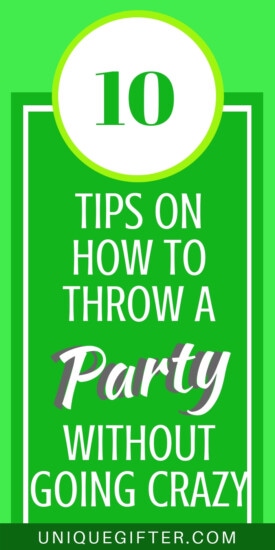 Yes, this sounds very complicated and somewhat overwhelming but it doesn't have to be. With a few tricks up your sleeve, party planning can actually be as fun as the actual gathering itself.
Read on for our tips on how to strike the perfect balance.
Prepare Recipes That You Know
While you might be tempted to try out one of those delectable tiramisu recipes by Jamie Oliver, it's probably best that you leave that for another time when you're not under pressure to make everything perfect. Instead go for recipes that you've been making for years, the ones that you've perfected so much that you can make them in your sleep.
Create a Schedule
Like most people, you're probably at your most productive when working off a to-do list. I know I am. Although you don't have to create a whole to-do list for your party, you should create a schedule. This means you can make a mental or physical note of all the activities you need to get done before the party, like cleaning the pool, trimming the bushes in your backyard or deep cleaning the house. Then, set aside a day of the week to tackle each task so you don't end up feeling overwhelmed a day before the party. On the actual day, give yourself at least five hours to prepare everything including food prep and clean-up, as well as making yourself pretty.
Use Different Cooking Methods
When planning your menu, try to pick dishes that require different cooking methods. Think about it; if all your dishes need an oven, when will you ever finish cooking? Rather diversify by putting some of the food in your slow cooker while roasting your veggies and chicken in the oven. Meanwhile, your meat will be smoking on the grill while you prepare the salads and perhaps starches on the stovetop.
Put Your Menu in a Place Where You Can See It
The easiest way to stay organized in the kitchen on D-day is to print out your menu and schedule and put it up on the fridge. If you can write it on a blackboard, that's even better. Whatever happens, don't save it as a note on your phone because you'll most likely struggle to find it right when you need it the most.
Prepare What You Can Ahead
The good news about prepping for a party is that you don't have to make all your meals on the last day. There are many meals that you can make ahead of the day and keep refrigerated. To stay on top of things with the rest of your menu, simply chop, slice, grate and dice all of the ingredients a day before to reduce food prep time. Meal prep for the win!
Don't Make Everything Yourself
As Helen Keller once said, "It's better to walk in the dark with a friend than walk alone in the light." What we're trying to say is, you don't have to do it alone. Reach out to a friend or neighbor whose hosting skills you admire and ask for help with décor or recipe ideas. It's not uncommon to run out of ideas right when you're up for a party. You'll find that hosting can be easy and stress-free when you ask for help and you'd be surprised at how keen and excited your friends will be to help you out.
Serve Booze and Snacks
Make sure you have a platter of snacks ready just in case your guests arrive before you finish cooking. Also, offer some wine and cocktails to help them wash everything down and stave off the hunger pangs while they wait for the main event.
The snacks will take the edge off while the booze will get everyone more comfortable to start a conversation and relax. Be sure to pour yourself a glass of wine as well while you put the finishing touches on your dishes so you're nice and relaxed when presenting the final result to your guests.
Set the Table the Night Before
Another important tip is to set the table the night before. This gives you a chance to see your table from two perspectives; the night before and the morning of the day. It also allows you to make little tweaks and changes that you wouldn't have thought of on the day of the party.
Buy Flowers
Flowers look great no matter where you buy them from. The trick is to make sure they're arranged properly and accent them with interesting accessories. Trust us, roses will look lush and expensive when placed in a well-lit spot next to catmint, no matter how cheap they are.
Don't Spend a Lot of Time Cleaning Your Home
Most people usually don't have the energy or even the desire to clean by the time they get to the day of the party. If that sounds like you then don't pressure yourself. If you did a deep clean earlier in the week and finished the tasks on your to-do lists throughout the week then you can get away with a quick 30-minute cleaning.
Conclusion
So, you see? There's no need to pull your hair out or break the bank when planning a party. Just follow these tricks and before you know it you'll be enjoying yourself as much as your guests!