Disclosure of Material Connection: Some of the links in this post may be "affiliate links." This means if you click on the link and purchase an item, I will receive an affiliate commission. Disclosure in accordance with the Federal Trade Commission's 16 CFR, Part 255. This site is a participant in the Amazon Services LLC Associates Program, an affiliate advertising program designed to provide a means for sites to earn advertising fees by advertising and linking to Amazon.
Everyone knows at least one person who loves wine. Wine lovers take pride in their knowledge about different flavors of wines and all the food pairings. You may even find that they have old wine bottles aging in their homes, waiting for the perfect year of peak taste. The best gifts for wine lovers are sophisticated, sleek, and functional. Check out this list of five gifts for wine lovers that are sure to please.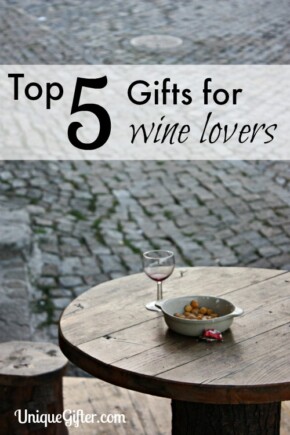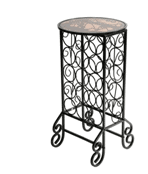 The home of a wine lover is not complete without an elegant wine rack. Wine racks are convenient because they can be placed in any area of the home. They also store wine bottles horizontally for easy access during dinner parties. Brookstone sells a beautiful wine rack table that holds 15 bottles. In addition to the classic scroll design, the tabletop is made of tempered smoked glass – functional and sleek!
Most of us probably have a set of wine glasses at home. Did you know there are wine glasses made specifically for red and white wines? Red wine glasses are typically larger and taller. This shape and size allows for the aromas of red wines to evolve in the glass. White wine glasses on the other hand are shorter and smaller since the flavors are not as bold.  Go ahead and pick out a few of your friend's favorite types of white wines. Crate&Barrel sells elegant wine glasses for every flavor. I live for Chardonnay and will definitely be getting that glass.
Need a lesson on wine glasses? Check out this infographic by Wine Folly.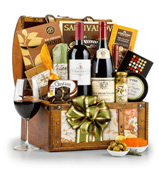 Who doesn't like to travel? Why not give the gift of travel by giving a taste of wines from around the world? The Around the World Holiday Wine Chest is a bestseller on GiftTree.com. In the chest, you get French wine, Italian chocolate, and many more foods from different origins. The gift comes in an actual chest box and is wrapped with a satin ribbon – you really found a treasure chest!
I love anything personalized. A custom wine stopper is the perfect gift for a wine lover because it is practical and stylish. Home Wet Bar offers personalized stoppers that fit most wine bottles. The stoppers are made of copper tops, making the engraving look even sleeker. Make sure you choose initials with significance. You can play it safe use the recipient's initials. If you want to make things more interesting, try using the initials of the person's pet or favorite sports team.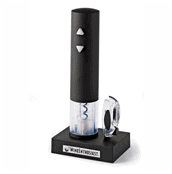 Last but not least, this is a gift any person who drinks wine would appreciate. An electric wine bottle opener takes the fuss out of uncorking. My manual corkscrew remover is truly outdated. It takes me multiple attempts to open one bottle. The worst is when you only remove a portion of the cork and then the rest crumbles and falls into the bottle! Save your wine lover friend a lot of trouble and get the Electric Blue Push-Button Corkscrew sold by WineEnthusiast. Happy tasting!