Disclosure of Material Connection: Some of the links in this post may be "affiliate links." This means if you click on the link and purchase an item, I will receive an affiliate commission. Disclosure in accordance with the Federal Trade Commission's 16 CFR, Part 255. This site is a participant in the Amazon Services LLC Associates Program, an affiliate advertising program designed to provide a means for sites to earn advertising fees by advertising and linking to Amazon.
In the past little while and upcoming as well, I have had two wedding showers and two baby showers, plus a coworker also had a baby. Whoo!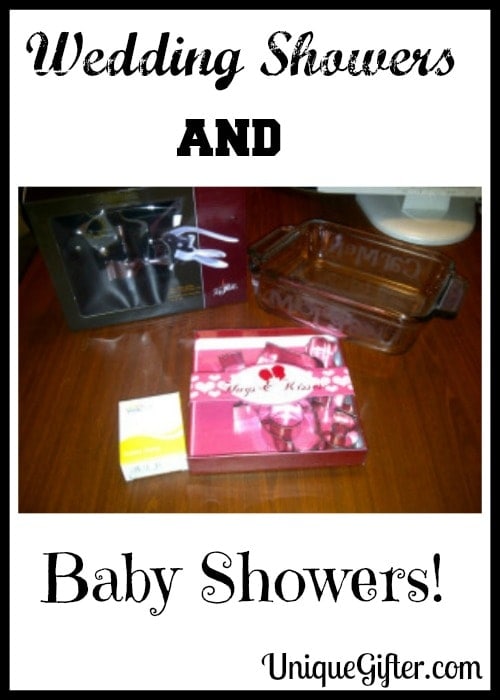 I am a big advocate of keeping a gift stash, and for tracking gift ideas using Google Drive documents. You'll also note that I believe strongly in giving cash gifts and trying to stick to gift registries. Sometimes, this is easily accomplished with your stash. If you are lucky, your friends have nothing and are happy to get everything you can give them, or they are very laid back! Other times, you know their situation and won't be giving them a gigantic set of patio furniture when they live in a basement apartment, you'll use your discretion. If you are going to a baby shower, you are extra lucky. Rare is the child who has too many books or too many baby washcloths!
For all of the events that I attended recently, I was able to delve into my stash and add some great customizations.
Bridal Shower Gift #1
Unfortunately, this is the only one where I remembered to snap some pictures!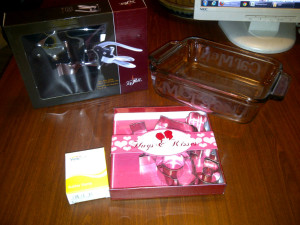 The first event I went to was a lovely backyard get together, awaiting the storm clouds which thankfully never came. Little did we know that later that week the whole region and neighbouring province would see a flood like none other! This gift came in four pieces. No, the monitor in the backdrop wasn't included and yes, I have to use a very old external monitor on my laptop because the screen decided to stop working on me.
First up – an amazing wine corkscrew. We have one of these exact models and it is fantastic, absolutely worthwhile! They are so great that we talk about them with friends and I have stocked up on them, so I can give them out as housewarming gifts and wedding shower gifts. Update: I saw one of the couples on the weekend and they are in love with the corkscrew, so it's not just me! They're worried they'll become alcoholics just to have an excuse to use it!
Next, a personalized 8×8 baking pan. I made this one using a Silhouette Cameo
and they are fantastic! What is it, you ask? Basically, it is a printer that cuts out shapes! It is like a Cricut, but you can print anything you want out of a design program on your computer, you don't require cartridges. It looks like this:

I chose a really fun font and I think this is my favourite etched glass pan so far. Here's a close up of the fun lettering: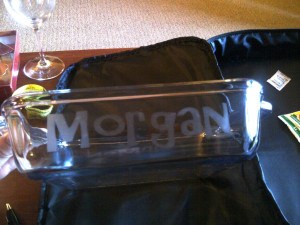 To the pan, I added a cute set of cookie cutters from my stash. These ones were a "Love" theme and fit right inside the pan. There's an XO, giant ring, champagne glass and a few other things in there. They will definitely make for a good Valentine's cookie collection!
Finally, this couple is also becoming first time home owners this summer, so I included a personalized rubber stamp, with their married names and new address. I've written about these before as making great bridal shower gifts. The first thing the bride said was how much time it will save her to have the stamp!
"Anne, how do I make a personalized etched baking pan like that?"
Oh, you're in luck! I wrote a rather detailed tutorial on that very subject. You can read all about it here:
Bridal Shower Gift #2
While the first shower was on a Tuesday, this one was on Saturday and by this time some folks' homes had flooded out. The bridal shower was a nice change of pace compared to the destruction and it was a lovely sunny day! We had a high tea and a few games outside and inside. I managed to not take any photographs of the gift I gave, oopsy! You can see part of it in the above picture. I managed to pick up a really neat 9×13 glass pan that comes with a plastic lid, hot/cold pack and an insulated carrying case. Lasagna at the next potluck, anyone?
For this one, I gave another personalized baking pan, another awesome corkscrew, and a package of pizza yeast. "Pizza yeast? Without a pizza gift basket?" you ask? Well, the week before we had been relaxing over coffee in my friend's back yard and ended up discussing the joys of pizza yeast and making pizza dough, so I tossed in a package as another personal touch.
Stay tuned next week to hear about rebuilding my stash and my baby shower gift!
How many showers have you attended in one week?