Disclosure of Material Connection: Some of the links in this post may be "affiliate links." This means if you click on the link and purchase an item, I will receive an affiliate commission. Disclosure in accordance with the Federal Trade Commission's 16 CFR, Part 255. This site is a participant in the Amazon Services LLC Associates Program, an affiliate advertising program designed to provide a means for sites to earn advertising fees by advertising and linking to Amazon.
Part I of III – Traditional Parent Gifts for Weddings
Part II of III – More Parent Thank You Gifts for Weddings
Part III of III – Even More Parent Thank You Gifts for Weddings
There are many reasons to give parents thank you gifts at weddings (or at the rehearsal dinner, logistically speaking).  Sometimes there are a lot of politics involved, like deciding if you give parents who contributed different amounts the same value of gift and on and on.  Some prefer to think of parent thank you gifts as a "thanks for raising me and making me who I am today."  I am going to completely ignore your motivations and let you come to a decision that works for you.
Traditional Parent Thank You Gifts
Handkerchief with Poem
There are quite a few of these cutesy poems out there, which you can have made via Etsy, or if you have a fancy sewing machine, you could do yourself.
Here are some links to poem examples and to handkerchiefs:
Bumblebee Linens – Everything from simple, to ornate lace with monograms.
Advantage Bridal – HUGE selection here, groom to Grandmother, Stepmother, Godmother, Friend to Bride, etc etc etc!
Etsy – Lots and lots of choices here, many customizable.
Framed Picture or Stretched Canvas
Make your parents an IOU for a nice framed photo of the two of you
, or a stretched canvas image from the wedding that can be hung on the wall permanently
.  To make sure that it is extra memorable, you're going to want to buy the frame in advance and then put a cartoon drawing of yourselves into the frame, Patents Patented style.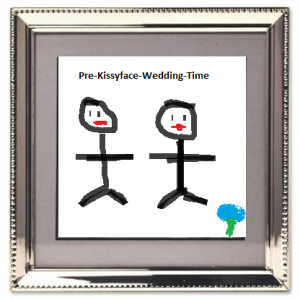 (The blue broccoli is a bouquet.  Obviously.)
Parent Photo Albums
This is a very common gift idea… but it is especially important to make sure that you actually make them!  (Ahem, I might have not done so yet.)  It's easy if they are an option to purchase from your photographer, alternatively you could make a physical wedding photo album
, or make a printed photobook with Blurb.

Restaurant Gift Certificate
Send your parents out to enjoy a night on the town.  It is likely that the whole wedding business has been work and stress for them as well, so a relaxing night out on you may be just what the doctor ordered.  You can check for Groupons or similar discounts when buying a gift certificate, in order to save your pennies.
Concert or Game Tickets
Like going to a restaurant, you know that your parents will enjoy this one, because you can pick something that they already like to do or to see. For a huge list of ticket ideas, read this post called Ticket Gifts for Everyone.
Alcohol!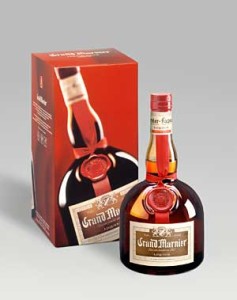 Pick up a nice bottle of wine or scotch.  Maybe your father in law has a penchant for Grand Marnier (mine does), so you could get one of those.  Perhaps your mother in law is an oenophile?  Add to her vintage wine collection.
Jewelry and Cufflinks
This works especially well if you picked up some cufflinks
for you wedding party gifts already, throw in a few more pairs as a wedding thank you gift for your dad(s) and maybe even your grandparents, or step-fathers, or really any male you need to get a thank you gift.
For moms or step-moms or grandmothers, consider a nice pair of earrings
, a necklace
, a bracelet
or a brooch
.  Maybe your mother is into wearing french cuffed dress shirts… give her some cufflinks
, too.
Do you have some additional ideas?  You can also read Part II – Wedding Thank You Gift Ideas for Parents
[Photo – CC Attribution Share Alike – Emery Co Photo]