Disclosure of Material Connection: Some of the links in this post may be "affiliate links." This means if you click on the link and purchase an item, I will receive an affiliate commission. Disclosure in accordance with the Federal Trade Commission's 16 CFR, Part 255. This site is a participant in the Amazon Services LLC Associates Program, an affiliate advertising program designed to provide a means for sites to earn advertising fees by advertising and linking to Amazon.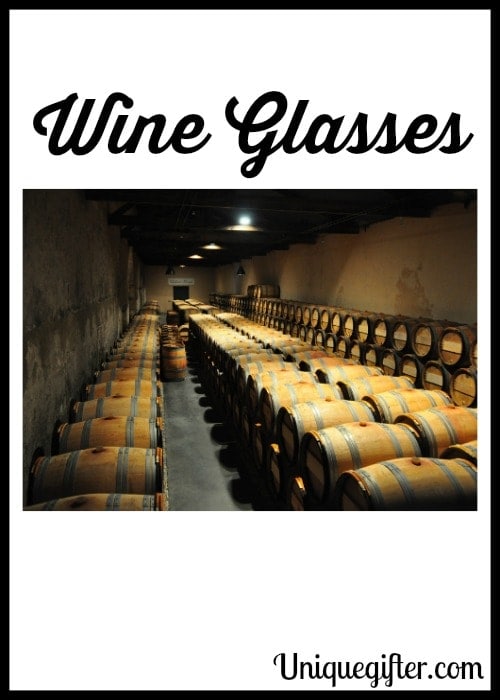 Wine glasses are a super common registry item and I am sure that you have considered giving wine glasses as gifts before.  This oenophile ($20 word, I know.  It means a person who enjoys wines.  Check it out.) registered for some very, very pretty wine glasses made by Riedel.  I have a million now.  I can't decide if they have satiated my glassware fetish, or just fueled the fire.  Now, let's say you are a guest and would prefer not to just give a two pack of wine glasses, to be lost amongst the other two packs of wine glasses.  Here is some inspiration for a creative wine glass gift…
#1 – Do you know what goes amazingly, fantastically, wonderfully well with wine glasses??  Yup, you guessed it – WINE!  There are a great many ways you could give wine, from just a regular old bottle, to your personal favourite, to a wine club membership, to a super-fancy-occasion worthy bottle.
Let's talk specifics now.  For everyday wine, I am a fan of Wolf Blass Red Label (BC, ON), or Yellow Label when it's a slightly nicer evening.  To support the Canadian wine industry, why not check out Jackson Triggs (BC, ON), another of my go-to bottles.  Another slightly more obscure choice is made in the BC Okanagan by a winery owned and operated by an Aboriginal band – Nk'Mip Cellars.  My personal preference is for new world wines, so I tend to avoid all of the European ones, as well as most Ontario wines (the varietals that grow there tend to be old-world).  If you would like recommendations, Beppi Crosariol is the king of Canadian wine reviews and targets many price points.  A more straightforward solution is to walk into a local wine shop and ask away.
You could also do the Gift of Wine, I will find some source material on that shortly.  Basically, you gift a cute poem with a collection of bottles marked for consumption on certain occasions, such as first anniversary, fifty anniversary, etc.
A third option for adding wine to the wine glass is to sign the lucky couple up for a wine of the month club.  In the near future I will pull some resources together for y'all on that one as well.  Can you imagine how wonderful it would be to have a delightful new bottle (or more) or wine to try out each month?  *I stare dreamily up at the ceiling because it's Monday morning and wine is a long way off…*
#2 – Wine Out, or some similar product.  This stuff is great, it's one of those products that sits on your shelf taking up space, until one day you are oh-so-overjoyed that you have it hanging around.  The other thing that I use is the box of table salt, but that's more effective for "giant pool of red on the carpet" than "small dots on white dress shirt."  I know that you can buy this stuff at the LCBO, in various bottle sizes.  The small size is very travel-friendly and might be good to take to a classy and potentially sloppy event, such as a wedding.  I have used both Wine Away and Wine Out and am not really aware of one being better than the other.  You can also order this stuff from Amazon, if you are unable to find it locally:
#3 – Wine accessories are also a great, personalized gift idea.  I have a fairly substantial collection of things that make wine drinking even more delightful.
First up is the wine glass polishing cloth.  This lets you add a super nice shine to your brand new glass or crystal ware.  Honestly, 99% of the time I am much too lazy to use this, but on occasion it is great to have.  Adding one of these to a gift of wine glasses will show you put in that little bit of extra thought and care.  The wine glasses may also appreciate that bit of thought and care.  Here is an example of one from Amazon, retailing for about $13: Riedel Large Microfiber Polishing Cloth  [This is specifically the one that I own.]
Next up is wine charms.  I went on a quest to find lovely wine charms that I liked, about two years ago.  It turns out that was a tall order.  There are many available, but most are cutesy rubber flowers and such, aka not suitable for a "pull-out-all-the-stops-silverware-china-and-crystal" Martha event.  If you are going to purchase wine charms as a nice registry top up, take note of how many glasses or place settings the couple has registered for and purchase the same number of wine charms, so that they have a complete set!  Here are a few styles I found on amazon:
Etsy is also a fantastic source for all things cute and creative.  My personal favourites are the scrabble tile and resin filled bottle cap varieties:
     Etsy Seller: Boomerville
Etsy Seller: MadCapFun
 Click here for more Etsy Wine Charms.
Another random wine accessory that not everyone will already own is a dishwasher stemware holder.  Make sure that the couple will have a dishwasher, otherwise you're just being cruel and rubbing in their face all of their time spent labouring over a hot sink!  The idea behind these devices is to keep your wine glasses vertical while in the dishwasher, so that they don't fall over and shatter and so they don't put undue pressure on the glass while the cycle runs.
 A final wine accessory for this post: the wine cork.  I will now raise my hand and testify that even I – an oft imbibing wino, have reached points in my life where the bottle stopper was a necessity.  Prior to receiving one as a Christmas gift, I have resorted to the less-than-ideal use of saran wrap and an elastic band.  I do not recommend this approach!  Another example of the extreme usefulness of a bottle stopper is when you break or lose the lid to a different bottle of alcohol.  Perhaps to the bottle of Grand Marnier sitting on my shelf right now.  This is an extremely easy and affordable doodad to affix to a gift, making it cute and unique.  One of these is super unique and possibly not at all wedding appropriate, maybe bachelorette party appropriate:
#4 – CANDY! Take those wine glasses, open the box and fill them to the brim with some nice, bright, delicious candy!  Next, wrap them up in cellophane, making sure that they stay vertical, so they don't spill the candy.  You'll want to deliver these before the wedding, because they will be annoying for the couple if they have to transport them afterward.  Candy filled wine glasses would also make a super awesome shower gift.  Plus, let's face it, cute and creative wrapping is much more appreciated at an event like that!  I don't have a great picture, but I will try to do a mock up gift later.  [Later has come, check out this unique wedding gift idea.]  For now, here is some internet inspiration: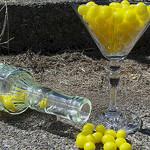 Remember: The #1 Rule – ALWAYS, ALWAYS, ALWAYS give a card.  A card with more words than just your name.
If you click on some of those pretty pictures up there, you will link to the sale page on Amazon.  Should you choose to purchase any of these items, I will receive a very small % of your purchase.  Think of it as a nice way to thank me for helping stir up some creative gift ideas.  :-)
[Photo – Creative Commons Attribution xlibber]