Disclosure of Material Connection: Some of the links in this post may be "affiliate links." This means if you click on the link and purchase an item, I will receive an affiliate commission. Disclosure in accordance with the Federal Trade Commission's 16 CFR, Part 255. This site is a participant in the Amazon Services LLC Associates Program, an affiliate advertising program designed to provide a means for sites to earn advertising fees by advertising and linking to Amazon.
Go Mets! If you don't know, now you know! Mets fans are some of the loudest and proudest baseball fans in the country! Sporting their gear to every game, as a matter of fact just about every place they go! Let your favorite Mets fan know you care with a thoughtful and unique gift ideas for a New York Mets fan.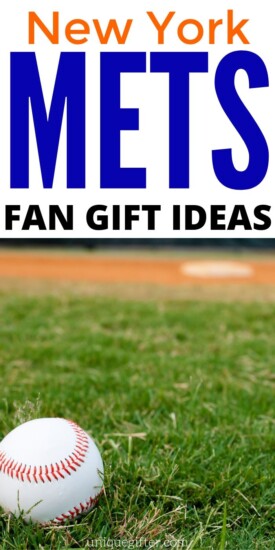 See also: Want to satisfy all of your adrenaline junkie needs? Check out our article on all of the extreme adrenaline activities in New York.
New York Mets Fan Gift Ideas
I'm going to take a swing at the fences to try and find the best home run gift the internet can provide! Want something for the Mets fan that has it all? These gifts are thoughtful, unique and one of a kind surprises that will have them wailing for more! Make a grand slam this year and get your New York Mets superfan a gift they won't forget!
The Best New York Mets Fan Gift Ideas
Vintage Citi Field Schematics Print
Available in a variety of prints and frame styles, this retro-style Citi field plan is a guaranteed home run for the Mets fan who has it all! Help them step up their decor game and show off their city pride all in one awesome gift idea!
New York Mets Legends Coaster Set
This unique handmade set of coasters has the player numbers of some of the most legendary team players emblazoned on individual coasters. Eye catching and delightful, this is one New York Mets gift you won't find anywhere in stores! Players like Plazza, Wright and DeGrom will grace their favorite drinking spots.
New York Mets Home Decor Sign
This little beauty has it all. Their favorite sports team's logo, and an endearing message of 'home sweet home'. Let your favorite Mets fan's friends know just how big into their team they are with a handmade and sincere piece of decor.
New York Mets Necklace
This Sterling silver necklace is a great piece of jewelry for your favorite Mets fan to show off at their next home game! Great for men or women, it will go great with all of their New York Mets apparel!
New York Mets Fan Mat
This is really something, New York Mets branded car mats! That's right, keep the muck, snow and sloppy mud off of your car's floors with these awesome one of a kind floor mats. This is a great gift to surprise your favorite Mets fan with, especially if they've truly got it all! (Just make sure they have their own vehicle!)
Boelter Brands MLB Mug
The sculpted shape of this ultimate New York Mets coffee cup is an awesome surprise gift for your favorite fan! Mugs are highly collectible, and few people are ever done collecting! Plus, it has the logo of their favorite sports team in a raised sculpted design!
You Gotta Know New York Trivia Game
Over 500 questions of New York sports related trivia will be a great addition to a New York Mets gift basket! For added enjoyment offer to challenge your favorite Mets fan to a drinking game over New York sports trivia to see who be crowned king of the Big Apple!
Party Like It's 1986 Mets T Shirt
T-shirts make a great gift for fans of any particular stride. It's a practical and sincere expression of their fandom! This New York Mets 1986 shirt proclaims, 'I wanna party like it's 1986!'.
Official Mickey & New York Mets Blanket
Your favorite New York Mets fan might have everything, but what if they're missing that special lucky token for home games? Set them up with this awesome officially co branded Mickey & New York Mets Blanket so they can wish upon a star and hope for a win for future games to come!
New York Mets Logo Cuff Pom Hat
True New Yorkers know how to dress for the weather when it gets chilly! Even warm summer evenings at the stadium can get a little chilly, set up that #1 Mets fan of yours with the gift of this lovely knitted Mets pom hat!
New York Mets Car Coasters
One thoughtful gift that nobody really tends to think about all that often are these incredibly handy little car coasters! There's nothing worse than liquid or condensation building up in your cup holders. Luckily these logo-adorned protectors will keep any fan rolling in style!
Forever Collectibles Mets World Series Champions Bobble Head
This little guy would make for a great good luck token on the dashboard or at your desk in the office! Perfect for the Mets fan at heart, this cute and highly collectible limited edition bobblehead is truly a unique gift!
Go Mets License Plate Decor
This piece of decor is the perfect gift for the Mets fan who catches every game in their tricked out garage or man cave. This handmade sign is a one of a kind production and real fans know, Go Mets!
Official Mets Hat
This officially branded Mets hat is a great collectible piece of apparel. I'm a guy, and I can tell you one thing is for certain, we can't have enough baseball caps. Keep em' coming and don't forget, Go Mets!
Mets Beer Mug
This Mets style beer mug is a fantastic gift for the Mets fan who enjoys every game with a nice cold beer! Not only will it look great in their decorated Mets bar, but it's a functional and thoughtful gift as well!
New York Mets Duffel Bag
This fantastic officially licensed New York Mets bag looks just like the ones you could expect the players to use! Travel in style, and hit every beer league game looking like a pro with this awesome bag!
Mets Logo Vinyl Coated Bottle Opener
The quintessential sports fan bar gift, this nifty little bottle opener goes a long way. Let's face it, us guys lose bottle openers more than our keys, and that's saying something. Get your favorite Mets fan a really practical addition to their home bar!
New York Mets Hair Bow
Who ever said girls had to miss out on Mets madness? Give your favorite young mets fan a stylish and adorable gift they won't soon forget. This Mets logo hair bow is the ultimate accessory for a day at the baseball stadium!
See also: Show off your Yankees pride with these unique and fun fan gift ideas!
Hopefully you've managed to find a gift for your favorite Mets fan that will really pull at their heartstrings! Searching for these unique and one of a kind gifts has been a joy. Swing for the fences, and don't ever give up on mets fans who've really got it all! Did any of these awesome mets gifts ideas inspire you? Let us know! Go Mets!