Disclosure of Material Connection: Some of the links in this post may be "affiliate links." This means if you click on the link and purchase an item, I will receive an affiliate commission. Disclosure in accordance with the Federal Trade Commission's 16 CFR, Part 255. This site is a participant in the Amazon Services LLC Associates Program, an affiliate advertising program designed to provide a means for sites to earn advertising fees by advertising and linking to Amazon.
Nowadays when people talk about a pop culture character named Pepe, they think of the meme-famous frog. But Pepe the King Prawn from the Muppets has a special place in my heart. I always thought he was one of the funniest (if not the most funny) Muppets characters. He may be small, but his personality is huge! Here are some gifts for fans of Pepe the King Prawn.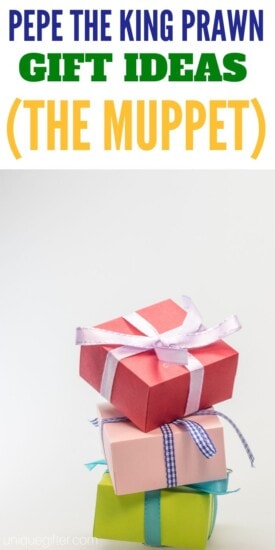 See also: Love showing off your unique hobbies and niche characters? These geeky, nerdy posters are everything you want in a piece of wall art!
Pepe the King Prawn The Muppets Gifts
Pepe T Shirt
I think Pepe would approve of this shirt. It showcases his best side- all of them!
"Got Pepe?" Mug
Though his full name is Pepino Rodrigo Serrano González, I think you get the idea. A sly way to show your love for this character.
Pepe Watercolor Art
Who knew Pepe could look so cute! A beautiful piece of fan art.
"It's Hard Out Here For A Shrimp" Book
Buy Now
Advice from the man (or prawn) himself! Great for a good laugh and maybe even some life advice.
"Got Prawn?" Flask
Buy Now
You never know when you need to sneak some liquid courage into a party. I think Pepe would wholeheartedly approve.
Pepe Vacation Action Figure
Buy Now
Here we see Pepe in his natural state- vacation mode! Cute gift for kids to play with or adults to display.
Pepe Travelers Cup
Buy Now
Pepe on the go! A great way to make sure everyone knows which cup is yours in the office.
Pepe Pullover Hoodie
Buy Now
Show your Pepe pride! And stay comfy while doing it.
Pepe Autographed Photo
Buy Now
Bill Barretta, Pepe's 'helper', giving you his "best fishes"! A collectible to cherish forever.
"Got Pepe?" Water Bottle
https://www.amazon.com/got-pepe-Stainless-Bottle-Carabiner/dp/B0741L7NN2/ref=sr_1_143?dchild=1&keywords=the+muppets+pepe&qid=1571878039&sr=8-143
Do prawns need water to survive? No idea- but you sure do.
Pepe Pillow Cover
Buy Now
Curl up with this cutie at the end of the night. Or use it to scare your roommate. Either works.
See also: Scrolling at work? Satisfy the boss with these awesome gift ideas for your boss!
If Pepe is your favorite Muppets character, you're in luck. Everything Pepe you could need all in one place. Just don't go crazy!