Disclosure of Material Connection: Some of the links in this post may be "affiliate links." This means if you click on the link and purchase an item, I will receive an affiliate commission. Disclosure in accordance with the Federal Trade Commission's 16 CFR, Part 255. This site is a participant in the Amazon Services LLC Associates Program, an affiliate advertising program designed to provide a means for sites to earn advertising fees by advertising and linking to Amazon.
One of the best things about living in Colorado is having a professional sports team for every national league. The Colorado Avalanche is the team that represents our state, and you can find diehard hockey fans cheering and groaning at games all winter long as they are played out at the Pepsi Center.
With two Stanley Cup wins in current franchise history, fans are anxiously awaiting a third. The past few years have been painful, but as diehard fans will say, "it's a rebuilding year." Well, until the rebuilding is done, enjoy supporting your favorite hockey team with some of the best swag around.
Gift Ideas for Colorado Avalanche Fan
Game Change
One of the hardest things about sports is watching our heroes struggle in their personal lives. This book gives fans an inside look into a hockey player, Steve Mantador's, life and subsequent death unexpected death at the age of 35.
Ice Capades-Sean Avery
Life, after being a professional athlete, can be hard for many. But, Sean Avery was able to create a professional career that extended beyond hockey.
The Grim Reaper: The Life and Career of a Reluctant Warrior
Stu Grimson, former player, and now a lawyer shares what made him unique in the hockey league.
A Guy Like Me-John Scott
John Scott became an unlikely hero in the 2016 All-Star Game after fans voted for him to be on the team. He would subsequently help his team win the game.
Playing with Fire-Theo Fleury
During his hockey career, Fleury played on numerous teams, including the Colorado Avalanche. He struggled with addiction but is currently focused on advocating for those who cannot protect themselves.
The Russian Five
Read the true story of 5 Russian Hockey players who defected to the United States and ended up playing professional hockey.
The Boys of Winter
For many years the greatest hockey team on earth was the Russian National Team. Then, the United States Olympic team did what no other team could; they beat the odds and the Russian Team during the 1980 Winter Olympics that was held in Lake Placid, New York. If you've ever doubted yourself or your dreams, the journey of this team to winning Olympic gold will leave you inspired.
Orr: My Story Bobby Orr
In basketball, you have certain players who are considered the greatest. For the game of hockey, Bobby Orr would make that list. Learn more about how he became the player that he did.
Tough Guy: My Life on the Edge
Bob Probert, lived a life that was complicated fast-paced and ended way too soon.
The Penalty Box-Odette Stone
Sometimes, it's nice to curl up in bed and read a fun hockey romance.
Tumbler
Take your coffee to work in this insulated Avalanche tumbler and save money on your daily coffee habit. Use the money that you save to purchase your next nosebleed game seat tickets.
Colorado Avalanche Long-Sleeved Shirt
Stay warm during the winter months in this long-sleeved shirt. It's surprisingly stylish too.
Colorado Avalanche Fleece Blanket
The next time you binge-watch your favorite show, snuggle up under this cozy and comfortable fleece blanket.
Chrome License Plate Frame
For those of you would like to express your Avalanche love on your car without damaging it, a license plate frame may be a great option for you. If you ever decide to break up with the team, all you have to do is remove the
Tie
For your next formal occasion, lighten up your look with a sporty tie.
Colorado Avalanche Flag
Are you the person on your block who flies a flag for any reason that you can think of? Then, make sure you add a Colorado Avalanche Flag to your collection.
Wallet
One day, most people won't need their wallets because we pay for everything digitally. Until that day happens, you'll still need a wallet for your i.d.
Short-Sleeve Shirt
Work out in this comfortable short-sleeved shirt while at the same time showing your hockey love on the treadmill.
Beanie
If you live in a cold-weather location like Denver, it's a given that you have at least two beanies that you like to wear. Stay warm while watching your next game with your new favorite sports team beanie.
Gloves
Have you heard of the phrase "Cold hands, warm heart?" Well, my hands are always cold, and it sucks. Also, there is nothing worse than leaving your house and forgetting your gloves on a cold day. Store this pair in your car's glove compartment so that you never have to deal with cold hands again.
Backpack
Have you ever wondered why we carry so much stuff with us when we leave our homes? If you can't figure out the answer, neither can I. While you're figuring it out, this backpack is big enough for all of the stuff that you can't seem to leave at home.
Watch
Even though cell phones tell time, there are still a number of people who enjoy wearing a stylish watch. If you're one of them, this watch may be the one that you need in your life.
Ugly Sweater
One of the best inventions ever is the ugly sweater and holiday parties will never be the same.
Crossword Puzzle Trivia
When was the last time you sat down and enjoyed working on a crossword puzzle? I can't remember either, which is ironic considering that crossword puzzles are supposed to be great for keeping our brains healthy and strengthening memory.
Onesie
Do you remember wearing onesies as a kid? I had a Smurf's onesie. Well, we're lucky enough to have adult onesies, and they are as comfortable as you remembered!
Bottle Opener
In a world of twist-off caps, there's always one beer or soda where you need a bottle opener. Don't be the person without one.
Car Mat
At the time this post is being written, the city of Denver is a foot over the amount of snow it normally has at this time of year. Keep your car clean with a car mat.
Phone Case
Have you ever experienced the trauma connected to dropping your phone? It's as if you're watching it fall in slow motion. Protect your phone from the next fall with this phone case.
Women's Puffy Vest
The best thing about a well made puffy vest is that you can wear them Fall through Spring, and they can last for years.
Collection Bracelet
Mala bracelets are all the rage right now. This collection bracelet is a nod to that trend.
Save by Roy
You can't talk about the Colorado Avalanche without thinking about the Patrick Roy years. Learn how he worked his magic on the team during his tenure.
Wallet
Are you still the kind of guy who only carries cash? Carry it in your new Colorado Avalanche wallet.
Hockey Goal Set
If you had dreams of going into professional hockey, dream no more. Practice making the perfect shot with your new hockey goal set. Who says that dreams have to die?
Socks
There's no better feeling than sliding into a pair of brand new socks.
Hockey 3-D Night Light
Kids are so lucky nowadays. They have the coolest night lights! And, this 3-D hockey night light is one of the coolest I've seen.
Stanley Cup Table Top Game
If you're a fan of playing foosball, you'll love playing with this tabletop game.
Duffle Bag
You don't need to be a hockey player to love this duffle bag. Shove all of your workout equipment and clothes in this spacious bag.
Hockey Pucks
Don't forget to stock up on hockey pucks before your next game.
Agility Ladder
Work on your agility in your backyard and channel your inner athlete at the same time.
Hockey Goalie Set
Hockey goalies are brave souls. They are constantly in the line of fire, with pucks being shot at them throughout the entire game.
Locker Room Print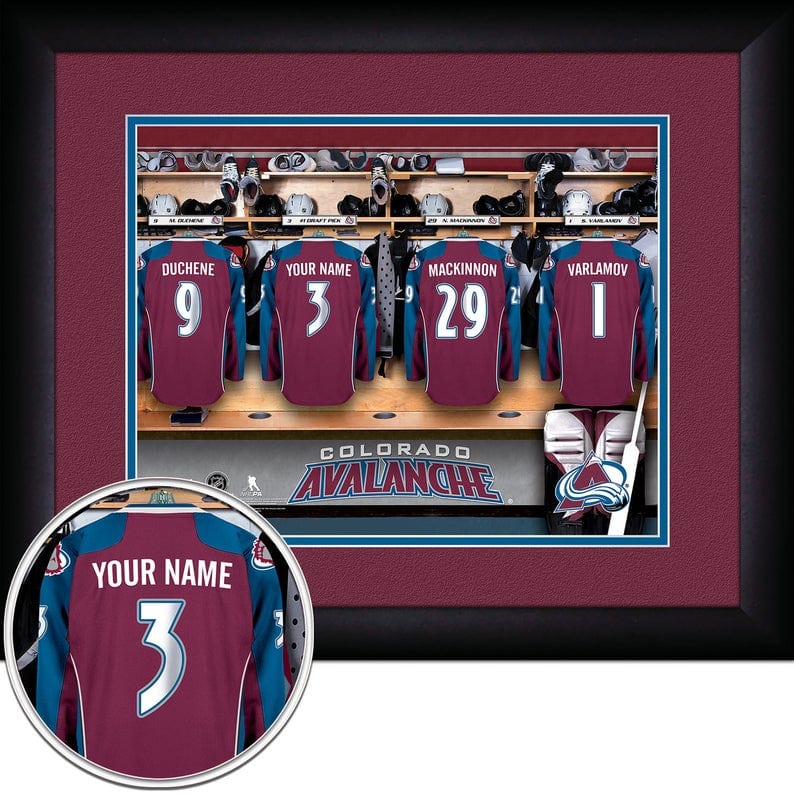 Have you ever had the opportunity to tour a team's locker room? I have, and it's a strangely interesting experience. For those of you won't be able to do that anytime soon, pick up this locker room print instead.
Avalanche T-Shirt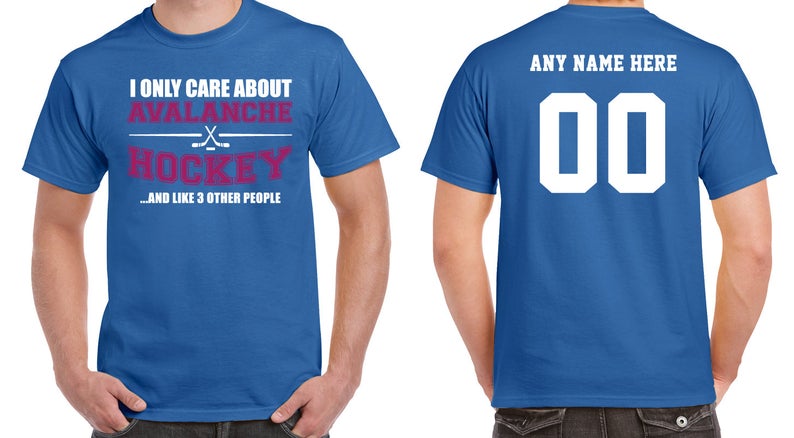 Even though hockey season happens during the heart of winter, a dream of summertime and the next chance you'll have to wear your Avs' t-shirt on a hot and sunny day.
Flag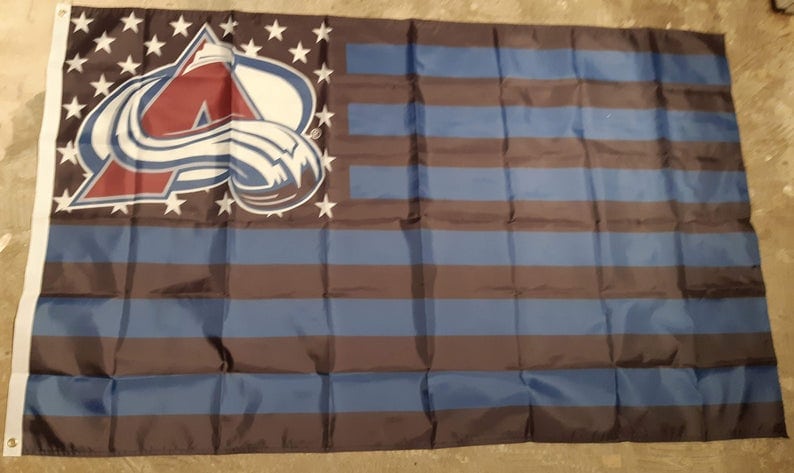 Share your Colorado Avalanche love with your neighbors every time you fly this flag.
Flannel Scarf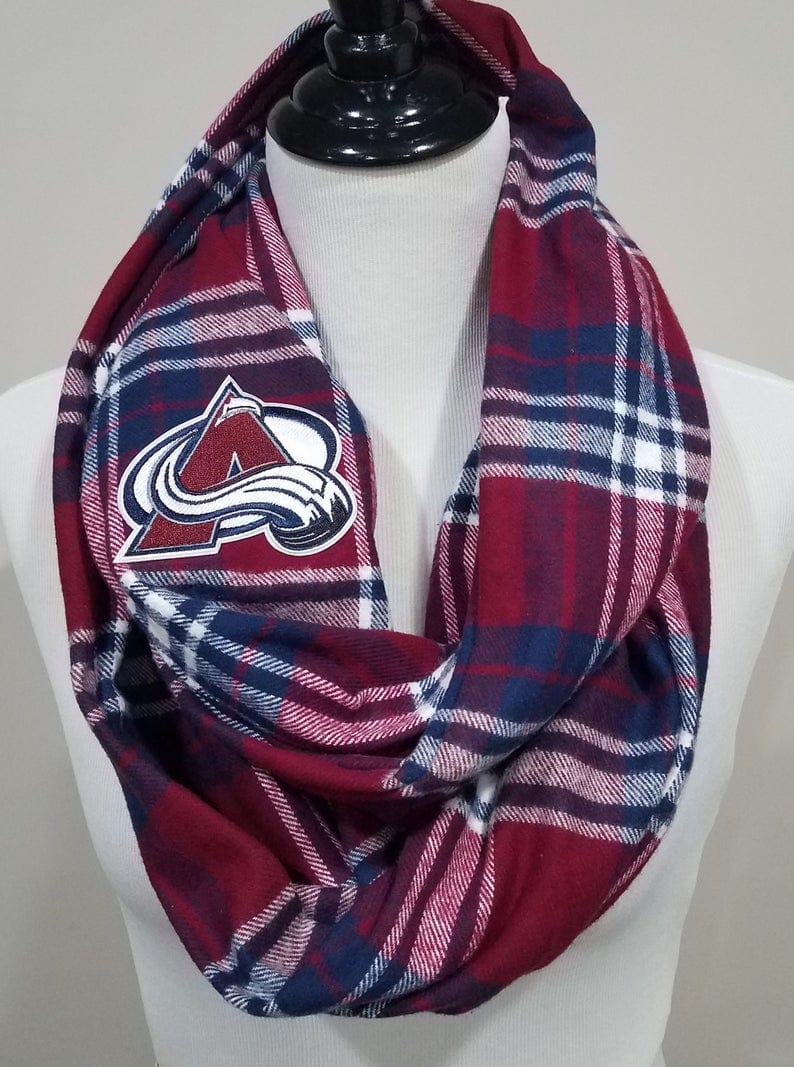 Nothing says laid back chic like this flannel scarf.
Beer Cap Map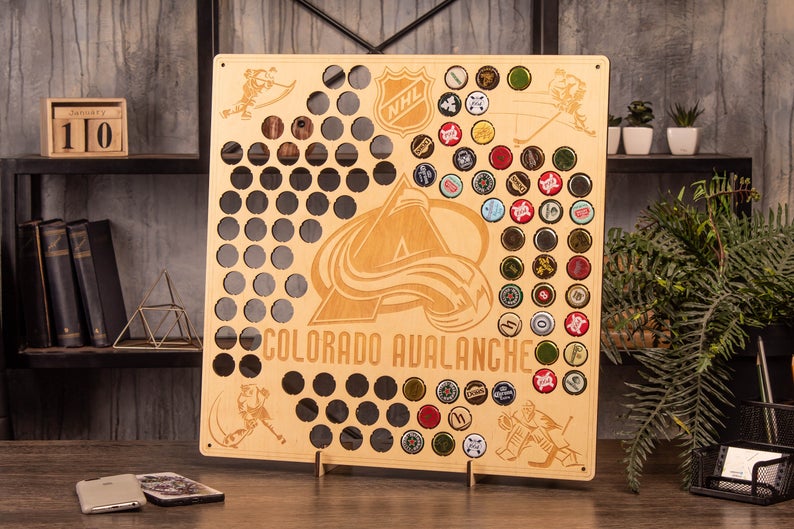 I'm not sure who thought of this map, but I love it. What a great way to repurpose your favorite beer caps and support your favorite teams.
Vintage Metal Sign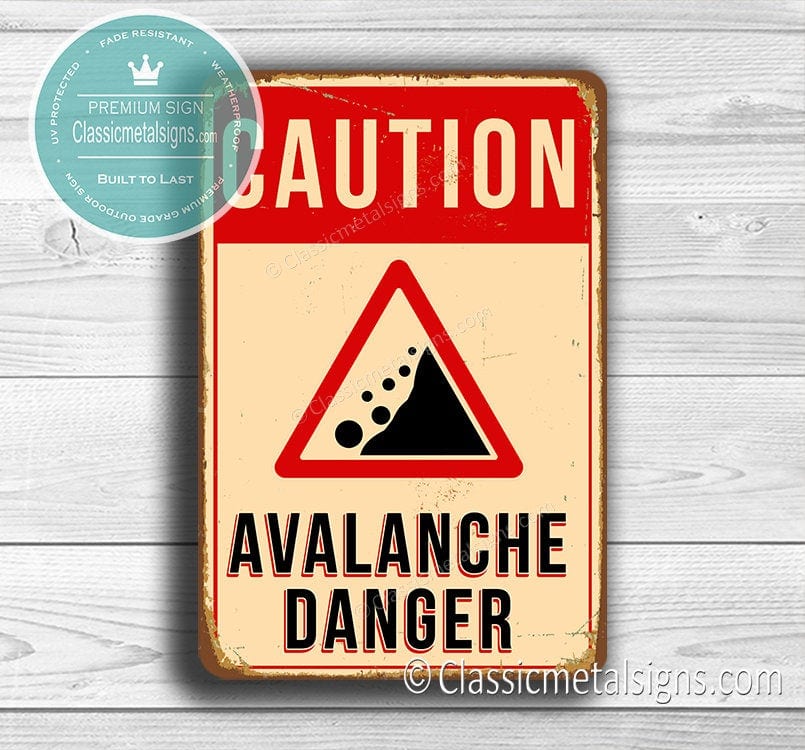 If you want to get literal, cautioning people of the dangers of actual avalanches can be a subtle dig at the fans of other teams.
Beetle Kill Coasters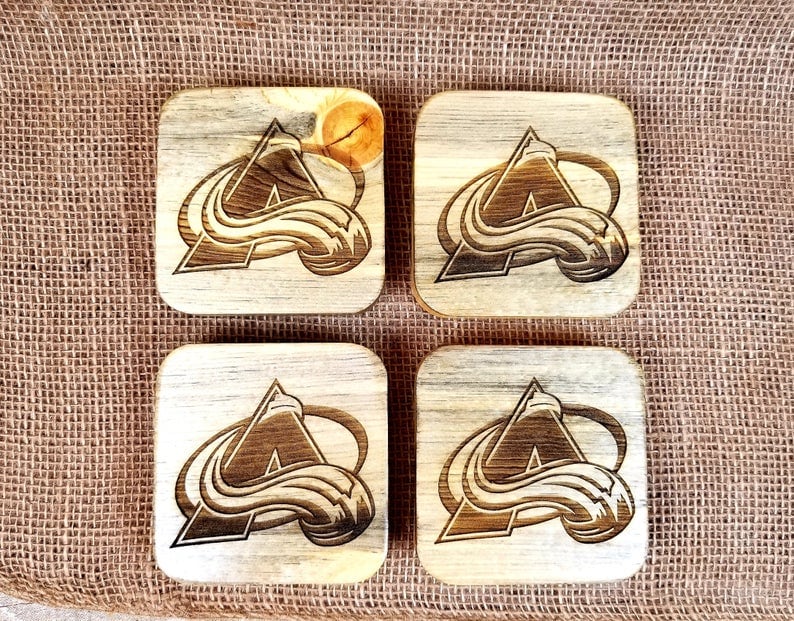 Colorado is struggling to keep its forests alive because of a pesky beetle that keeps killing the trees. These coasters repurpose that wood into something beautiful while protecting your tables from water rings.
Sticker Decal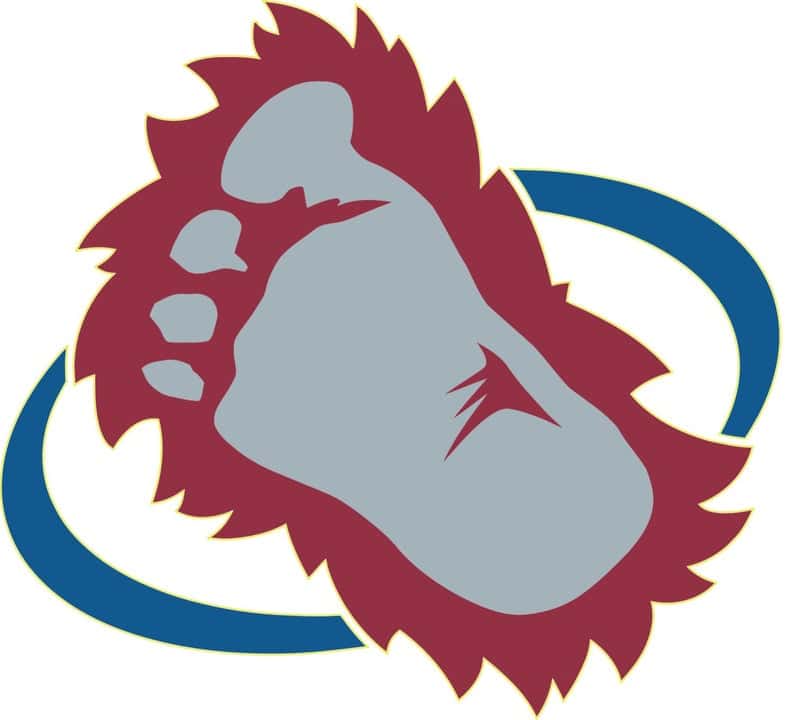 One of the cheapest and easiest ways to shout out your favorite team is by slapping a team decal onto something.
Colorado Avalanche Pepsi Center Stadium Poster
Technically, the Denver Nuggets and the Colorado Avalanche play their games at the Pepsi Center. Sometimes on the same day! Hang up this poster.
If you're part of the #neversummer movement, hockey will always on your mind. Now let's hope that we get some more great players like Nathan MacKinnon so that we can win the Stanley Cup again!