Disclosure of Material Connection: Some of the links in this post may be "affiliate links." This means if you click on the link and purchase an item, I will receive an affiliate commission. Disclosure in accordance with the Federal Trade Commission's 16 CFR, Part 255. This site is a participant in the Amazon Services LLC Associates Program, an affiliate advertising program designed to provide a means for sites to earn advertising fees by advertising and linking to Amazon.
The Denver Nuggets have been killing it for the past couple of years and if you're like me, you're probably wanting to shouting out your Denver Nuggets pride in every part of your life. In a town that goes ga-ga for all things football, it's exciting when a different sport elbows its way to the top of the sports food chain in Denver.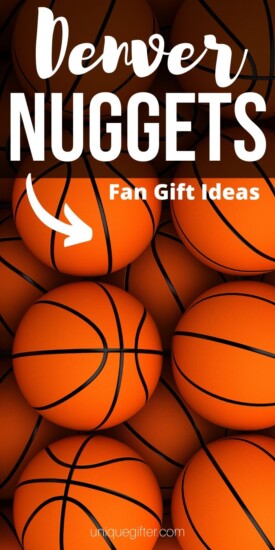 Whether you are a Dikembe Mutombo fan, remember the Kenyon Martin years, or are obsessed with Nikola Jokic and Paul Millsap, true fans are so proud to show and share their love of the gold and blue.
Golden: The Rise of Steph Curry
Let's be honest and admit what every basketball fan in the Western Conference thought when Steph Curry broke his arm: well, we have a chance this year for the championship. I like the guy and I have to admit that I may have thought the same thing. Let's send him good healing vibes and learn more about him as we read his book.
The Mamba Mentality: How I Play Kobe Bryant
Never in a million years did any of us expect Kobe Bryant to die suddenly and tragically. But, he did. Many Nuggets fans may have complicated feelings about him, regardless of the Mamba Mentality is for everyone.
From the Outside Ray Allen
Learn more about Ray Allen and his journey to basketball greatness.
Shoe Dog A Memoir By the Creator Of Nike Phil Knight
For those of you who don't know, Phil Knight is one of the co-founders of Nike. If there is an iconic basketball brand out there, Nike is definitely it. This is a must-read for all the sneakerheads out there.
Don't Put Me In Coach: My Incredible NCAA Journey From the End of the Bench to the End of the Bench
Don't laugh, but I have no idea who Mark Titus is. But, with a title that includes begging not to be put into the game, I think all of us need to learn more about him.
Lebron Inc: The Making of a Billionaire Athlete
It's strange to consider how few billionaire athletes there are in the world and that Lebron James is in route to becoming one of them. I love his business acumen, his drive, and his focus. Also, we can learn some lessons from him about when it's time to move on and when it's time to stay. Even when making those decisions may anger fans.
Kyrie Irving: The Inspiring Story of One of Basketball's Most Versatile Point Guards
Even though Kyrie currently plays for the Brooklyn Nets, we won't hold it against him. Instead, learn about his personal story and get inspired.
Michael Jordan: The Life
Every basketball fan has a top 5 list of greatest players and Michael Jordan would end up on everyone's best players list. As a member of the incredible Chicago Bulls team during the 1990's he's leveraged his wealth and now is worth almost $2 billion dollars. I wish he would teach a business class.
Amazon Audible Subscription
If you don't have a ton of time to read books, grab an Audible Subscription and listen to them instead.
The Sixth Man: A Memoir Andre Iguodala
It really sucked when Andre Iguodala was traded. But, we can still enjoy his personal story.
Powerbeats Pro
Work on your favorite basketball skills while listening to your favorite music. These are so much better than the Apple EarPods that poke out of your ears and are easy to lose
Bose Speaker
If you don't feel like using your Powerbeats, use the Bose Speaker to blast your favorite music while playing your next pick up game.
Active Noise Cancelling Headphones
If you're trying to get into "the zone" and are having trouble tuning things out, these noise-canceling headphones may be just what the doctor ordered.
Basketball Pop Socket
Did you know that Pop Sockets were created in Boulder, Colorado? Now you do! Support the Denver Nuggets and use your Pop Socket every time you need to take a selfie.
Pioneer DJ Smart DJ Controller
One of the best parts of every Denver Nuggets game is the dj and watching people dance on the jumbotron. Live out your DJ dreams with this DJ controller.
55 Inch Roku TV
If you aren't able to watch the Denver Nuggets live, watch them from home on your giant tv. Don't forget to tell your guests to BYOB.
Fire Stick
If you're subscribed to as many television streaming services as I am, it's nice to have a way to manage all your subscriptions with one device.
Echo Dot
If you have endless questions that your family members are tired of answering, the Echo Dot has an endless number of answers for you.
Akaso Sports Action Camera
Even though our cell phones have great cameras on them. Action cameras are great to have because they allow people to watch the action as it happens. Wouldn't it be great if your favorite player strapped this on and recorded their next game while wearing it?
Nuggets IPhone 11 Case
Protect your iPhone with the following case.
Denver Nuggets Long-Sleeve Shirt
If you're Denver Nuggets fan actually living in Denver, a long-sleeved Nuggets shirt is a great investment. You'll wear that shirt for most of the year because let's face it, the weather stays cold for most of the year.
Active Shirt
Stay Colorado casual in this comfortable active t-shirt.
NBA Men's OTS Fleece Crew
When we think about fleece, visions of plaid usually are first to come to mind. Enjoy the following Nuggets Fleece that kicks the northwest vibe out the door.
NBA Women's OTS Rival V-Neck Tee
I haven't forgotten about you ladies! There's nothing worse than the boxy t-shirt cuts that many of us have to suffer and wear. This cute v-neck tee has been created with the anti-boxy t-shirt brigade in mind.
NBA Women's Triblend Jersey Short Sleeve Scoop Neck
If you hate v-necks, then this scooped neck t-shirt is a great alternative for those of you looking for a nice t-shirt to wear to your next game.
Nuggets Iphone X Case
Protect your iPhone with this fashionable wood grain iPhone case.
OTS NBA Women's Triblend Tank
For your next workout the women's tri-blend tank is a comfortable fit.
NBA Women's Triblend ¾ Sleeve Raglan
I hate to say this but, I hate ¾ sleeve shirts. But, for those of you who love them here's a shirt for you to wear on those days when you don't feel like covering your entire arm.
Vintage Style Denver Nuggets Beanie
Beanies are a staple clothing item in Denver. Nothing says cold weather like this stylish retro Nuggets Beanie.
Denver Nuggets Socks
You can never have enough socks.
Portable Basketball Hoop
Practice your basketball skills with this portable basketball hoop. If you're exploring #vanlife and are worried about keeping your skills fresh, bring this hoop with you.
Spalding Standard Basketball Rim
If the portable hoop is too big, pick up this basketball rim and use it to practice your favorite basketball skills.
Basketball
The great thing about basketball is that you need a few pieces of equipment. With basketball being the key piece of equipment.
Nike Men's Mamba Rage Basketball Shoes
Running up and down the court can be hell on your feet if you're wearing the wrong shoes. Avoid that at all costs by wearing a pair of shoes made with playing basketball in mind.
Apple Watch
Count the number of steps that you take during your next game with the Apple Watch.
Knee Pads
For those of you who play a physical game, protect your knees with a set of knee pads.
Compression Socks
Keep the blood flowing in your legs with compression socks. You can also wear them on your next plane flight.
Performance Grip
I'm not sure if this really works, but, if you're having a hard time with your grip experiment with some performance grip to see if it will improve the situation.
Nike Hoops Elite Max Air Team 2.0 Backpack
You no longer have to carry your basketball everywhere you go. Instead, pop it into your new backpack with enough space to carry your ball.
Denver Nuggets Decal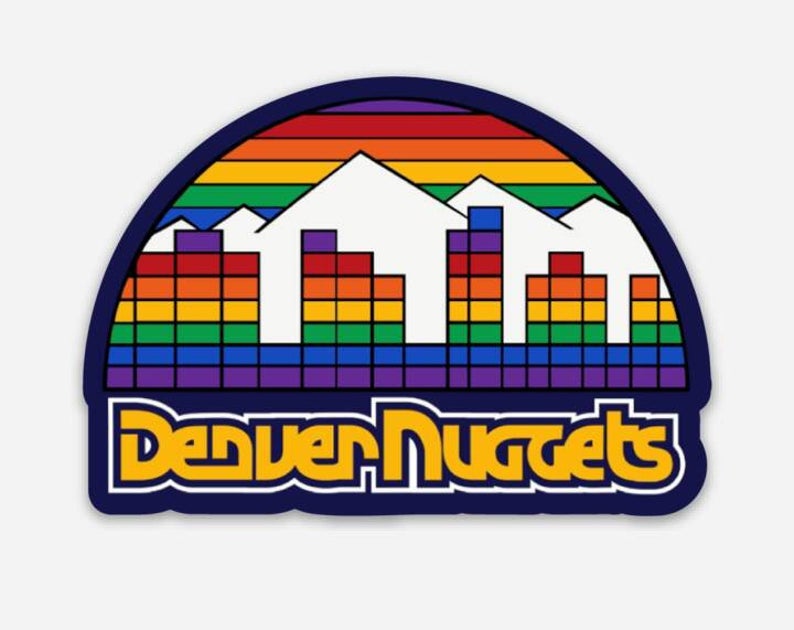 If you love decals, this one is for you. Slap it onto your laptop, car, or notebook and share your Nuggets pride wherever you go.
Personalized Denver Nuggets Youth Bag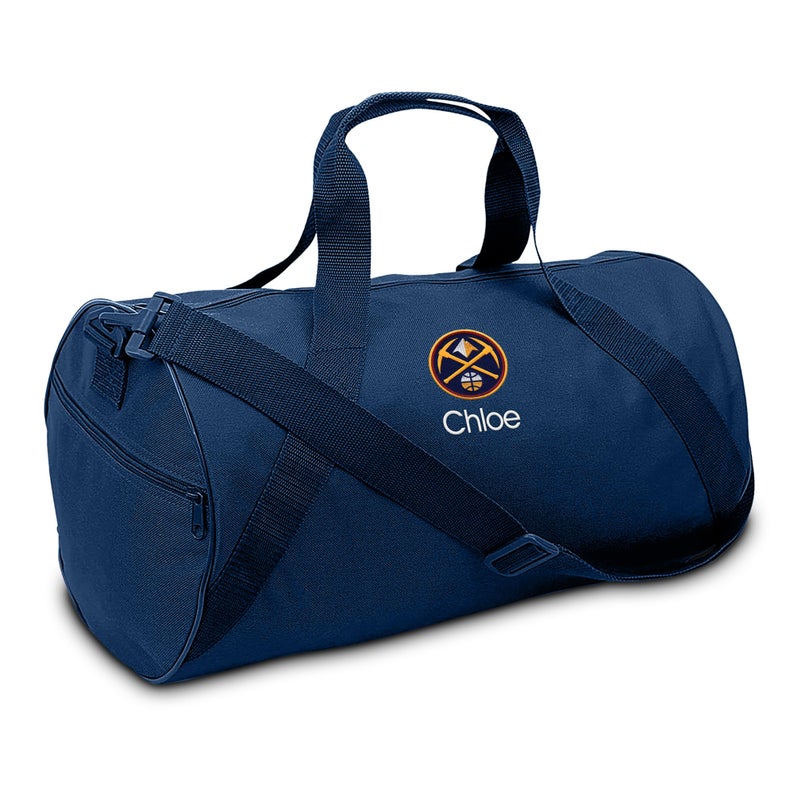 If you have kids who are in youth basketball leagues, they probably have a ton of stuff that they have to carry with them. This personalized bag might do the trick.
Denver Nuggets Cornhole Set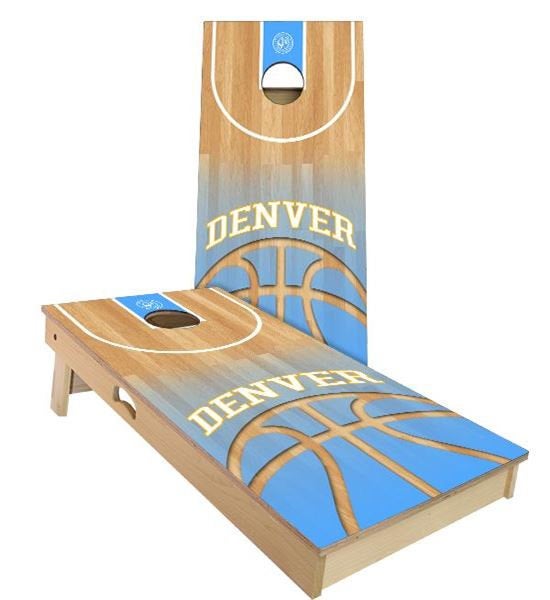 The next time you host a Denver Nuggets watch party, don't forget to set up your cornhole set.
Denver Nuggets Tumbler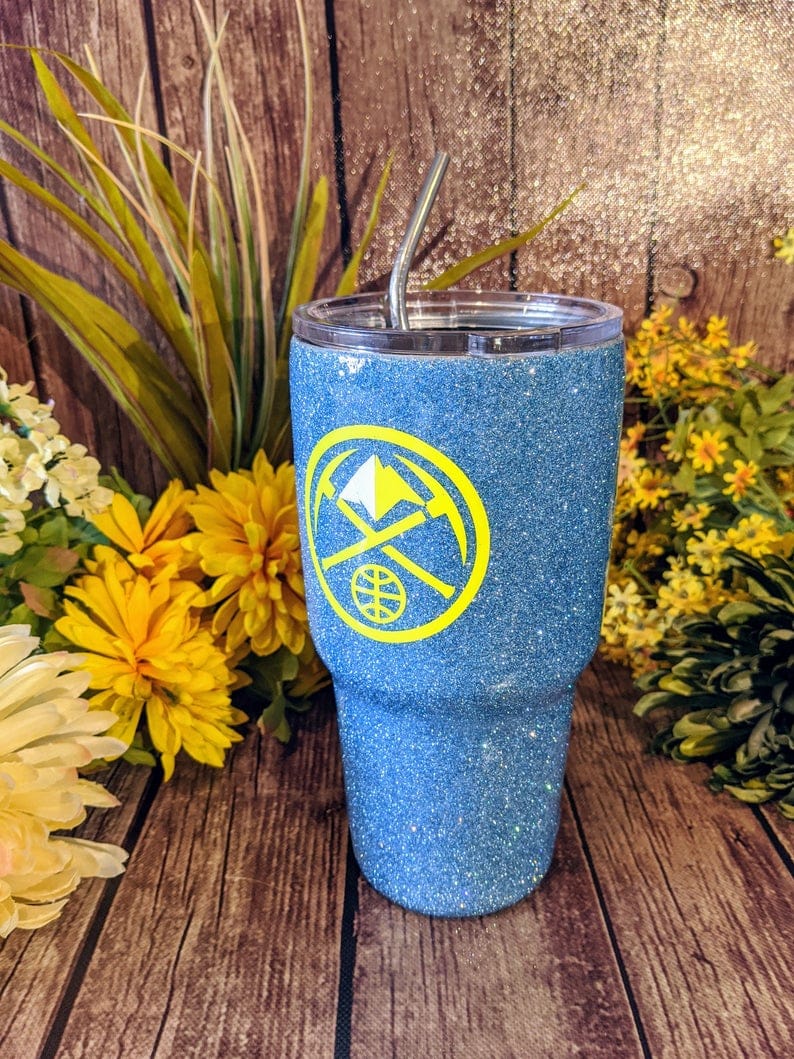 If you are stressed out every time the Nuggets win in the last seconds of the game, enjoy a nice drink in these Nuggets Tumblers every time they win.
Vintage Nuggets Hat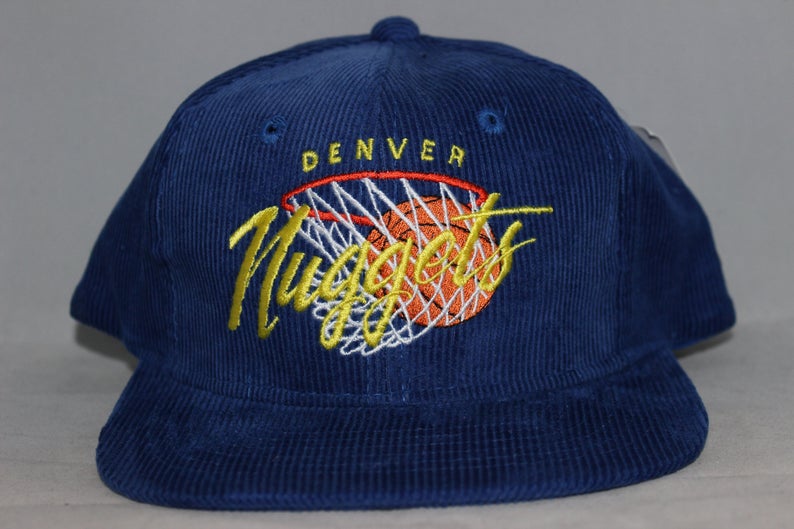 Wear this hat the next time you go hiking in the mountains of Colorado.
Personalized Highway Distance Sign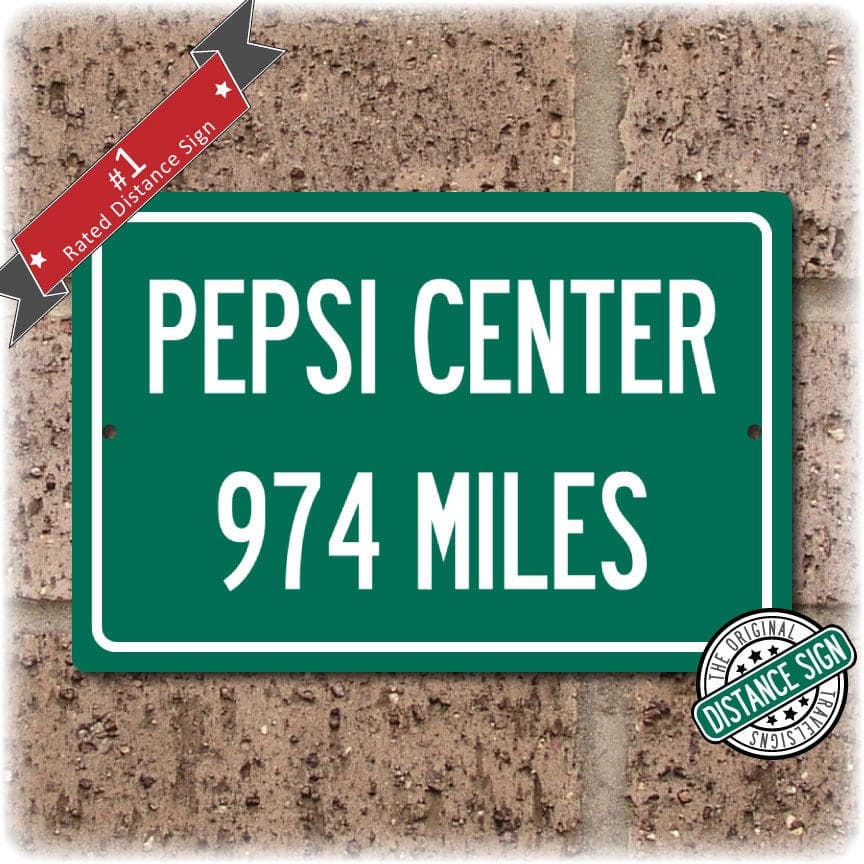 For those of you who have a basketball cave, the following personalized highway sign is just what it needs.
Denver Basketball Swatch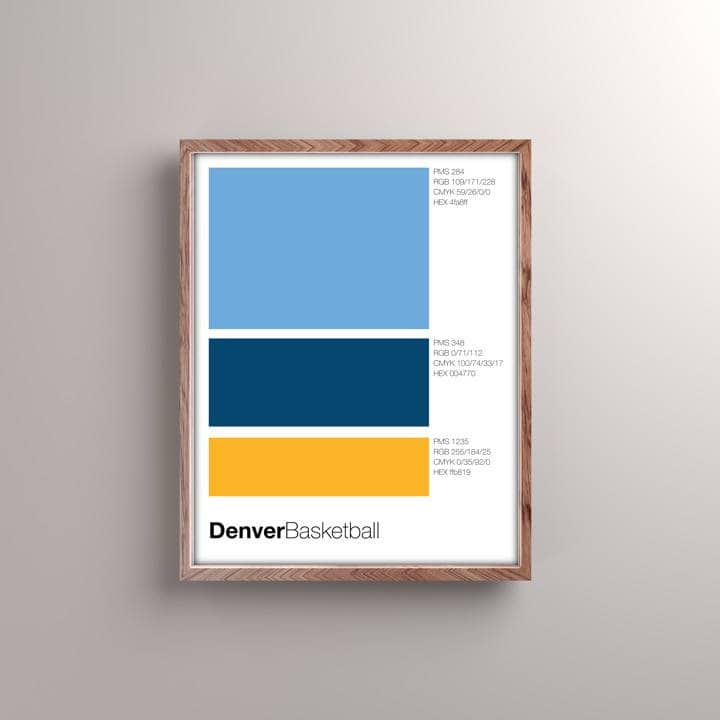 For the basketball fan looking for a slightly more subtle way to support their favorite team. This beautiful piece of artwork will be a welcome addition to your front hallway.
Jamal Murray Poster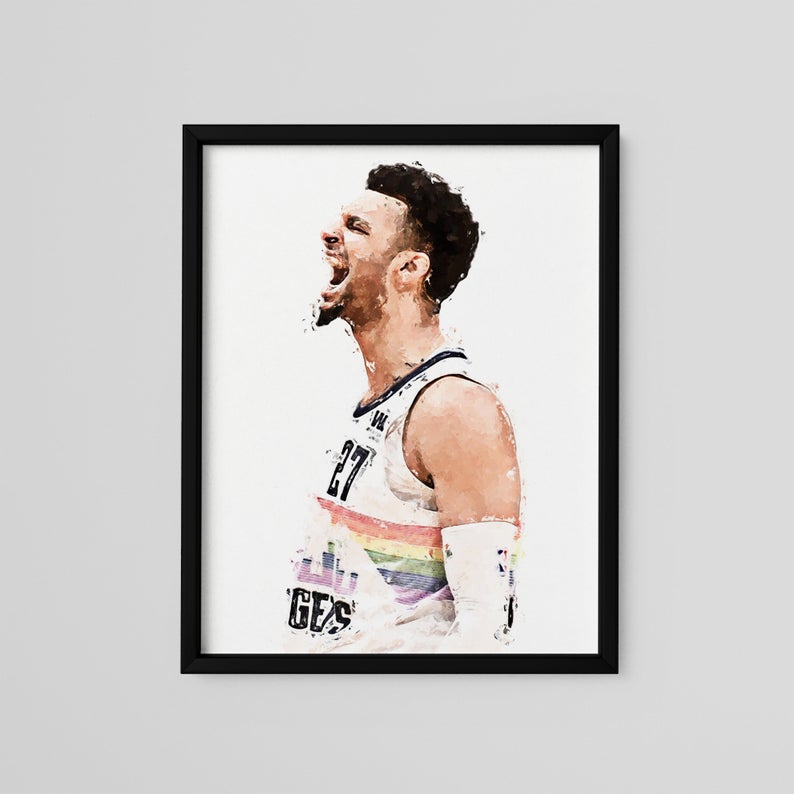 Jamal Murray's passion for the game of basketball is perfectly captured in this poster.
If you're a Denver Nuggets fan, there are so many ways you can support your favorite NBA team. You can be bold, subtle, or the fan who lands somewhere in-between. Sadly, though, you still won't be able to watch the games on t.v. if you live in Denver. Here's crossing our fingers that issue will change soon.